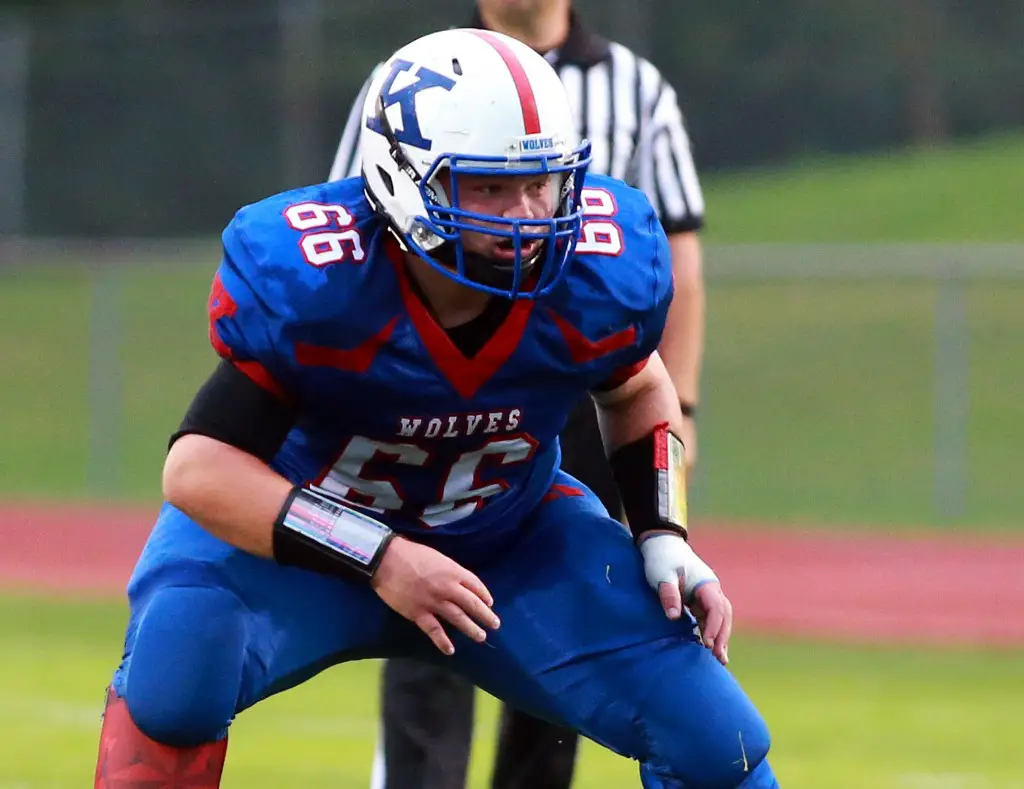 D9Sports.com and EYT Media are doing a series of player profiles on returning high-school athletes this summer. The year in school listed by the athlete is the year the athlete is entering this fall.
ANTHONY SMITH – SENIOR – EAST FOREST
Son of: Rick Smith and Beckie Smith
Sports Played: Football (at Kane via a co-op), basketball, track and field (at North Clarion via a co-op)
2016-17 Highlights: Was a starting offensive and defensive lineman on the District 9 Class 2A champion Kane football team. Helped the Wolves rush for 199.7 yards per game and pass for 153.9 per contest. Made 64 tackles on defense with one fumble recovery. Played in 16 basketball games for Forest Area scoring six points.
Post-High School Goals: He plans on attending college and playing football.
Q&A With Anthony Smith
D9Sports: What is your favorite sport to participate in?
AS: Football, for sure.
D9: What is your favorite memory, moment, game from playing high school sports?
AS: My favorite memory from high school sports would have to be beating Clarion in the 2016 D9 championship game.
D9: Why do you play high school sports?
AS :I play high school sports because the way it builds you for the real world. The way it pushes you to be the best.
D9: Is there a high school player on your team or another team that you enjoy watching play? If so, why?
AS :I enjoy watching Ange Costanzo play. The way he breaks tackles and pulls people down the field is amazing for his size. He's always playing at full intensity. Great kid to watch.
D9: When not playing sports I would rather (pick one) – Go to work, play video games, shop, hang out with friends, play pickup sports, go the movies
AS :Pickup games or hang out with my friends.
D9: If you could go anywhere in the world, where would it be and why?
AS :I would go to North Carolina with my family like we do every year.
D9: Who has had the most influence on you as a person?
AS :The person with the most influence on me would be Mike Cradduck. My gym teacher always pushing me to be the best I can be and giving me advice about life.
D9: What do you like most about growing up in your hometown?
AS :I love that everyone knows me. Just living in a quiet small town.
D9: What do you wish you could change about growing up in your hometown?
AS :I would change how the people support the sports teams. We get a good turnout at games. Just to have our whole town support the teams would just help us know that our town is behind us no matter how we do.
D9: What question do you wish I would have asked you? And what is the answer to it?
AS :I wish you would have asked me how co-op with Kane has changed me as a person. Being a part of that team had shown me respect, countability and just how to be ready for the real world.
D9: Do you or have you had any siblings or other immediate relatives who have played high school sports?
AS :I've had family play sports in high school. I want to be the first to go on and play at the college level
.