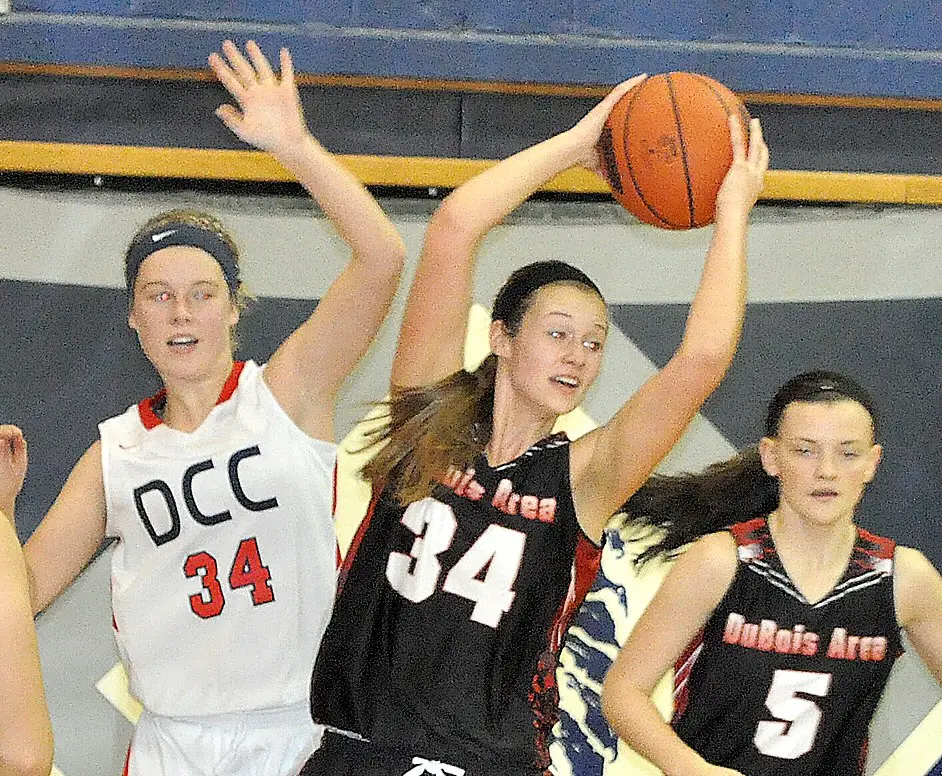 D9Sports.com and EYT Media are doing a series of player profiles on returning high-school athletes this summer. The year in school listed by the athlete is the year the athlete is entering this fall.
ASHLEY HALLOWELL – SENIOR – DUBOIS
Daughter of: Jason & Trudy Hallowell
Sports Played: Basketball
2016-17 Highlights: Ashley had an outstanding hoops season for DuBois and was named a first team All American Awards & Engraving All-District 9 player and a third-team All-State selection in Class 5A. She led D9 in rebounding at 18.0 rpg while adding 16.8 points per game. She recorded 22 double-doubles on the year to help DuBois to the District 6-8-9 semifinals.
Post-High School Goals: Ashley plans on playing basketball in college.
Q&A With Ashley Hallowell
D9Sports: What is your favorite sport to participate in?
AH: Basketball
D9: What is your favorite memory, moment, game from playing high school sports?
AH: My favorite game was our playoff game because it was our first home playoff game in a while and so many people were there to support our team and it was so cool.
D9: Why do you play high school sports?
AH: I play high school sports because I love playing with my friends and I enjoy the game.
D9: Is there a high school player on your team or another team that you enjoy watching play? If so, why?
AH: I really enjoy watching the younger girls play to see how much potential they already have and watching them get better as they get older.
D9: When not playing sports I would rather (pick one) – Go to work, play video games, shop, hang out with friends, play pickup sports, go the movies
AH: Hang out with friends.
D9: If you could go anywhere in the world, where would it be and why?
AH: I've always wanted to go to Italy because it seems like a really cool place!
D9: Who has had the most influence on you as a person?
AH: My parents have had the most influence on me as a person because they've always taught me to have a good attitude and they pushed me to do my best at everything.
D9: What do you like most about growing up in your hometown?
AH: I like that my hometown is small and you know everyone.
D9: What do you wish you could change about growing up in your hometown?
AH: I wish that there was more stuff to do in my hometown.
D9: What question do you wish I would have asked you? And what is the answer to it?
AH: I wish you would have asked how I like my coaches. I really like my coaches a lot! They really push me to get better as a player and help me work on my post moves and get stronger as a player.
D9: Do you or have you had any siblings or other immediate relatives who have played high school sports?
AH: My sister played basketball her freshman, sophomore, and junior year. My mom also played softball in high school and my dad wrestled in high school.