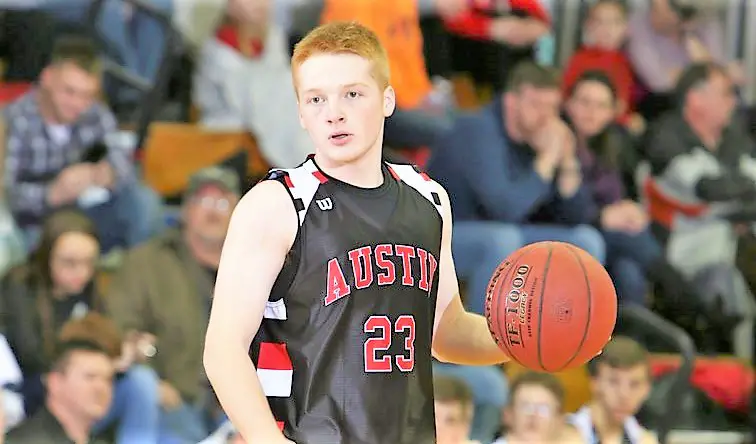 D9Sports.com/EYT Media is doing a series of player profiles on returning high-school athletes this summer. The year in school listed by the athlete is the year the athlete is entering this fall.
(Photo by Paul Burdick. Check out more of Burdick's work here)
BLAKE BURGETT – SENIOR – AUSTIN
Son of: Joe and Crystal Burgett
Sports Played: Basketball at Austin and baseball at Coudersport as part of a co-op with Austin
Family Members Playing/Played Sports: His brother, mom, dad, aunt and uncle all played sports.
2017-18 Highlights: Blake helped Austin to the District 9 basketball playoffs for the first time since 2004 while helping the Panthers go 13-10, a remarkable record considering Coudersport was 12-139 from 2011 and 2017 and 19-271 since its last playoff appearance in 2004. He played a major role in the turnaround as the second-leading scorer on the team at 11.3 points per game. That included a pair of 20-point contests including a season-high 23 points vs. Tidioute Charter. He was named an NTL All-Star in basketball. In baseball, he helped Coudersport to the District 9 Class 2A playoffs and was named a D9 Northern Allegheny League Small School North Division All-Star.
Post-High School Plans: Blake plans on attending trade school to become an electrician.
Q&A With Blake Burgett
D9Sports: What is your favorite sport to participate in and why?
BB: Basketball. I have always loved the game since I was a little kid.
D9Sports: What is your favorite memory, moment, game from playing high school sports?
BB: My favorite game would be the playoff game last year against Cameron County, even though we lost I feel like it made us a better team for this year to come
D9Sports: Why do you play high school sports?
BB: I play high school sports because I enjoy all sports. I enjoy playing and watching. Also, you get to play with and against some of your best friends and that doesn't come at any other level very often.
D9Sports: Who has had the most influence on your athletic career and why?
BB: My Dad has had the most influence on my athletic career. He has always pushed me to do the greatest I can in everything I do and to never give up on anything no matter the circumstances.
D9Sports: Do you remember the first sport you played and did you like it right away or did it grow on you?
BB: I started playing basketball around the age of eight, and I loved the game right away.
D9Sports: Do you have a favorite number for a uniform? If so, what is the story behind that number?
BB: My favorite number is 23 because my favorite player is Michael Jordan and he's the greatest of all time.
D9Sports: What would someone who doesn't know you be surprised to find out about you?
BB: When I'm not playing sports or in school, I enjoy fishing and riding four-wheelers.
D9Sports: If you could eat dinner with anyone famous (living or dead) who would it be and why?
BB: I would eat dinner with Michael Jordan because I have always been a big fan of his and I would enjoy meeting him.
D9Sports: Iphone or Android or Neither and why?
BB: iPhone that's currently what I own I have had an Android before and I will never go back.
D9Sports: What is your go-to Social Media and why?
BB: Twitter, there's always something juicy on there.
D9Sports: What do you like most about high school and why?
BB: The thing I like most about high school is the experiences you have through sports.
D9Sports: What do you like least about high school and why?
BB: The thing I like least about high school is having to leave this year and graduate.
D9Sports: What question do you wish I would have asked you? And what is the answer to it?
BB: Is there a high school player on your team or another team that you enjoy watching play? Owen Chambers of Coudersport. I play baseball with him and basketball against and just the way the game of basketball looks so effortless and everything he does looks so smooth.