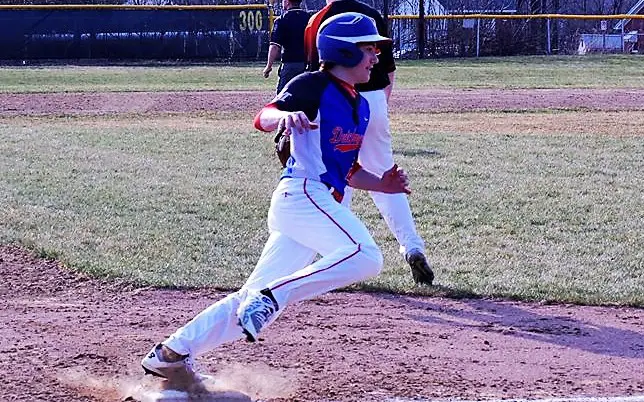 D9Sports.com/EYT Media is doing a series of player profiles on returning high-school athletes this summer. The year in school listed by the athlete is the year the athlete is entering this fall.
(Photo by Ronda Beimel)
BRANDON SICHERI – SENIOR – ST. MARYS
Son of: Mark and Lori Sicheri
Sports Played: He played baseball last year. He plans on playing baseball and golfing this year.
Family Members Playing/Played Sports: His cousin, Rudy Gleixner
2017-18 Highlights: Brandon helped St. Marys to the District 9 Class 4A baseball title, the school's first since 2000, while being named the team's offensive MVP. He was also named to the league All-Star team. He hit .379 on the season with a homer, a triple, six doubles and 17 RBIs while scoring a team-best 28 runs. He also stole six bases.
Post-High School Plans: He plans to attend college and play baseball wherever he can.
Q&A With Brandon Sicheri
D9Sports: What is your favorite sport to participate in and why?
BRS My favorite sport to participate in is baseball. I like it because I have been playing it since I was a little kid and fell in love with the game itself.
D9Sports: What is your favorite memory, moment, game from playing high school sports?
BRS My favorite high school moment was me hitting a walk-off home run in the bottom of the 7th against Hollidaysburg on my birthday.
D9Sports: Why do you play high school sports?
BRS I play high school sports to bring out my competitive side and hopefully make our school more successful in sports.
D9Sports: Who has had the most influence on your athletic career and why?
BRS My cousin Rudy Gleixner has a big influence on me because he was always very athletic and made me strive to be better.
D9Sports: Do you remember the first sport you played and did you like it right away or did it grow on you?
BRS The first sport I ever played was baseball and I fell in love with it right away.
D9Sports: Do you have a favorite number for a uniform? If so, what is the story behind that number?
BRS My favorite number to wear is by far number 2 and I like that because my favorite MLB player Jacoby Ellsbury wears that number.
D9Sports: What would someone who doesn't know you be surprised to find out about you?
BRS The thing that would surprise people the most would probably be my power, most people look at me and don't think I can hit for power and move the outfielders.
D9Sports: If you could eat dinner with anyone famous (living or dead) who would it be and why?
BRS I would have to pick Dustin Pedroia and that would be because he is small and plays the game with such passion.
D9Sports: Iphone or Android or Neither and why?
BRS iPhone because I have only used them so far.
D9Sports: What is your go-to Social Media and why?
BRS Twitter is my go to because it keeps me up to date on how high school and professional sports.
D9Sports: What do you like most about high school and why?
BRS My favorite thing about high school is the athletics it's an experience that you will never forget and only get to live it once.
D9Sports: What do you like least about high school and why?
BRS The thing I like least about high school is homework.
D9Sports: What question do you wish I would have asked you? And what is the answer to it?
BRS I wish you would have asked what's your least favorite high school memory. And I would have answered with losing our state playoff game by one run.