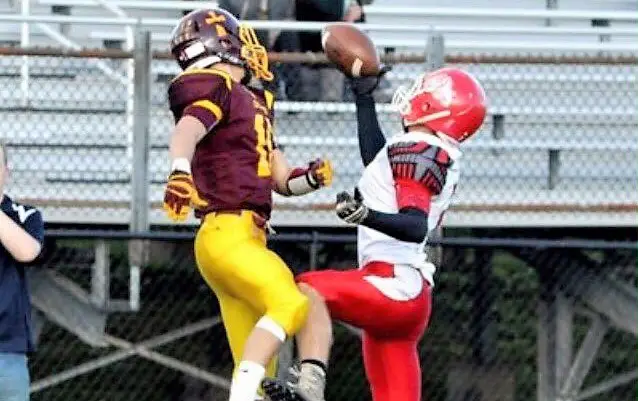 D9Sports.com and EYT Media are doing a series of player profiles on returning high-school athletes this summer. The year in school listed by the athlete is the year the athlete is entering this fall.
(Submitted Photo)
BROCK BARRETT – SENIOR – REDBANK VALLEY
Son of: Adam and Wendy Barrett
Sports Played: Football and Basketball
2016-17 Highlights: Helped the Bulldogs to the District 9 Class 1A playoffs last year by catching a team-high 30 passes for 432 yards and four touchdowns. He also ran for 124 yards and a score and was 6 of 10 passing for 52 yards. On defense, he made 42 tackles while leading District 9 with nine interceptions. In basketball, he was the second-leading scorer for Redbank Valley averaging 7.4 ppg while scoring a season-high 18 points from Clarion-Limestone.
Post High School Goals: He wants to go to college, major in Business and play football.
Q&A With Brock Barrett
D9Sports: What is your favorite sport to participate in?
BB: Football because I've played it since I was 8 years old, and I love the feeling walking out on that field Friday night under the lights.
D9: What is your favorite memory, moment, game from playing high school sports?
BB: My favorite memory has to be my freshman year (2014-2015) when the basketball team won districts and made it to the PIAA Elite Eight. Just sitting on the bench against Aliquippa in the Elite Eight game was so much fun.
D9: Why do you play high school sports?
BB :I play high school sports because it gives me more time to spend with friends and just being part of a team has taught me so many life lessons.
D9: Is there a high school player on your team or another team that you enjoy watching play? If so, why?
BB :Yes, I love watching Clint Thurston in the weight room, he puts up insane numbers and it's awesome to watch.
D9: When not playing sports I would rather (pick one) – Go to work, play video games, shop, hang out with friends, play pickup sports, go the movies
BB :Fishing, playing pickup basketball with friends or go to a friends house to relax.
D9: If you could go anywhere in the world, where would it be and why?
BB :I would go to the Outer Banks of North Carolina, I've been there before but I love it down there and would go again.
D9: Who has had the most influence on you as a person?
BB :I would say my dad has had the most influence on me as a person and who I want to be in life.
D9: What do you like most about growing up in your hometown?
BB :The best part of New Bethlehem is the amount of pizza places. I love pizza and could go to a different place to get pizza every day of the week.
D9: What do you wish you could change about growing up in your hometown?
BB :I wish that there was a record store in New Bethlehem growing up.
D9: What question do you wish I would have asked you? And what is the answer to it?
BB :Favorite Professional sports franchise- New York Giants.