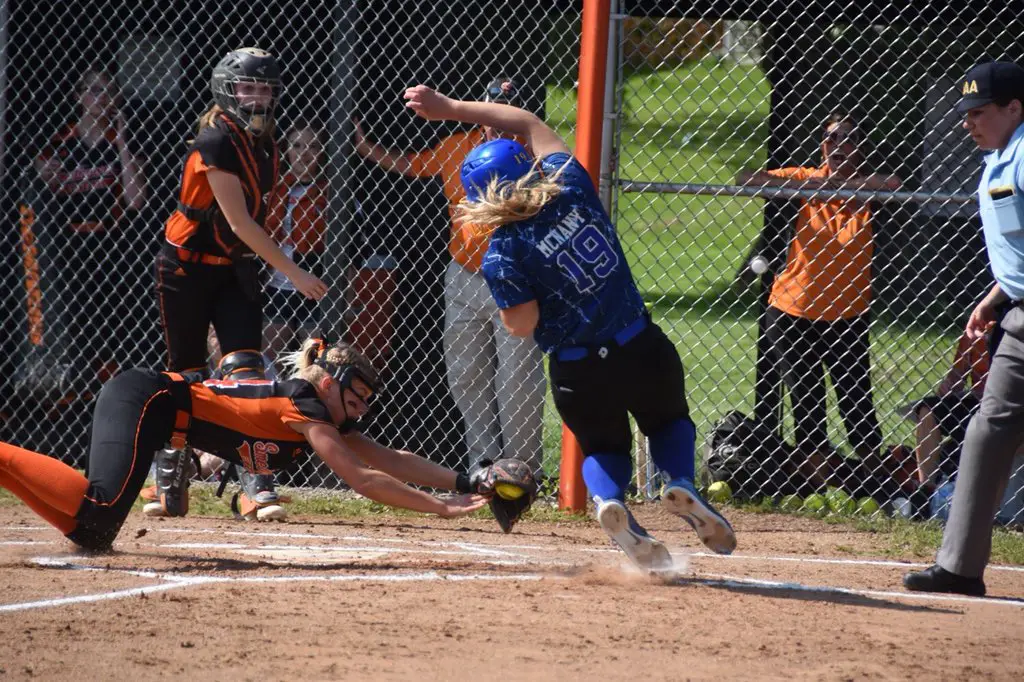 D9Sports.com/EYT Media is doing a series of player profiles on returning high-school athletes this summer. The year in school listed by the athlete is the year the athlete is entering this fall.
(Submitted photo. Photo by Tabby Wetzel)
CAMI MCNANY – SENIOR – A-C VALLEY
Daughter of: Chris & Lacey McNany
Sports Played: Golf, Basketball and Softball (She isn't planning on playing basketball this year)
Family Members Playing/Played Sports: Her sister, Lauren, her dad, her mom and three cousins
2017-18 Highlights: She helped A-C Valley to the District 9 girls' golf championship by winning the District 9 girls' golf individual title by shooting an 89. She then helped the Lady Falcons to the KSAC South title, runner-up finishes in the KSAC and District 9 Class 1A and the school's first-ever PIAA playoff win in basketball by averaging 9.4 points, 4.1 rebounds, 4.3 assists and 2.5 steals per game. That included a season-high 19 points vs. Redbank Valley for an A-C Valley squad that went 21-7 on the year. In softball, she helped A-C Valley to the District 9 semifinals by hitting a team-best .704 (38 of 54) with three home runs, 13 doubles, one triple, 30 RBIs and 29 runs scored. She had an OPS of 1.871 on the year.
Post-High School Plans: She plans to attend college for an engineering degree and play softball.
Q&A With Cami McNany
D9Sports: What is your favorite sport to participate in and why?
CM: Softball because there aren't very many things in life where you fail more than you succeed and are still considered successful. A .400 batting average is great, but you still get out 6 out of 10 times.
D9Sports: What is your favorite memory, moment, game from playing high school sports?
CM: Winning D9 in golf this year because it has been a long time coming.
D9Sports: Why do you play high school sports?
CM: To better myself physically and mentally, and build great friendships along the way.
D9Sports: Who has had the most influence on your athletic career and why?
CM: My parents have influenced me the most because they continually support me and challenge me to get better. If it wasn't for them, I wouldn't get to do half the things I get to now especially playing softball all summer long.
D9Sports: Do you remember the first sport you played and did you like it right away or did it grow on you?
CM: The first sport I would've played was Football. I loved it and played it for a few more years after that.
D9Sports: Do you have a favorite number for a uniform? If so, what is the story behind that number?
CM: My favorite number is 19. It was my very first number I got on my football jersey and it was the number Hines Ward wore when he played at Georgia.
D9Sports: What would someone who doesn't know you be surprised to find out about you?
CM: I'm scared to death of escalators.
D9Sports: If you could eat dinner with anyone famous (living or dead) who would it be and why?
CM: Lauren Chamberlain because I'd want to hear all about her experience playing at Oklahoma University and what it is like to play professionally for USSSA Pride.
D9Sports: Iphone or Android or Neither and why?
CM: IPhone; I've always just had an Apple product from the iPods and IPads, so I know how to work them.
D9Sports: What is your go-to Social Media and why?
CM: Snapchat; I like posting funny stories and practically texting all my friends but with pictures too.
D9Sports: What do you like most about high school and why?
CM: Getting the chance to play sports and have more freedom in school than when we were younger.
D9Sports: What do you like least about high school and why?
CM: High School always has drama and I'm not one for that.
D9Sports: What question do you wish I would have asked you? And what is the answer to it?
CM: If there were any pre-game traditions I like to do? If you are ever on our basketball or softball bus, you'd know there is always someone blaring Save a Horse by Big & Rich for me!