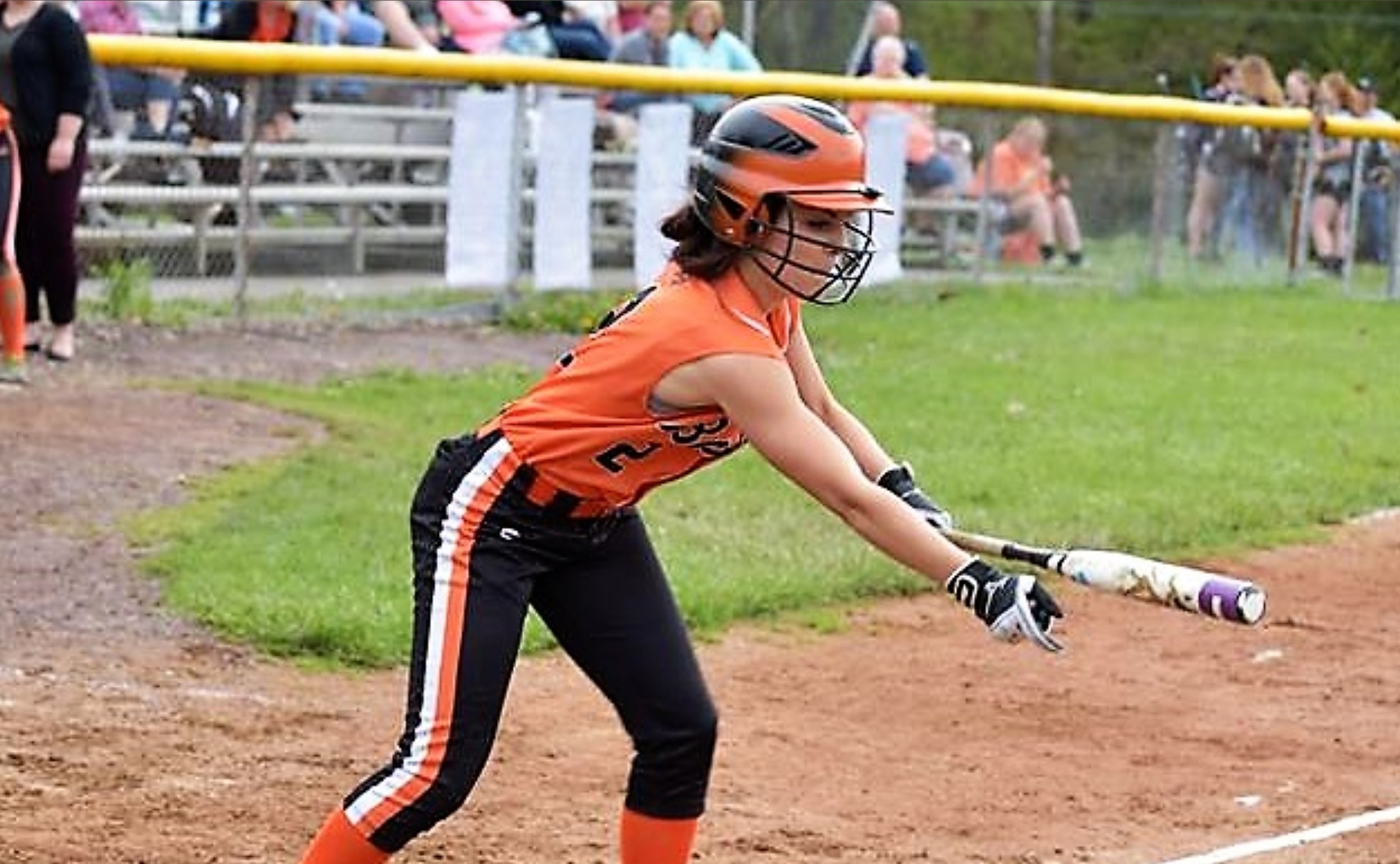 D9Sports.com/EYT Media is doing a series of player profiles on returning high-school athletes this summer. The year in school listed by the athlete is the year the athlete is entering this fall.
(Photo by Kim Constantino)
CARLY BEST – SENIOR – CLARION
Daughter of: Matt and Melanie Best
Sports Played: Softball
Family Members Playing/Played Sports: Her dad was a member of the 1989 Keystone football team that reached the PIAA Championship game. Her cousin, Sadie Rudesyle, was her teammate with the Lady Cats for the past three seasons. Her sister, Jordan, will be a freshman for the Lady Cats this year.
2017-18 Highlights: Carly helped Clarion to the District 9 Class 1A playoffs in softball by hitting .362 with 15 runs scored and 13 RBIs. She also stole three bases.
Post-High School Plans: Carly plans to attend either St. Francis University or Gannon University and get her doctorate degree in occupational therapy.
Q&A With Carly Best
D9Sports: What is your favorite sport to participate in and why?
CB: Softball. I've learned so much from the coaches and other girls. It's impossible not to be having fun on that team.
D9Sports: What is your favorite memory, moment, game from playing high school sports?
CB: Winning the playoff game at Kane my freshman year and when the team attempted to put the tarp down on the field on a VERY windy day and John (assistant coach John Stroup) got swept away under the fence.
D9Sports: Why do you play high school sports?
CB: Playing a high school sport teaches you a lot of lessons you can't learn in Math or English class. These are the important ones I'll never forget.
D9Sports: Who has had the most influence on your athletic career and why?
CB: Definitely my Dad. He's encouraged me and coached me since I was five years old. He's taught me most of what I know about softball and made sure I know to never quit no matter how tough it gets.
D9Sports: Do you remember the first sport you played and did you like it right away or did it grow on you?
CB: The first sport I played was t-ball and I absolutely loved it right from the beginning.
D9Sports: Do you have a favorite number for a uniform? If so, what is the story behind that number?
CB: Number 2. There's no specific reason other than I've had that number since t-ball.
D9Sports: What would someone who doesn't know you be surprised to find out about you?
CB: When I was 13, I had my first over the fence Grand Slam in travel ball.
D9Sports: If you could eat dinner with anyone famous (living or dead) who would it be and why?
CB: My Uncle Izzy, he passed away when I was six weeks old.
D9Sports: Iphone or Android or Neither and why?
CB: Honestly neither, I'd rather had an old flip phone.
D9Sports: What is your go-to Social Media and why?
CB: Twitter. The drama is entertaining.
D9Sports: What do you like most about high school and why?
CB: Getting to participate in fun clubs and activities, such as National Honor Society. You get to help the community in so many ways.
D9Sports: What do you like least about high school and why?
CB: All of the unnecessary drama and people worrying so much about what others think.
D9Sports: What question do you wish I would have asked you? And what is the answer to it?
CB: Are there any sports you play that aren't affiliated with your high school? I play travel softball all year. We practice in the winter and play in the summer and fall.