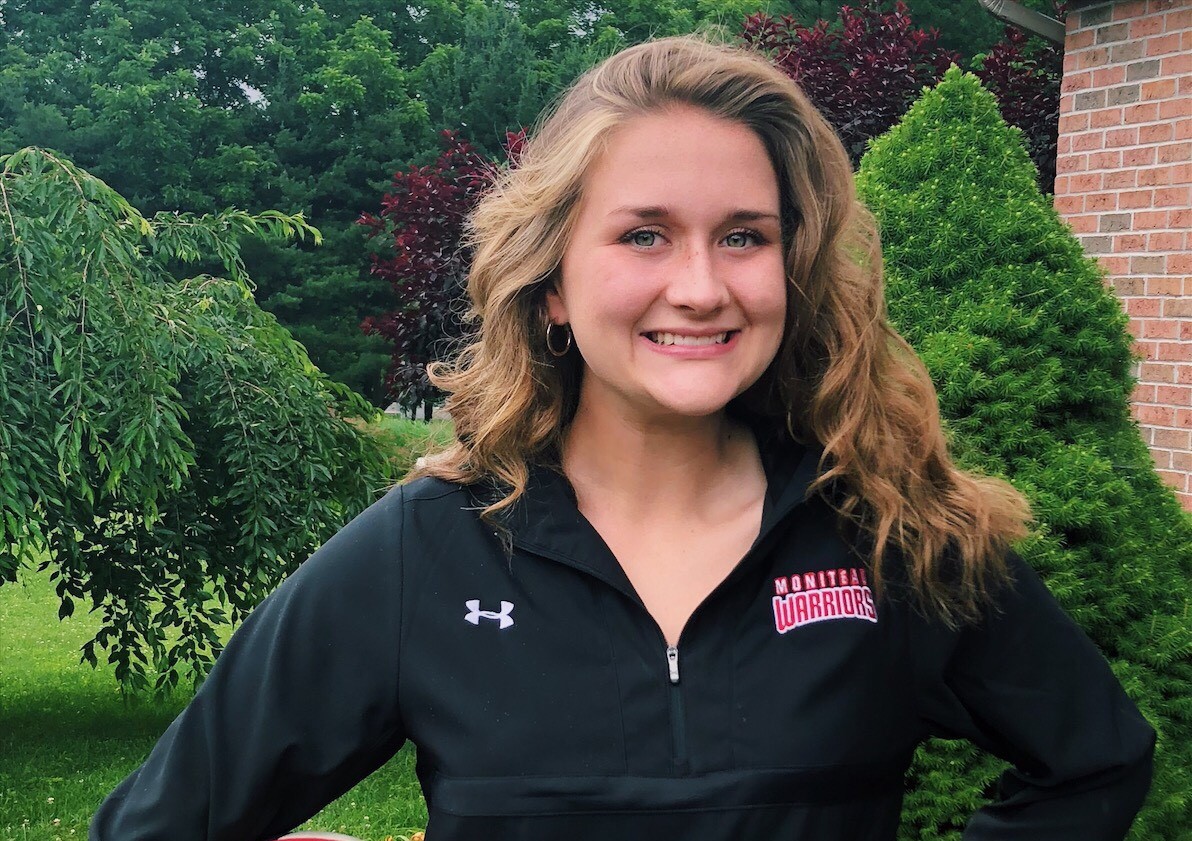 D9Sports.com/EYT Media is doing a series of player profiles on returning high-school athletes this summer. The year in school listed by the athlete is the year the athlete is entering this fall.
(Submitted photo)
CAROLYN KELLY – SENIOR – MONITEAU
Daughter of: Staci and Albert Kelly
Sports Played: Volleyball, Track and Soccer (Through the Butler Travel Soccer Association)
Family Members Playing/Played Sports: Her brother Nathan and sister Catherine
2017-18 Highlights: She was a starter on the Moniteau volleyball team and was an alternate for the Lady Warriors 4×400-meter relay team
Post-High School Plans: She plans to go to a four-year institution and major in Speech Pathology. She doesn't plan on playing sports competitively in college but thinks it would be great to participate in intramural leagues to have fun and stay in shape.
Q&A With Carolyn Kelly
D9Sports: What is your favorite sport to participate in and why?
CK: Track is one of my favorite sports because it is a very low-pressure environment. This is because at track you perform well based on how much you put into it. How hard you work at your event is what you get out of it.
D9Sports: What is your favorite memory, moment, game from playing high school sports?
CK: My favorite part of playing high school sports is the bus rides home from away games. This one time we exploded glow sticks everywhere so then all the seats and windows were glowing. It was so funny.
D9Sports: Why do you play high school sports?
CK: I play sports to stay in shape and keep myself busy. I could not imagine my life without a game or a sports practice to go to.
D9Sports: Who has had the most influence on your athletic career and why?
CK: My parents have been very influential. They have pushed me out of my comfort zone to try new things and without their support, I would not be where I am now.
D9Sports: Do you remember the first sport you played and did you like it right away or did it grow on you?
CK: I took gymnastics and dance classes as my first activity. At the time I absolutely loved it because I was the typical girly-girl, so it was the perfect fit for me. A few years later I transitioned to more team-like sports.
D9Sports: Do you have a favorite number for a uniform? If so, what is the story behind that number?
CK: Number 11 is my go-to number because it is my birthday.
D9Sports: What would someone who doesn't know you be surprised to find out about you?
CK: People do not really know that I'm a serial shopper. I can find something to buy from anywhere. I can shop at Walmart to American Eagle.
D9Sports: If you could eat dinner with anyone famous (living or dead) who would it be and why?
CK: I would have dinner with Marilyn Monroe because I absolutely love the 50s and 60s era. And also, she was very troubled so it would be cool to see her take on what happened to her.
D9Sports: Iphone or Android or Neither and why?
CK: I'm an iPhone person because it is honestly wayyyyyyy better than all other electronics.
D9Sports: What is your go-to Social Media and why?
CK: I mostly use Snapchat because it's how I communicate and keep up with my friends.
D9Sports: What do you like most about high school and why?
CK: I like the independence that high school gives you. It's up to you to get things done because there isn't someone there constantly harping on you to do things.
D9Sports: What do you like least about high school and why?
CK: I personally hate all of the drama that comes along with high school. We are there to get an education and some people forget about that.
D9Sports: What question do you wish I would have asked you? And what is the answer to it?
CK: What is the one thing that drives you the most? Making sure that I make myself feel accomplished. That feeling could come with having a good game, a good block, or a good jump. I just don't want to let myself down by not performing to my best potential.