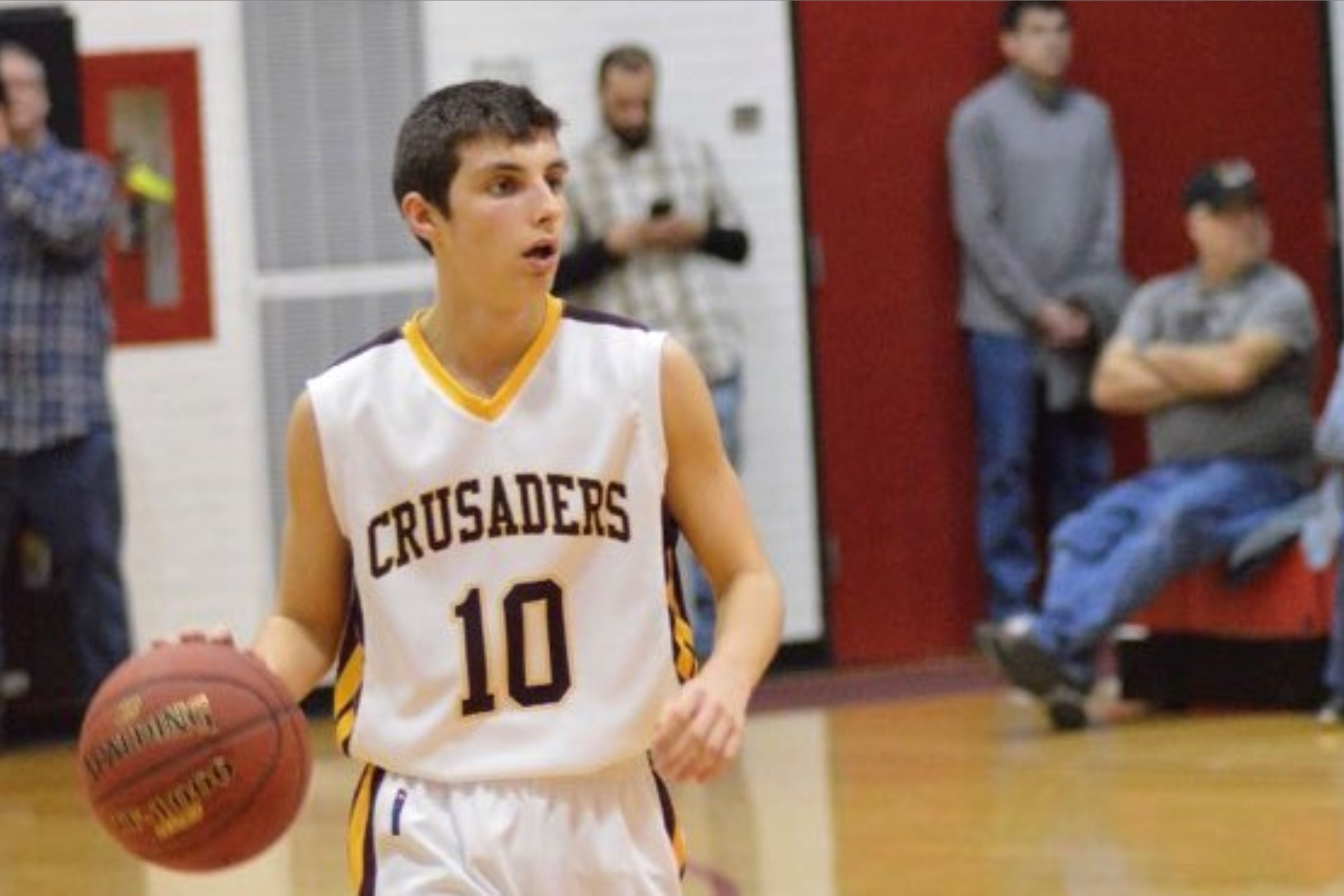 D9Sports.com/EYT Media is doing a series of player profiles on returning high-school athletes this summer. The year in school listed by the athlete is the year the athlete is entering this fall.
(Submitted photo. Photo by Caleb Huntoon)
CARTER LINDEMUTH – JUNIOR – ELK COUNTY CATHOLIC
Son of: Kevin and Jodi Lindemuth
Sports Played: Soccer, Basketball
Family Members Playing/Played Sports: His older brother, Jackson, just graduated from St. Marys where he played soccer and basketball. The brothers actually faced off against each other in both sports and guarded each other. He has a younger sister, Jade, who is going to be a sophomore and plays soccer and basketball (she was at St. Marys High School as well last year). Both of his parents played high school sports as well with his dad playing at Brookville and his mom at St. Marys. Most of his cousins, aunts and uncles played sports too.
2017-18 Highlights: He won letters in both soccer and basketball. He averaged 1.7 ppg in basketball and helped the Crusaders to a second-place finish in District 9 Class 1A, the AML title and a second-round berth in the PIAA tournament. He scored a season-high nine points against St. Marys.
Post-High School Plans: He plans to attend college and play basketball.
Q&A With Carter Lindemuth
D9Sports: What is your favorite sport to participate in and why?
CL: My favorite sport to participate in is basketball because I've been playing the game since I was in third grade. The coaches that I've had since then have taught me so much and have instilled in me a love for the game.
D9Sports: What is your favorite memory, moment, game from playing high school sports?
CL: My favorite memory from playing a high school sport would have to be me playing my brother in basketball this year. I got to play him three times this season. We each guarded each other in all three of those games. We have supported each other regardless of the outcome of those three games.
D9Sports: Why do you play high school sports?
CL: I play high school sports because sports have brought out the best of me. They've brought me closer to others and have given me skills that I have used in and out of sports.
D9Sports: Who has had the most influence on your athletic career and why?
CL: My brother, Jackson, has had the biggest influence in my athletic career because he has always pushed me to do better. He made me competitive whether it be at home or in the gym.
D9Sports: Do you remember the first sport you played and did you like it right away or did it grow on you?
CL: The first sport I played was soccer. When I first started playing soccer, I realized my love for sports, so I fell in love with it right away.
D9Sports: Do you have a favorite number for a uniform? If so, what is the story behind that number?
CL: I really don't have a favorite number for a uniform.
D9Sports: What would someone who doesn't know you be surprised to find out about you?
CL: Someone who doesn't know me would probably be surprised that I do many other activities besides soccer and basketball. Some of these activities include video games, golfing, baseball, spending time with friends and family and keeping updated in many collegiate and professional sports.
D9Sports: If you could eat dinner with anyone famous (living or dead) who would it be and why?
CL: If I could eat with any famous person it would have to be Jason Williams because I remember watching his highlights on YouTube as a kid. When I watched these highlights I wanted to make crazy passes just like he did in the NBA.
D9Sports: Iphone or Android or Neither and why?
CL: iPhone because I've only ever owned Apple devices growing up.
D9Sports: What is your go-to Social Media and why?
CL: Twitter is my go-to Social Media because it keeps me updated on sports and other topics.
D9Sports: What do you like most about high school and why?
CL: My favorite thing about high school is getting to experience it all with my friends.
D9Sports: What do you like least about high school and why?
CL: There really isn't anything I don't like about high school, but if I had to say one thing it would be getting out of bed in the morning.
D9Sports: What question do you wish I would have asked you? And what is the answer to it?
CL: I wish you would have asked: "What do you do in the offseason?" I would have responded – I go to many different basketball camps to develop more skills. I went to many different college camps like Duke, Kansas, St. Bonaventure and many different local camps and clinics that I had the opportunity to participate in.