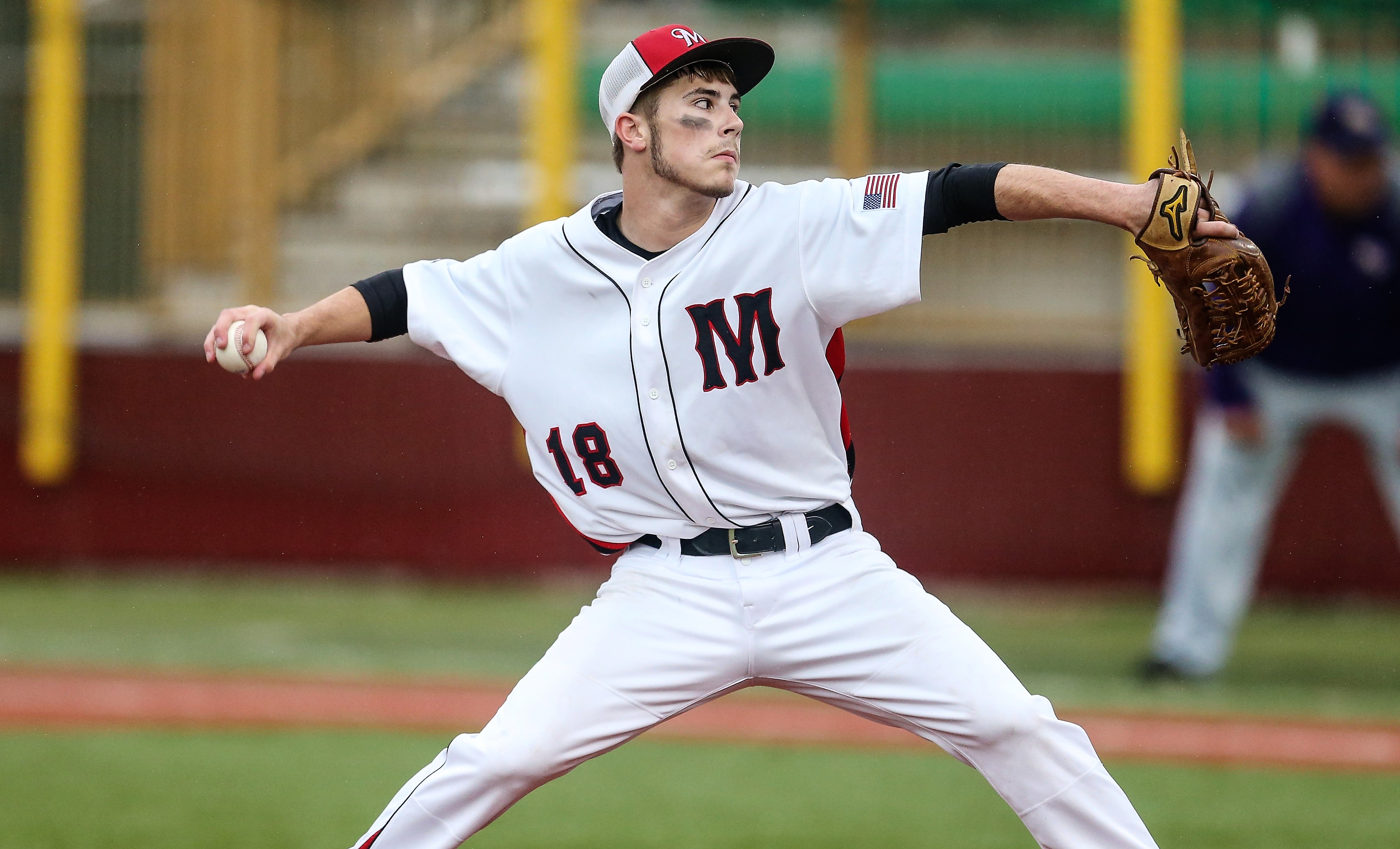 D9Sports.com/EYT Media is doing a series of player profiles on returning high-school athletes this summer. The year in school listed by the athlete is the year the athlete is entering this fall.
(Photo by Mike Schnelle)
CHANCE NAGY – SENIOR – MONITEAU
Son of: Justin and Amy Nagy
Sports Played: Football, baseball
Family Members Playing/Played Sports: I have several family members who have played sports at Moniteau. Most recently Chloe and Kaleb Eshenbaugh. Cruz and Beau Eshenbaugh. My father Justin and my uncles. My sister will be on the varsity competitive cheer squad this year and my brother will be playing junior high football.
2017-18 Highlights: Nagy was a strong performer in a pair of sports for the Warriors. He helped lead Moniteau to the District 5-9 baseball title by going 6-0 on the mound with a 1.38 ERA. In 25 ⅓ innings of work he struck out 40 while walking just eight. He also hit .349 with a triple, two doubles, 21 RBIs, 16 runs scored and 10 stolen bases. He was named a second-team KSAC performer at both pitcher and outfielders. In football, as the starting quarterback, he was 107 of 2016 passing for 1,193 yards, 10 touchdowns and 14 interceptions while adding 312 yards rushing and four scores and making 14 tackles on defense.
Post-High School Plans: He is currently considering going to a trade school, but is undecided on my field of study.
Q&A With Chance Nagy
D9Sports: What is your favorite sport to participate in and why?
CN: I like both baseball and football equally. I like the intensity in football and the challenges that baseball brings in hitting and pitching.
D9Sports: What is your favorite memory, moment, game from playing high school sports?
CN: This past year when I threw the game-winning touchdown to Hunter Fitzingo in double overtime against Redbank Valley.
D9Sports: Why do you play high school sports?
CN: I like to play high school sports for the excitement the sports bring to you. You get to build relationships and bonds with your teammates and get to experience every emotion with them.
D9Sports: Who has had the most influence on your athletic career and why?
CN: I'd have to say my dad. He was my coach in football and baseball from 6 years old until I started playing high school sports. He always pushes me to be better. He'd wake up early on Saturday mornings to drive me to baseball tournaments.
D9Sports: Do you remember the first sport you played and did you like it right away or did it grow on you?
CN: The first sport I ever played was baseball. I remember at first I wasn't the best player, but as I grew older the sport grew on me and I became a better player each year.
D9Sports: Do you have a favorite number for a uniform? If so, what is the story behind that number?
CN: My favorite number is 7. One day when I was younger it was our day to pick jerseys for youth football and I picked 7. When I got home my dad told me that was his football number growing up throughout high school and he also played quarterback.
D9Sports: What would someone who doesn't know you be surprised to find out about you?
CN: That I'm actually a humble and genuine person. People would think I'm the average jock, but I'm not.
D9Sports: If you could eat dinner with anyone famous (living or dead) who would it be and why?
CN: I'd eat dinner with Ted Williams. I would want to learn how the triumphs and challenges of baseball have changed from then to now.
D9Sports: Iphone or Android or Neither and why?
CN: iPhone. I think the quality of the phone is much better than an android. Apple is a big product and continues to make the Apple products better each and every day.
D9Sports: What is your go-to Social Media and why?
CN: My go-to social media app is Twitter. There are always funny videos and tweets on there every day I like to see.
D9Sports: What do you like most about high school and why?
CN: I like high school mostly because of the friendships you make with people.
D9Sports: What do you like least about high school and why?
CN: The least thing I like about high school is the drama in the school.
D9Sports: What question do you wish I would have asked you? And what is the answer to it?
CN: How does it feel to have your third football coach in three years? Although it is coach Rottman's first year as varsity football coach, I am really excited to go make to running old and familiar offense I ran growing up. I've had coach Rottman in the past. I am optimistic that we will have a successful season under his reign.