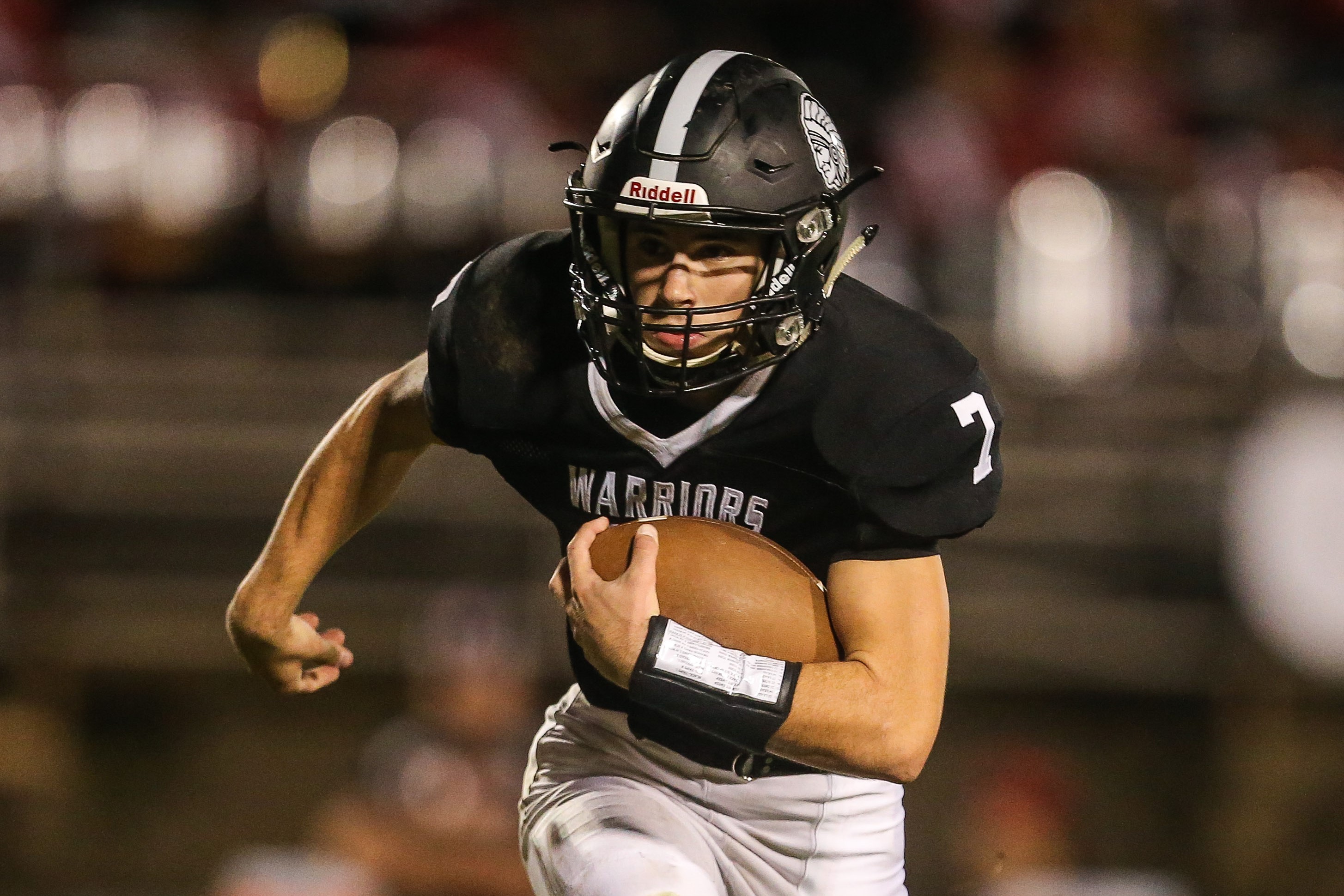 D9Sports.com and EYT Media are doing a series of player profiles on returning high-school athletes this summer. The year in school listed by the athlete is the year the athlete is entering this fall.
(Photo by Mike Schnelle. Check out more of Schnelle's work here)
CHANCE NAGY – JUNIOR – MONITEAU
Son of: Justin and Amy Nagy
Sports Played: Football and Baseball
2016-17 Highlights: Chance was the starting quarterback for Moniteau and went 49 of 124 passing for 828 yards, eight touchdowns and 13 interceptions while also running for 334 yards and five scores and adding two catches for 21 yards and a touchdown. He also made 33 tackles on defense with three interceptions and a fumble recovery. In baseball, Chance hit .321 with two doubles and nine RBIs while stealing five bases. He also was 1-1 on the mound with a save and a 2.28 ERA. In 15 ⅓ innings of work, he struck out 16.
Post High School Goals: He plans on going to college, play sport and major in Criminology
Q&A With Chance Nagy
D9Sports: What is your favorite sport to participate in?
CN: Football
D9: What is your favorite memory, moment, game from playing high school sports?
CN: Throwing for 240 yards against St. Marys in my first varsity start as a sophomore
D9: Why do you play high school sports?
CN : I like being a part of a team and working together to achieve a common goal
D9: Is there a high school player on your team or another team that you enjoy watching play? If so, why?
CN :Zane Dudek of Armstrong. I like the intensity his brings to the game and heart that he plays with
D9: When not playing sports I would rather (pick one) – Go to work, play video games, shop, hang out with friends, play pickup sports, go the movies
CN : Hangout with friends
D9: If you could go anywhere in the world, where would it be and why?
CN :Any place warm with white sandy beaches
D9: Who has had the most influence on you as a person?
CN :Coach Vogan (former Moniteau football head coach Wade Vogan) influenced me on and off the field. He was not only my coach but like a second father to me.
D9: What do you like most about growing up in your hometown?
CN :I like growing up in a small town because of the bonds I have made with my friends.
D9: What do you wish you could change about growing up in your hometown?
CN :If I could change one thing about my hometown it would be that with smallness comes everybody knows everybody's business.
D9: What question do you wish I would have asked you? And what is the answer to it?
CN :I wish you would have asked what my expectations are for the football team this upcoming season. We have had a head coach change and a new coaching philosophy with that change. Last year we were a young team, we are a year older and a year football smarter. I expect us to have a successful season this year.
D9: Do you or have you had any siblings or other immediate relatives who have played high school sports?
CN :Both of my parents participated in sports during their high school years. My father played football and basketball. My mom played basketball. My grandfathers played football as well as my uncles and cousins. Most recently playing sports at Moniteau were my cousins Chloe (softball) and Kaleb (baseball) Eshenbaugh.