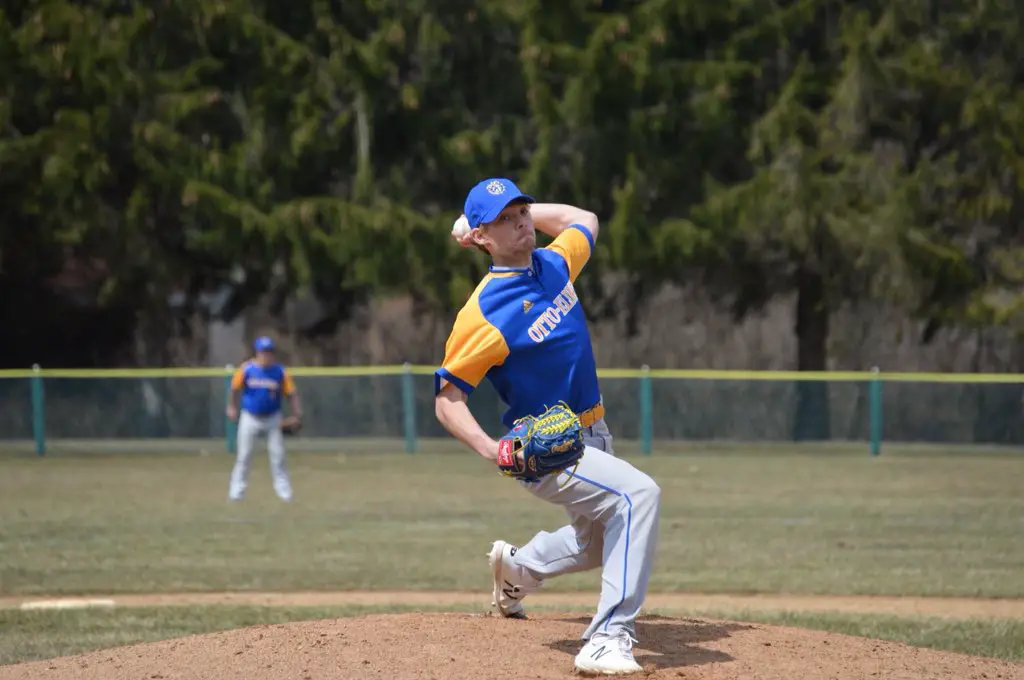 D9Sports.com/EYT Media is doing a series of player profiles on returning high-school athletes this summer. The year in school listed by the athlete is the year the athlete is entering this fall.
(Submitted photo)
CHASE SEBASTIAN – SENIOR – OTTO-ELDRED
Son of: Chad & Erica Sebastian
Sports Played: Football, basketball, baseball
Family Members Playing/Played Sports: HIs dad played baseball, basketball and golf. His mom played softball and swam. His younger brother, Cole, plays multiple sports for Otto-Eldred.
2017-18 Highlights: In football, he helped Otto-Eldred to a second straight AML North title by making 47 tackles, intercepting a pass and causing a fumble on defense. On offense, he was caught one pass for 30 yards and a touchdown; In basketball, he appeared in 22 games scoring 30 points; In baseball, he hit a team-leading .426 with seven doubles, a triple, two home runs and 20 RBIs while scoring 12 runs. He also pitched in 12 games going 29 ⅓ innings while allowing 24 earned runs. He struck out 35.
Post-High School Plans: He is going to go to college to study criminal justice and play baseball.
Q&A With Chase Sebastian
D9Sports: What is your favorite sport to participate in and why?
CS: My favorite sport to participate in is football because it is always an adrenaline rush and you can talk as much smack on the field as you want.
D9Sports: What is your favorite memory, moment, game from playing high school sports?
CS: My favorite memories from high school sports are when we won the AML North back-to-back in football and when we played Kane because there is always so much more adrenaline in those games.
D9Sports: Why do you play high school sports?
CS: I play them because I like to stay active and I like sports and being with all my friends.
D9Sports: Who has had the most influence on your athletic career and why?
CS: My brother has had the biggest impact on my athletic career because people always say he is better than me so I push myself to prove I am better it gives me motivation.
D9Sports: Do you remember the first sport you played and did you like it right away or did it grow on you?
CS: The first sport I played was baseball and I HATED it. But it is now one of my favorites.
D9Sports: Do you have a favorite number for a uniform? If so, what is the story behind that number?
CS: My favorite number is No. 1 because I am number 1. There is nobody better and me thinking that makes me work hard so nobody can beat me.
D9Sports: What would someone who doesn't know you be surprised to find out about you?
CS: Someone who doesn't know me would probably look at me and think I am good at basketball but I am actually not very good at it.
D9Sports: If you could eat dinner with anyone famous (living or dead) who would it be and why?
CS: I would eat dinner with Javier Baez because he is my favorite MLB player, and I love the way he bats because he swings for the fence no matter what.
D9Sports: Iphone or Android or Neither and why?
CS: iPhone because they work a lot better and are easier to understand.
D9Sports: What is your go-to Social Media and why?
CS: My go-to social media is Instagram because you can follow as many people as you want and see what they are up to.
D9Sports: What do you like most about high school and why?
CS: I like that high school is a place to grow up and make mistakes and learn from them.
D9Sports: What do you like least about high school and why?
CS: What I like the least about high school is that you can only get away with so much stuff and only do certain things.
D9Sports: What question do you wish I would have asked you? And what is the answer to it?
CS: I wish you would have asked me what is your dream college to go to play sports. And the answer to that is TCU.