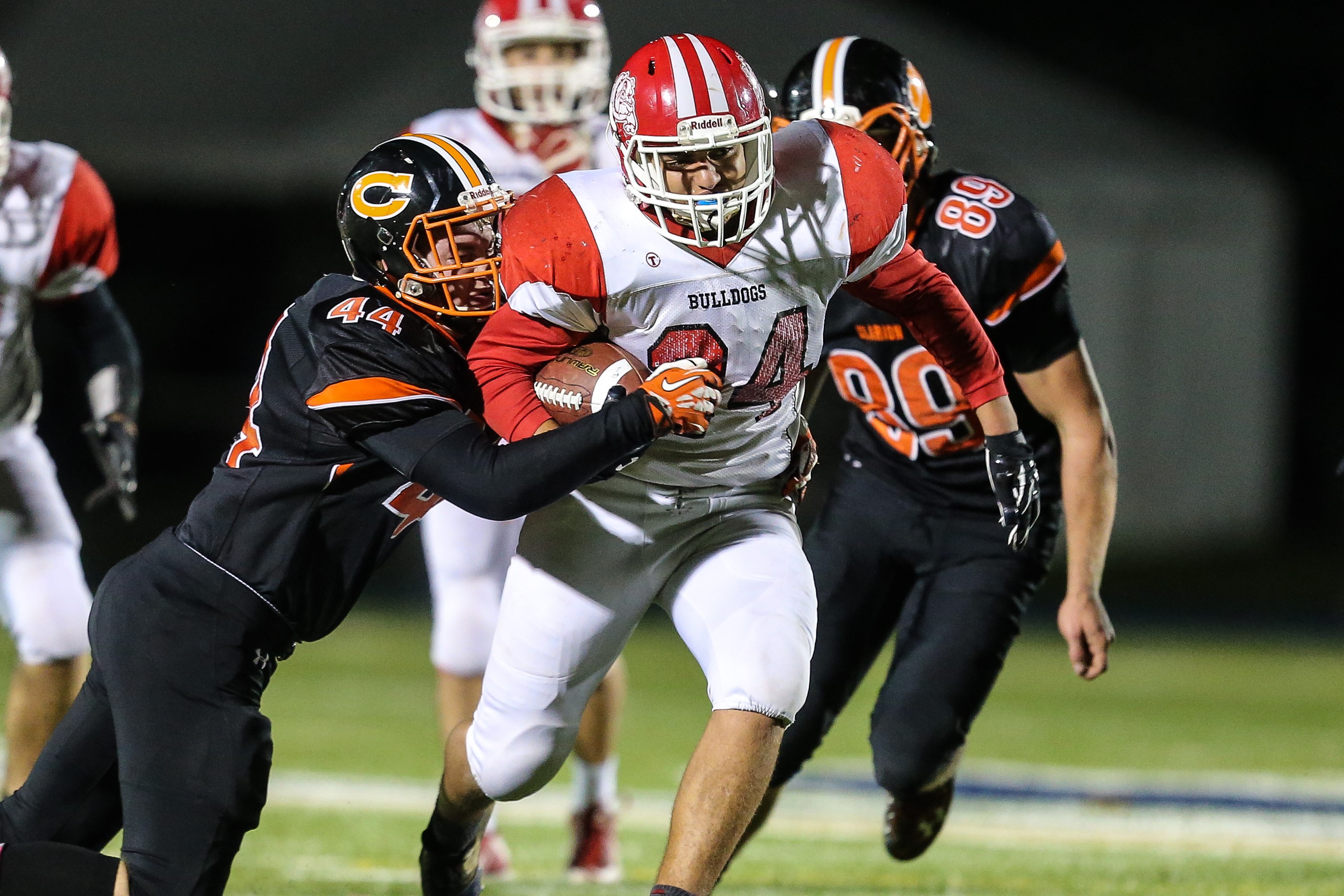 D9Sports.com and EYT Media are doing a series of player profiles on returning high-school athletes this summer. The year in school listed by the athlete is the year the athlete is entering this fall.
CLINT THURSTON – SENIOR – REDBANK VALLEY
Son of: Jesse and Gina Thurston
Sports Played: Football and Track & Field
2016-17 Highlights: Thurston was a key cog in the Redbank Valley offense during football season rushing for 393 yards and a team-high seven touchdowns while also catching five passes for 122 yards and a score to help the Bulldogs to the District 9 playoffs. On defense, he was third on the team with 57 tackles while recording six sacks, causing a fumble and recovering a fumble. In track, he was third in D9 2A in the discus with a toss of 141-feet, 10-inches and finished seventh in the shot put with a throw of 46-3.
Post High School Goals: He plans to go to college and study engineering and possibly play sports.
Q&A With Clint Thurston
D9Sports: What is your favorite sport to participate in?
CT: Football
D9: What is your favorite memory, moment, game from playing high school sports?
CT: Beating Clarion for the KSAC Small School Division title my sophomore year.
D9: Why do you play high school sports?
CT :I play high school sports because I enjoy doing it and it takes up my time.
D9: Is there a high school player on your team or another team that you enjoy watching play? If so, why?
CT :I like watching Zane Dudek (Armstrong HS) because when you watch him you can just tell that he's just a natural football player.
D9: When not playing sports I would rather (pick one) – Go to work, play video games, shop, hang out with friends, play pickup sports, go the movies
CT :Hang out with friends.
D9: If you could go anywhere in the world, where would it be and why?
CT : I would like to go to Australia because it has a beach, desert and rainforest to explore.
D9: Who has had the most influence on you as a person?
CT :My dad has influenced me the most.
D9: What do you like most about growing up in your hometown?
CT :The woods and back roads
D9: What do you wish you could change about growing up in your hometown?
CT :It would be nice if there were more opportunities
D9: What question do you wish I would have asked you? And what is the answer to it?
CT :Who inspires you the most? JJ Watt because he came from a small town like me and by hard work and risk taking he became a successful NFL player.
D9: Do you or have you had any siblings or other immediate relatives who have played high school sports?
CT :Yes, Megan Thurston by sister.