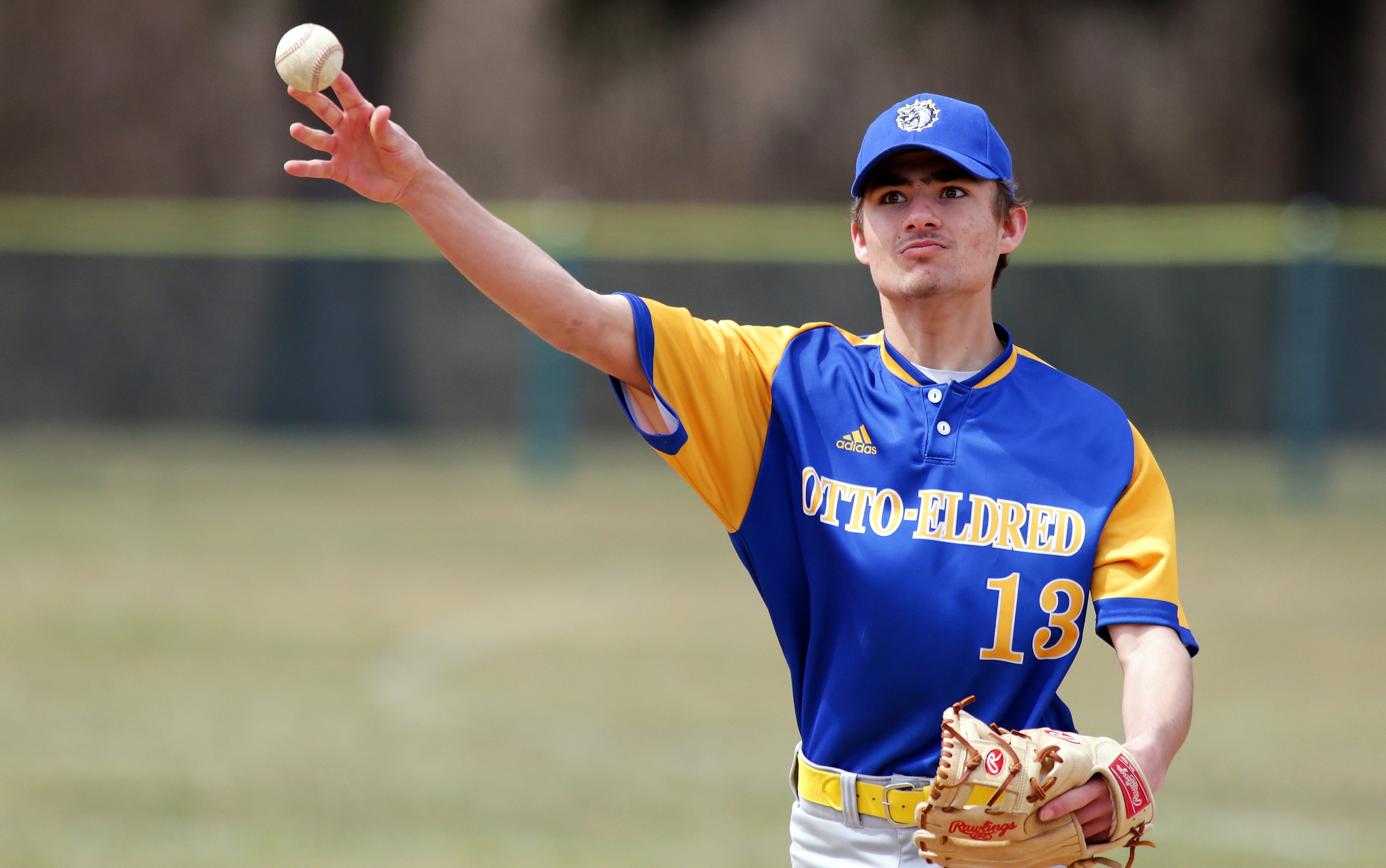 D9Sports.com/EYT Media is doing a series of player profiles on returning high-school athletes this summer. The year in school listed by the athlete is the year the athlete is entering this fall.
(Photo by Paul Burdick. Check out more of Burdick's work here)
COLE SEBASTIAN – SOPHOMORE – OTTO-ELDRED
Son of: Chad Sebastian and Erica Sebastian
Sports Played: Football, basketball, baseball
Family Members Playing/Played Sports: Mom did softball, basketball and swimming. Dad did baseball, basketball and golf. Brother Chase does baseball, basketball and football.
2017-18 Highlights: In football, he helped Otto-Eldred to a second straight AML North title and the D9 1A playoffs by catching 12 passes for 160 yards and two touchdowns, rushing 8 times for 70 yards and a touchdown and going 6 of 8 passing for 126 yards and a touchdown on offense. On defense, he averaged 5.3 tackles per game with two fumble recoveries. In basketball, he averaged 4.9 points per game and scored a season-high 12 points vs. Sheffield. In baseball, he hit .250 with two triples, five doubles, five RBIs and a team-leading 21 runs scored. He was second on the team with eight stolen bases, and he also pitched 8 ⅓ innings striking out 11.
Post-High School Plans: He plans to attend college and major in business. He would like to play baseball in college.
Q&A With Cole Sebastian
D9Sports: What is your favorite sport to participate in and why?
CS: My favorite sport to play in is baseball because it makes you think and be a team player. Also because being able to be a part of the team is amazing.
D9Sports: What is your favorite memory, moment, game from playing high school sports?
CS: Being able to be the AML North champions for football and going to playoffs.
D9Sports: Why do you play high school sports?
CS: I play high school sports to work with other people and just to get better so I can pursue sports in college.
D9Sports: Who has had the most influence on your athletic career and why?
CS: My parents have the most influence on my athletic career because they want what's best for me and they help me through everything. They also give me all the opportunities in the world to be able to get better.
D9Sports: Do you remember the first sport you played and did you like it right away or did it grow on you?
CS: The first sport I played was baseball and I immediately loved it.
D9Sports: Do you have a favorite number for a uniform? If so, what is the story behind that number?
CS: Yes, my favorite number on a uniform is 13 but there isn't a reason why I like it.
D9Sports: What would someone who doesn't know you be surprised to find out about you?
CS: People would be surprised that I am smart.
D9Sports: If you could eat dinner with anyone famous (living or dead) who would it be and why?
CS: If I could eat dinner with anyone it would be Mike Trout because he is my favorite baseball player and I feel I could learn a lot from him.
D9Sports: Iphone or Android or Neither and why?
CS: iPhone because they are easier to use.
D9Sports: What is your go-to Social Media and why?
CS: Instagram because I have a lot of friends on it.
D9Sports: What do you like most about high school and why?
CS: I like being able to be with all my friends the most in high school because they help me with everything.
D9Sports: What do you like least about high school and why?
CS: The thing I don't like about high school is all the testing we have to take.
D9Sports: What question do you wish I would have asked you? And what is the answer to it?
CS: I wish you would have asked what my goals are for high school sports. I would like to make the playoffs for every sport I play this year.