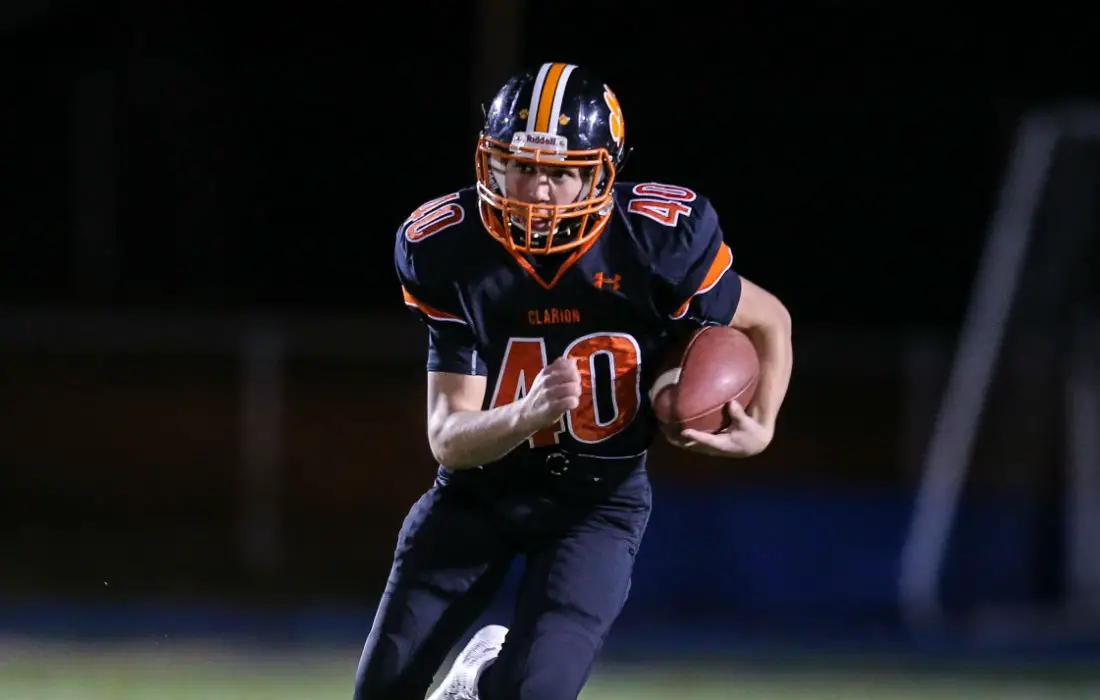 D9Sports.com and EYT Media are doing a series of player profiles on returning high-school athletes this summer. The year in school listed by the athlete is the year the athlete is entering this fall.
COLTON RAPP – Junior – Clarion Area
Son of: Ron and Tracy Rapp
Sports Played: Football and Wrestling
2015-16 Highlights: Colton took third in District 9 at 145 pounds in wrestling beating Jake Kallenborn of Port Allegany, 3-1. He then lost in the quarterfinals at Northwest Regionals. In football, he led the Bobcats in rushing with 670 yards and eight touchdowns while also catching a touchdown pass. On defense, he was third on the team with 101 tackles while recording three sacks and also caused a fumble.
Post High School Goals: I would like to attend college and either wrestle or play football.
Q&A With Colton Rapp
D9Sports: Do you have a favorite sport, and if so why?
CR: Wrestling because you are an individual out there. You can't blame anyone but yourself out there and you rely on your own skills and preparation.
D9: What is your best high-school related sports memory and why?
CR: Freshman year football game against Union. Ethan Straffin rallied us in the locker room at halftime and gave one of the most moving speeches I've ever heard. Then, we went out and won the game.
D9: Has there been a coach and/or teacher who has influenced you the most in your high-school career to this point, and if so, why?
CR: Coach (Larry) Wiser (Clarion's football coach) has influenced me the most to always be the hardest worker in the room or practice field. He always hits the points that real leaders don't just lead the team on Friday nights its every day of the week. He also is a very competitive person which really hits home with me because I have a very competitive nature.
D9: What do you like best about playing sports in high school?
CR: The memories you make with some of your great friends and making new friends through sports.
D9: What is the hardest part about playing sports in high school?
CR: I think the hardest part is being able to play multiple sports and still maintain good grades.
D9: How much offseason work do you put into your sports?
CR: I put in quite a bit of offseason work. I think that's where you see your biggest improvements. If you want to be great at something you can't do it three months a year. It has to be year round.
D9: What is your favorite subject in school?
CR: History
D9: What do you like to do for fun when you aren't playing sports?
CR: In my free time, I enjoy weightlifting, hunting, fishing or just being in the outdoors with my friends.
D9: What are your goals for the upcoming school year both sports wise and academically?
CR :To have successful seasons in both wrestling and football and make the principal's list all four quarters.