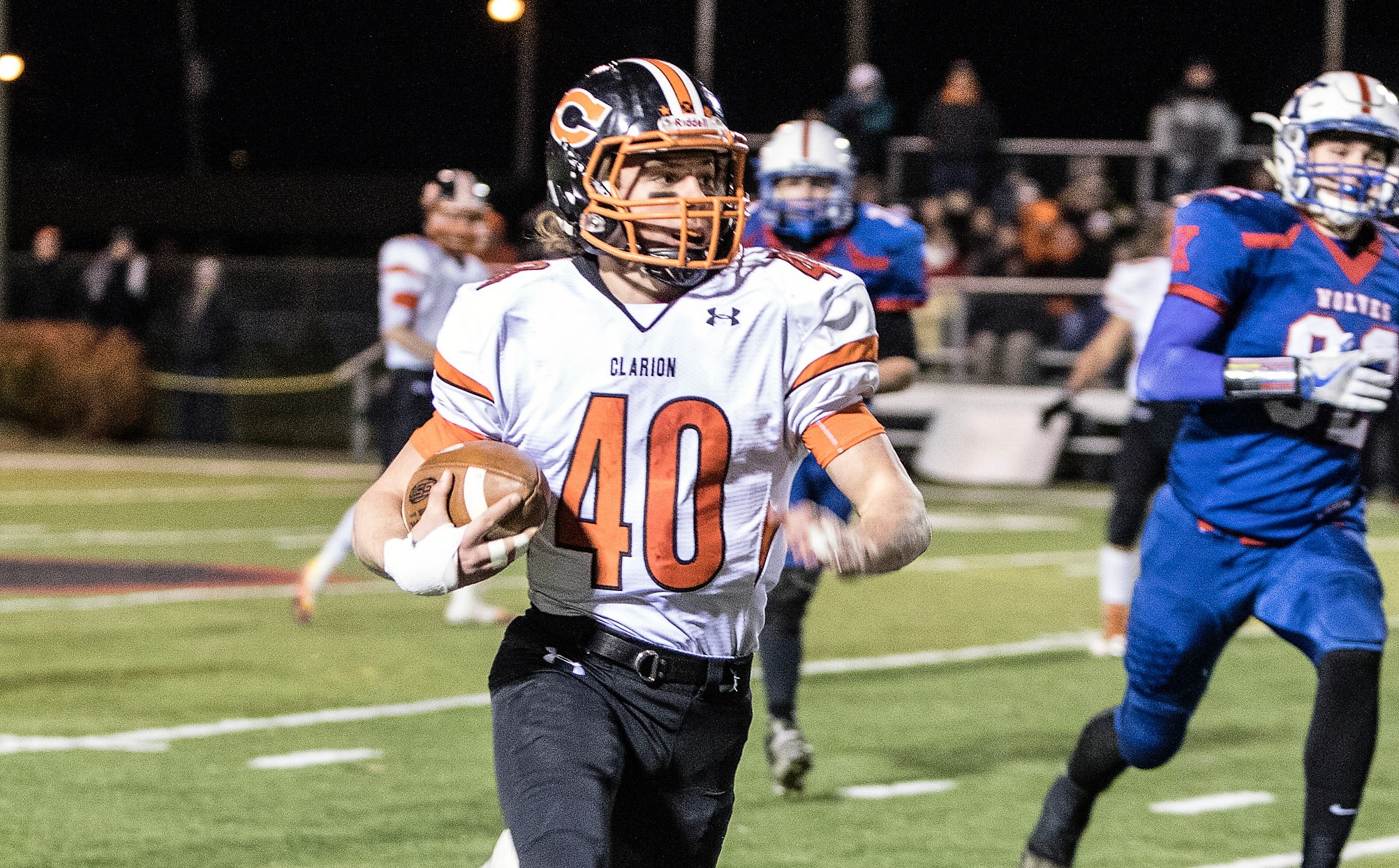 D9Sports.com and EYT Media are doing a series of player profiles on returning high-school athletes this summer. The year in school listed by the athlete is the year the athlete is entering this fall.
COLTON RAPP – SENIOR – CLARION
Son of: Ron and Tracy Rapp
Sports Played: Football and Wrestling
2016-17 Highlights: Colton was the leading rusher for Clarion, which finished second in D9 2A in football while ranking fourth in District 9 with 1,651 yards and 16 touchdowns on 201 carries, an average of 8.2 yards per carry. He had nine 100-yard rushing games including a pair of 200-yard contests while rushing for a season-high 220 yards and two touchdowns on 13 carries in a win over Union/A-C Valley. On defense, Colton was the second-leading tackler for the Bobcats with 73 stops, including five tackles for a loss. In wrestling, an injury cut short what was shaping up to be a great season and kept him from postseason action but he still finished with a record of 23-5 at 160 pounds.
Post-High School Goals: Colton plans on attending college and majoring in Exercise Science. He would like to either play football or wrestle.
Q&A With Colton Rapp
D9Sports: What is your favorite sport to participate in?
CR: Wrestling
D9: What is your favorite memory, moment, game from playing high school sports?
CR: Beating Brockway in the D9 semifinals last year in football.
D9: Why do you play high school sports?
CR: I play high school sports because I love to compete and win with my friends.
D9: When not playing sports I would rather (pick one) – Go to work, play video games, shop, hang out with friends, play pickup sports, go the movies
CR: Hang out with friends.
D9: If you could go anywhere in the world, where would it be and why?
CR: Probably out west somewhere to check out the mountains and go on an elk hunt.
D9: Who has had the most influence on you as a person?
CR: My dad, he's always kept my head in the right place and pointed me in the right direction.
D9: What do you like most about growing up in your hometown?
CR: I like all the support from the alumni and the die hard bobcat fans out there.
D9: What do you wish you could change about growing up in your hometown?
CR: Wish it was a little bit bigger.
D9: What question do you wish I would have asked you? And what is the answer to it?
CR: What are your goals for the upcoming seasons? Win a district title in football and place at the state tournament in wrestling.
D9: Do you or have you had any siblings or other immediate relatives who have played high school sports?
CR: My sister, Johnna, played volleyball and softball.