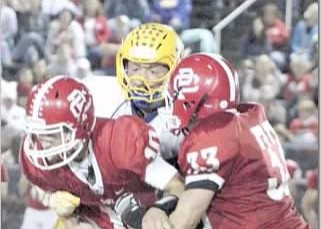 D9Sports.com and EYT Media are doing a series of player profiles on returning high-school athletes this summer. The year in school listed by the athlete is the year the athlete is entering this fall.
DANA LOGUE – Senior – Union
Son of: Dana Logue and Minnie Logue
Sports Played: Football, Basketball, Baseball, Track & Field
2015-16 Highlights: An offensive and defensive lineman in football, Logue helped Union to a 5-5 record last year. On offense, he helped the Golden Knights rush for over 200 yards per game paving the way for 1,300-yard rusher Dugan Gallagher. On defense, Logue made 54 tackles with a sack. In basketball, Logue played a role in Union's run to the PIAA playoffs by scoring 1.5 points per game and playing valuable defense. In baseball, he hit .250 while tying for the team lead with six doubles while adding nine RBIs.
Post High School Goals: Dana plans on attending college and pursuing an engineering degree. A couple of schools have contacted him about playing sports in college, and he would love to continue his athletic career after graduation.
Q&A With Dana Logue
D9Sports: Do you have a favorite sport, and if so why?
DL: My favorite sport is football because it's you and 10 other guys out there coming together and trying to win.
D9: What is your best high-school related sports memory and why?
DL: It would have to be beating Clarion last year in football, 32-0, or upsetting C-L in the District 9 basketball playoffs.
D9: Has there been a coach and/or teacher who has influenced you the most in your high-school career to this point, and if so, why?
DL: It would probably be my dad, Dana Logue, because he coached me in football since I was 7-years old and always taught me to be humble and work hard.
D9: What do you like best about playing sports in high school?
DL: Playing high school sports is fun because you're playing with your friends you've played with pretty much all your life.
D9: What is the hardest part about playing sports in high school?
DL: The hardest thing about playing sports in high school is the practices tend to run late into the evening then you get home and have to do your school work and study.
D9: How much offseason work do you put into your sports?
DL: There really isn't an offseason playing multiple sports going from season to season.
D9: What is your favorite subject in school?
DL: Mathematics
D9: What do you like to do for fun when you aren't playing sports?
DL: Hangout with my friends and catch up on my sleep.
D9: What are your goals for the upcoming school year both sports wise and academically?
DL: My goals for the classroom is to be on the principal's list all four quarters and sports wise to win a championship.