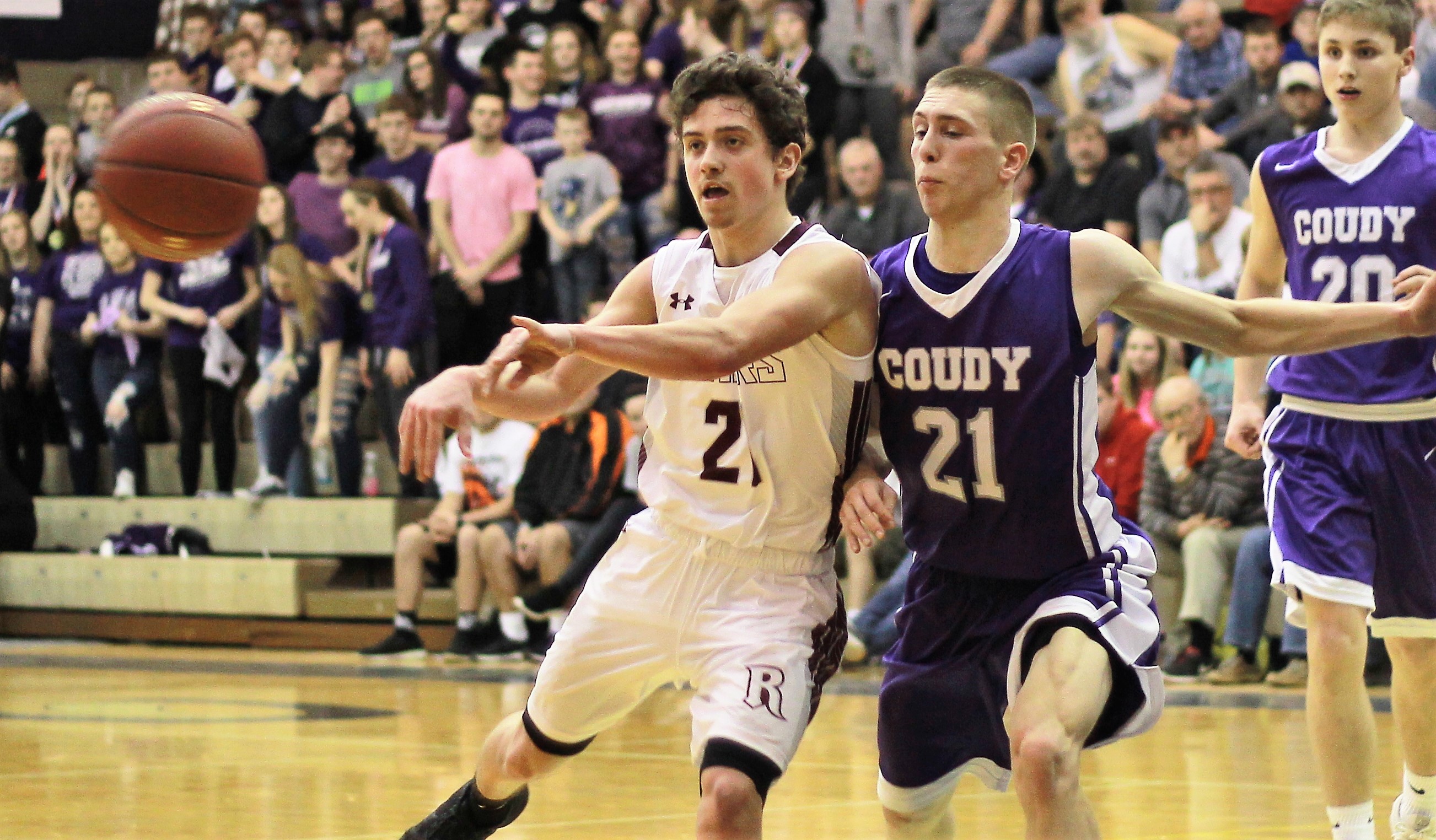 D9Sports.com/EYT Media is doing a series of player profiles on returning high-school athletes this summer. The year in school listed by the athlete is the year the athlete is entering this fall.
(Photo by Jared Bakaysa of JB Graphics. See more of Bakaysa's work here)
DAUNTE ALLEGRETTO – SENIOR – RIDGWAY
Son of: Cindy and Tony Allegretto (his dad is the boys' basketball coach at Ridgway)
Sports Played: Football, Basketball, Baseball (in co-op at Johnsonburg)
Family Members Playing/Played Sports: His brother, Domenic, is going to be a freshman this year
2017-18 Highlights: Helped Ridgway to the District 9 Class 1A football championship and Johnsonburg to the Class 2A baseball title while also helping Ridgway to a second-place 2A finish in basketball and the second round of the PIAA playoffs. In football, he made 36 tackles on defense with four passes defended and was also was the primary kickoff kicker where he averaged 36.3 yards per kickoff with one touchback. In basketball, he was named a third-team All American Awards & Engraving D9Sports.com District 9 team member after averaging 7.8 points, 4.5 assists, 2.8 steals and 2.1 rebounds per game while helping Ridgway to the AML Title and an unbeaten regular season. In baseball, he had two hits and scored three runs in the D9 championship game against Brockway.
Post-High School Plans: He plans on attending college and hopefully playing a sport.
Q&A With Daunte Allegretto
D9Sports: What is your favorite sport to participate in and why?
DA: Definitely basketball. The environment is fun to play in with the crowd cheering after every basket and there's a lot of excitement in the game.
D9Sports: What is your favorite memory, moment, game from playing high school sports?
DA: My favorite memory would probably be us winning the Elk County Holiday tournament and AML championship this year in basketball. We played two really good games and it was fun coming out on top.
D9Sports: Why do you play high school sports?
DA: I play high school sports to keep me involved in stuff. Honestly, I don't really know what I would do without sports.
D9Sports: Who has had the most influence on your athletic career and why?
DA: My dad, no doubt. He is always trying to get me better at any sport I'm participating in and definitely in basketball. He's always trying to help me fix the things I'm doing wrong and shows me how to work hard to improve those skills.
D9Sports: Do you remember the first sport you played and did you like it right away or did it grow on you?
DA: The first sport I played was basketball. I liked it right away because when I was younger I was always going to practices with my dad and hanging out with the team. It was just pure enjoyment for me when I was young.
D9Sports: Do you have a favorite number for a uniform? If so, what is the story behind that number?
DA: I usually try to wear number 21. I wear that number because of Eric Matheson (a former Ridgway player). He was a person I looked up to and still do and we both workout in the gym together and he's been a big influence on my basketball career.
D9Sports: What would someone who doesn't know you be surprised to find out about you?
DA: I have Pectus excavatum which is a condition in which the breastbone sinks into the chest. And I used my chest as a bowl to eat cereal before. It's really cool.
D9Sports: If you could eat dinner with anyone famous (living or dead) who would it be and why?
DA: Probably Marcus Allen the DB for the Pittsburgh Steelers. He's so cool and chill and gives off good vibes. So that'd be cool if this dinner could be set up. Shout out @Chico_Hndrxx
D9Sports: Iphone or Android or Neither and why?
DA: iPhone all the way. It's just better.
D9Sports: What is your go-to Social Media and why?
DA: Snapchat. It's easier to get in touch with girls.
D9Sports: What do you like most about high school and why?
DA: What I like best about high school is that I get to hang out with my friends every day.
D9Sports: What do you like least about high school and why?
DA: My least favorite part about high school is homework. That's dead to me.
D9Sports: What question do you wish I would have asked you? And what is the answer to it?
DA: What's it like having your dad as a coach? For the most part, I enjoy him being my coach. He is hard on me sometimes but I know it's because he knows I can do better and he wants me to do better so it doesn't bother me.