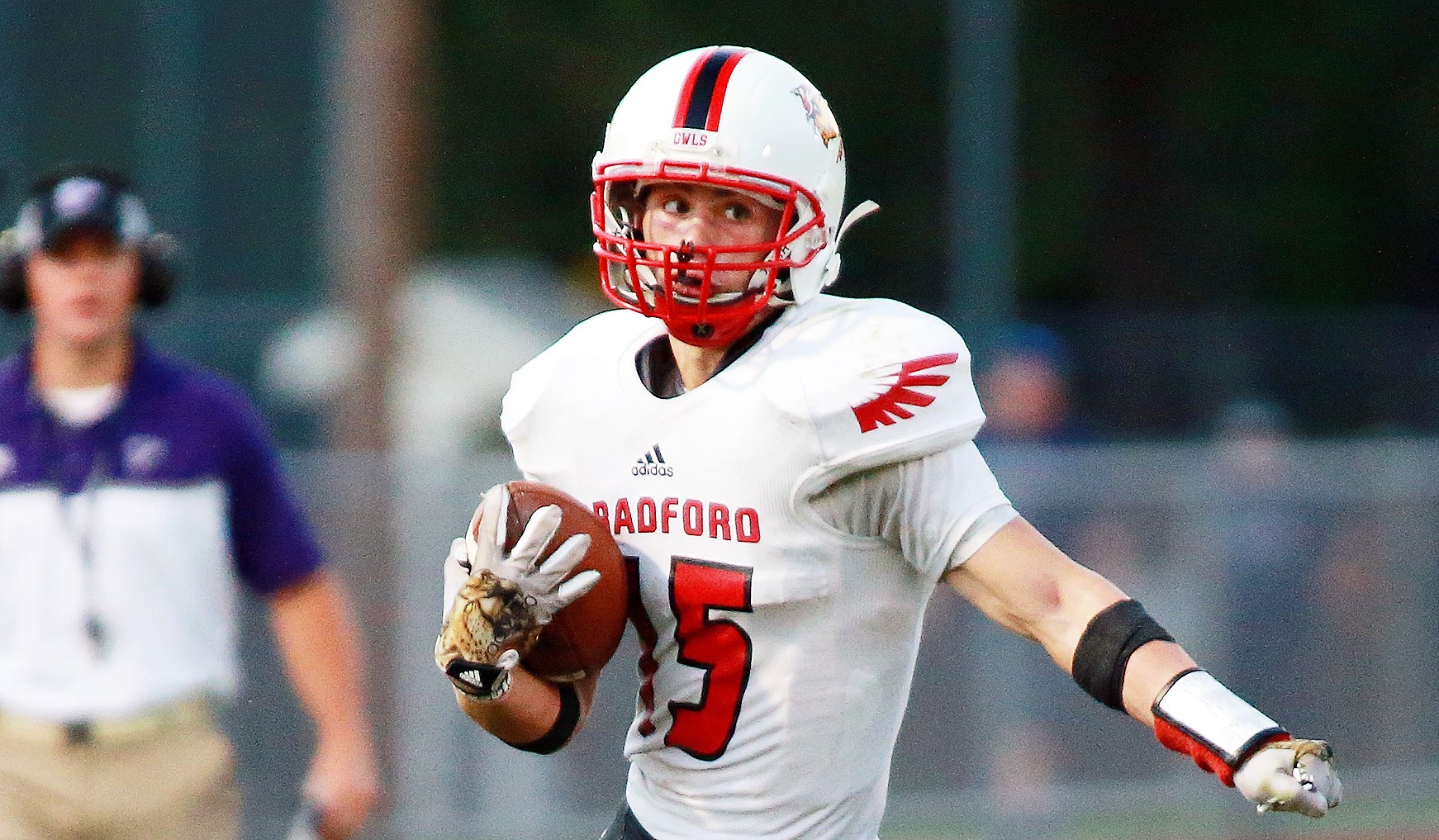 D9Sports.com and EYT Media are doing a series of player profiles on returning high-school athletes this summer. The year in school listed by the athlete is the year the athlete is entering this fall.
DONNY PATTISON – JUNIOR – BRADFORD
Son of: Jerry and Tammy Pattison (Dad has coached various sports at Bradford including as an assistant football coach and junior high basketball coach)
Sports Played: Football, Basketball, Track & Field
2016-17 Highlights: Donny had a strong sophomore year athletically for the Owls. In football, he was the team's second-leading rusher with 633 yards and six touchdowns while averaging 8.6 yards per carry. He also caught 11 passes for 204 yards and four touchdowns, and on defense made 40 tackles while recovering a fumble. He had two 100-yard rushing games including a career-best 218 yards and two touchdowns vs. Cameron County. In basketball, he played in all 22 games for Bradford averaging 6.4 points per game with four double-digit scoring contests. In track, he helped the Owls to their 18th D9 3A title in 19 years by taking fourth in the 100-meter dash (11.75), fifth in the 200-meter dash (24.10), sixth in the high jump (5-foot, 4-inches) and running a leg on the second-place 4×100-meter relay team.
Post-High School Goals: Donny plans to pursue a career within the medical field. his dream job is an orthopedic surgeon that specifies in sports medicine. He would love to play football in college and plans.to attend an in-state college.
Q&A With Donny Pattison
D9Sports: What is your favorite sport to participate in?
DP: Football has been my favorite sport ever since I took my first snap and still is today.
D9: What is your favorite memory, moment, game from playing high school sports?
DP: My favorite high school sports memory would have to be in basketball when we beat our rival Punxy at the buzzer in overtime to put us into the playoffs. It really capped off what our team could do at full strength.
D9: Why do you play high school sports?
DP: I play high school sports because they bring me pure joy. Sports are my favorite thing in life. I try to tie sports in with everything I do in life.
D9: Is there a high school player on your team or another team that you enjoy watching play? If so, why?
DP: There's a lot of players I enjoy watching play – especially all of my teammates. I hope for success for all of my teammates and my opponents.
D9: When not playing sports I would rather (pick one) – Go to work, play video games, shop, hang out with friends, play pickup sports, go the movies
DP: When not playing sports, I'd rather be hanging out with my friends. Most likely if I'm with my friends, we're doing something with sports anyway.
D9: If you could go anywhere in the world, where would it be and why?
DP: There's a couple places I've always wanted to go. I'm a huge Indianapolis Colts fan so I want to go to Lucas Oil Stadium, the Polo Grounds would be cool to see, and the football Hall of Fame in Canton.
D9: Who has had the most influence on you as a person?
DP: My dad has had the biggest influence on me as a person. He is always giving me guidance in life as a coach and a teacher while being my best friend too.
D9: What do you like most about growing up in your hometown?
DP: I really like that I have a lot of family in my hometown that support me. I also like that we have very nice facilities in which to compete and train.
D9: What do you wish you could change about growing up in your hometown?
DP: I wish my hometown had a large indoor sports complex. For example batting cages, basketball court, a turf field to play football on, a track to run on.
D9: What question do you wish I would have asked you? And what is the answer to it?
DP: I wish you would've asked what is my best trait as an athlete. I would've answered that it is my work ethic. I may not be the best athlete every time I compete, but there's no excuse for me to not work to try to be the best. I always think of Derek Jeter talking about something Joe DiMaggio said. He said, "There is always some kid who may be seeing me for the first or last time. I owe him my best." I try to keep that in mind whenever I'm competing.
D9: Do you or have you had any siblings or other immediate relatives who have played high school sports?
DP: My dad played football and basketball at BAHS. My mom and both of my sisters were on the track team at BAHS. My sister Marissa was also on the basketball team for the Lady Owls. My other sister Brianna also played soccer at BAHS.