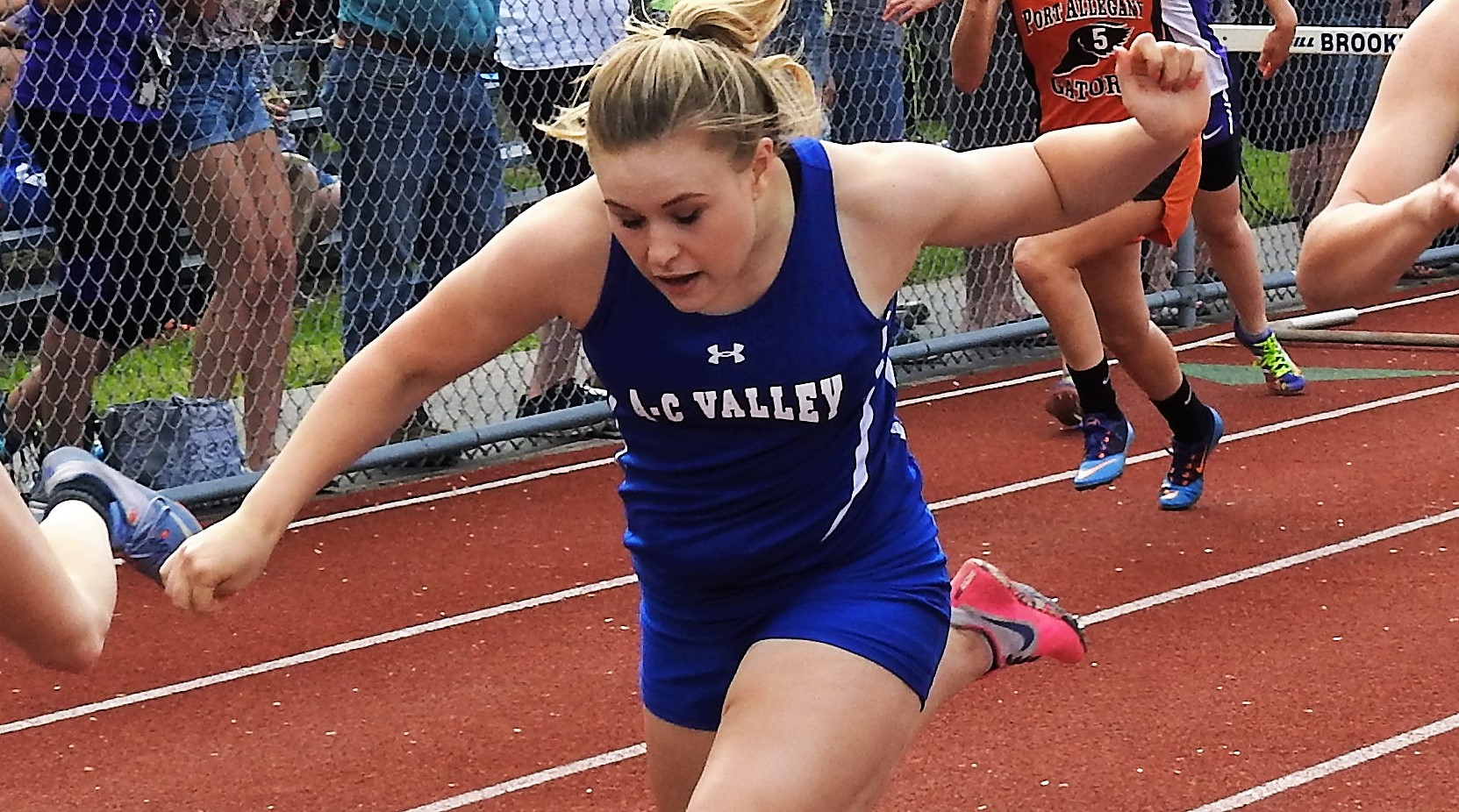 D9Sports.com and EYT Media are doing a series of player profiles on returning high-school athletes this summer. The year in school listed by the athlete is the year the athlete is entering this fall.
EMMA FOX – SENIOR – A-C VALLEY
Daughter of: Ray & Stacey Fox
Sports Played: Golf, basketball, competitive cheer, track & field
2016-17 Highlights: Emma was the District 9 champion in the 100-meter hurdles (16.03) while taking second in the 300-meter hurdles (47.65) and qualifying for the PIAA meet in both events. She also ran a leg on A-C Valley's fourth-place 4×400-meter relay team and fifth-place 4×100-meter relay squad. She was the KSAC's Co-Track MVP In basketball, she came off the bench and helped the Lady Falcons to a third-place finish in District 9 Class 1A and a spot in the PIAA playoffs by scoring 10 points in 19 games.
Post-High School Goals: She would like to attend college to become a physician's assistant and eventually specialize in dermatology. She also has hopes of playing sports in college (track and cheer), although she has not yet picked a college.
Q&A With Emma Fox
D9Sports: What is your favorite sport to participate in?
EF: I enjoy participating in all of the sports I play but I enjoy competitive cheer and track the most because I feel that I have had the greatest success in these two sports. I won district medals and competed at states in both of these sports. I'm aware that most people don't consider cheerleading a sport, but when you jump, lift and tumble for two and a half minutes, I have come to realize that I exert just as much energy and athletic ability in cheerleading as I do in any other sport.
D9: What is your favorite memory, moment, game from playing high school sports?
EF: My favorite high school related sports memory is when I won my first District 9 medal as a freshman in competitive cheer. From then on I made it my goal to win as many District 9 medals as I could. I continued this goal during track season winning a first place district medal in the 100 hurdles and a second place medal in the 300 hurdles. So far, I have been fortunate enough to receive two other medals in cheerleading and seven more in track. I hope to continue this throughout my high school career. This track season, I was also named Track Co-MVP. This is another one of my favorite sports memories.
D9: Why do you play high school sports?
EF: I play sports in high school because I am a competitive person and sports allow me to compete in various ways. But I also enjoy the bond that it creates between my teammates. During track season this past year, I ran on two relay teams (4×100 and 4×400) and both teams had an extraordinary bond, making our team stronger.
D9: Is there a high school player on your team or another team that you enjoy watching play? If so, why?
EF: I enjoy watching all of my teammates, but if I had to choose one, I would choose to watch Ellie Thompson play because she is extremely talented and plays with great intensity in any sport she participates in, which is something I admire very much.
D9: When not playing sports I would rather (pick one) – Go to work, play video games, shop, hang out with friends, play pickup sports, go the movies
EF: I would rather go shopping with my friends and enjoy their company.
D9: If you could go anywhere in the world, where would it be and why?
EF: I would go to the beach because it is my favorite place to be. I enjoy relaxing on the beach because I have a very busy schedule during the school year. In my lifetime, I hope to travel to as many beaches as possible.
D9: Who has had the most influence on you as a person?
EF: My mom has influenced me the most as a person. She is my coach in both cheerleading and track. My mom is always encouraging me and is always thinking of ways to make me and my teammates better, even when we aren't at practice. My mom has influenced me in a parental aspect as well. From a young age, my mom and dad have helped me build a great work ethic.
D9: What do you like most about growing up in your hometown?
EF: There are many things I like about my hometown, but I especially enjoy the sense of community. When I left for states this past track season, everyone knew what I accomplished and was so proud of me. It was really encouraging to know that I had an entire town supporting me.
D9: What do you wish you could change about growing up in your hometown?
EF: I wish I could change the amount of involvement by the people in my community. I hope that in the future the kids in my community, as well as their parents, will become more involved with school activities because it has made a huge impact on my life.
D9: What question do you wish I would have asked you? And what is the answer to it?
EF: I wish that you would have asked me if I have enjoyed my overall high school experience. The answer to this question would be, yes, I have enjoyed every minute of my experience and I have not taken a single minute of it for granted.