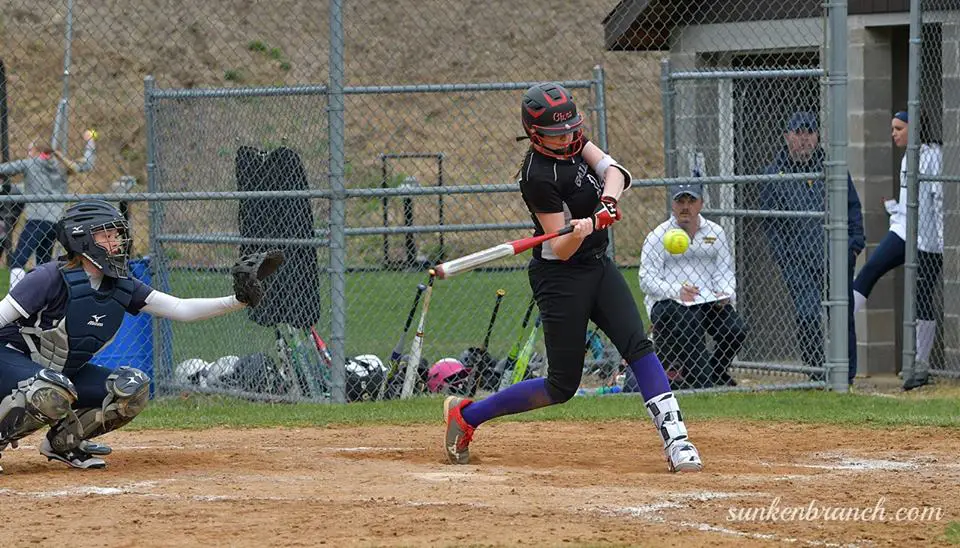 D9Sports.com and EYT Media are doing a series of player profiles on returning high-school athletes this summer. The year in school listed by the athlete is the year the athlete is entering this fall.
EMMARAE EASTON – SENIOR – COUDERSPORT
Daughter of: Scott and Jenn Easton
Sports Played: Volleyball, Basketball, Softball, Travel Softball
2016-17 Highlights: EmmaRae took home a lot of hardware during the year helping the Lady Falcons to District 9 titles in basketball and volleyball and a runner-up spot in softball. She averaged 5.0 ppg in basketball and was a key contributor on both the volleyball and softball teams and helped the Lady Falcons to the PIAA semifinals in volleyball and the PIAA playoffs in both softball and basketball.
Post-High School Goals: She plays on attending a four-year university while playing for their varsity softball program and majoring in Criminal Justice. After graduating college, she plans on attending a Police Academy and becoming a State Police Officer.
Q&A With EmmaRae Easton
D9Sports: What is your favorite sport to participate in?
EE: Softball
D9: What is your favorite memory, moment, game from playing high school sports?
EE: Playing in three D9 Championship games in the 2016-17 season including Volleyball, Basketball and Softball. My team was able to win two (Volleyball and Basketball) but came up short by losing the softball game. It was great to experience this with my coaches, teammates and participating against great competitors in my junior year.
D9: Why do you play high school sports?
EE: I fell in love with sports at a young age and have continued to play for several reasons. I like being competitive, having great teammates and making friends. Playing high school sports has allowed me to meet several new friends, to show sportsmanship while winning and losing and also learning several life lessons. Being given the opportunity to play on multiple teams with such great teammates throughout the years has been a huge influence on why I continue to be active in playing sports.
D9: Is there a high school player on your team or another team that you enjoy watching play? If so, why?
EE: 10. Shaelyn Black. I've played with her since we were eight and played all three high school sports with her as well as playing on a travel team (Lady Lunachics) with her. I enjoy watching her play because she always puts the team first and gives everything she has to help the team be successful.
D9: When not playing sports I would rather (pick one) – Go to work, play video games, shop, hang out with friends, play pickup sports, go the movies
EE: Hang out with friends
D9: If you could go anywhere in the world, where would it be and why?
EE: Fiji, because I've never been to a foreign country and the Fiji Islands are beautiful.
D9: Who has had the most influence on you as a person?
EE: There are a few people both my parents, my aunt Tammy and uncle Lance.
D9: What do you like most about growing up in your hometown?
EE: How supporting our community is towards our school's competitors whether it be athletically or musically related.
D9: What do you wish you could change about growing up in your hometown?
EE: If I could change one thing about my hometown it would be how little there is for teenagers to do during the summer.
D9: What question do you wish I would have asked you? And what is the answer to it?
EE: What is your favorite childhood memory? I used to show horses down state when I was eight and competed in horsemanship, showmanship and trail classes. I was going through my trail pattern when my horse (Yogi) and I came to the gate where I had to open it and close it while still on him. I forgot to let go of the rope and one side came down, Yogi got spooked and ran out of the arena as I stayed on his back crying asking my aunt to get off instead she forced me to continue even though I was already disqualified. By her doing that it taught me to never quit even when you think you've lost.
D9: Do you or have you had any siblings or other immediate relatives who have played high school sports?
EE: Yes, my brother Derek will be in ninth grade next year will be playing basketball and baseball. My mom played soccer and basketball for Allegany. My dad played basketball and baseball for Oswayo Valley.