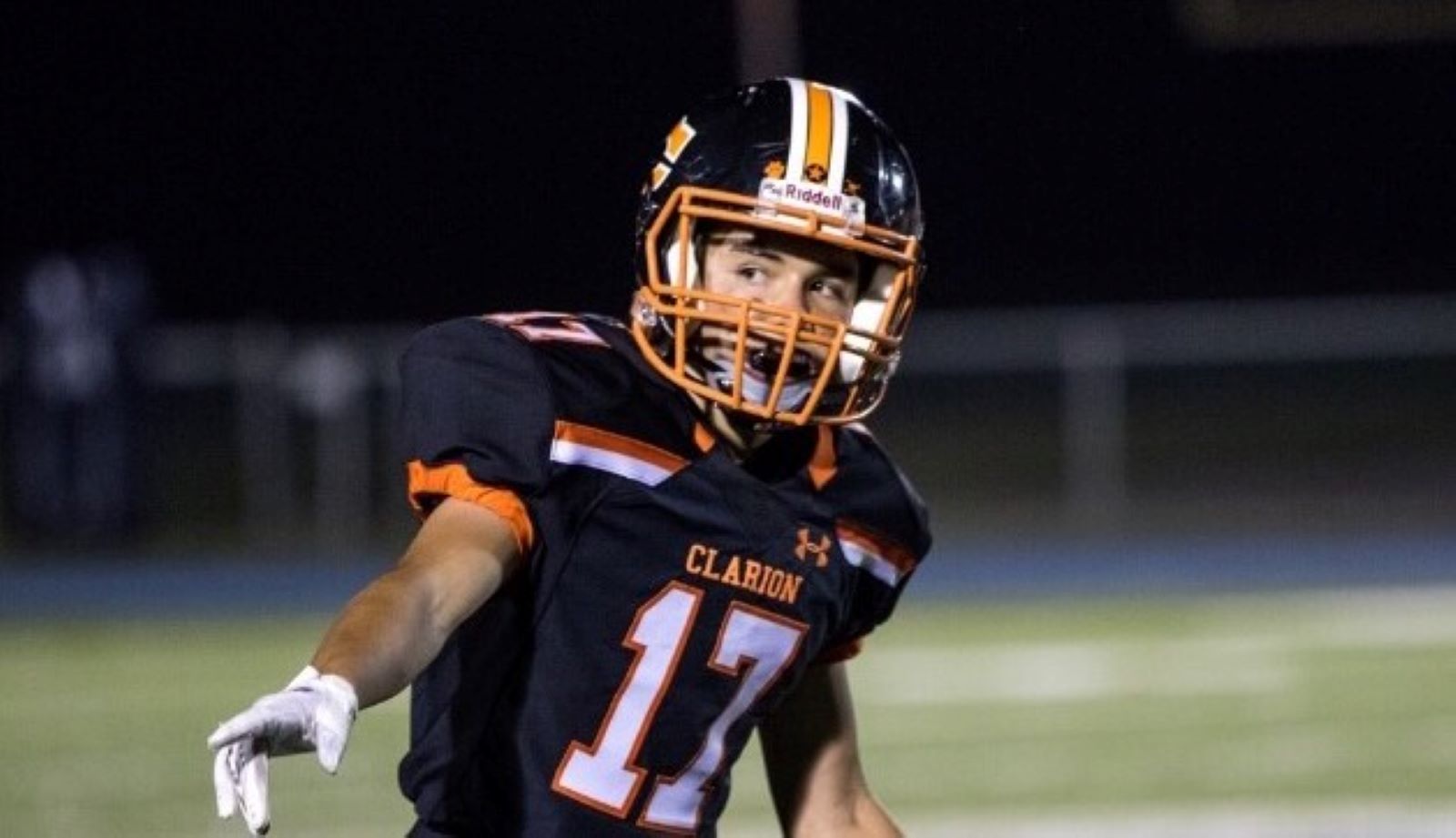 D9Sports.com/EYT Media is doing a series of player profiles on returning high-school athletes this summer. The year in school listed by the athlete is the year the athlete is entering this fall.
(Submitted photo. Photo by Bri Nellis)
ETHAN BURFORD – JUNIOR – CLARION
Son of: Brian and Laura Burford
Sports Played: Football, Basketball
Family Members Playing/Played Sports: His brother Ty was a wide receiver at Clarion who graduated in 2017
2018-19 Highlights: He made 19 catches for 289 yards and six touchdowns while helping Clarion to the District 9 Class 2A football playoffs … In basketball, he played in 21 varsity games scoring 21 points.
Post-High School Plans: He plans to go to college and play football
Q&A With Ethan Burford
D9Sports: What is your favorite sport to participate in and why?
EB: Football because there is no better feeling than being on the field and winning with your brothers.
D9Sports: What is your favorite memory, moment, game from playing high school sports?
EB: My best memory was my first touchdown in varsity football thrown by Calvin German.
D9Sports: Why do you play high school sports?
EB: I play high school sports because I enjoy them and all of the people I play with and also the fact that I won't be able to play sports forever.
D9Sports: Who has had the most influence on your athletic career and why?
EB: My brother Ty. He set the bar and I'm working hard to accomplish things.
D9Sports: If you could change one thing about high school sports, what would it be and why?
EB: Catholic or private schools, or schools that can recruit, shouldn't be playing public schools because it is unfair.
D9Sports: If you could be president for a day, what would be the one major thing you would do?
EB: Give every high school a new turf football field. Grass is not my thing.
D9Sports: What is your ideal place to live? County, City, Suburb? Why?
EB: County. I like growing up around a small town. There are lots of things to appreciate.
D9Sports: What would someone who doesn't know you be surprised to find out about you?
EB: If I'm not playing sports, I'm playing video games with my little brother.
D9Sports: What is your strongest subject in school?
EB: English
D9Sports: If there was one period in history or one event in history you could go back to, what would it be?
EB: 1998 – I would like to invest all of my money in Google
D9Sports: What question do you wish I would have asked you? And what is the answer to it?
EB: Is Clarion going to win the D9 football title? Yes.