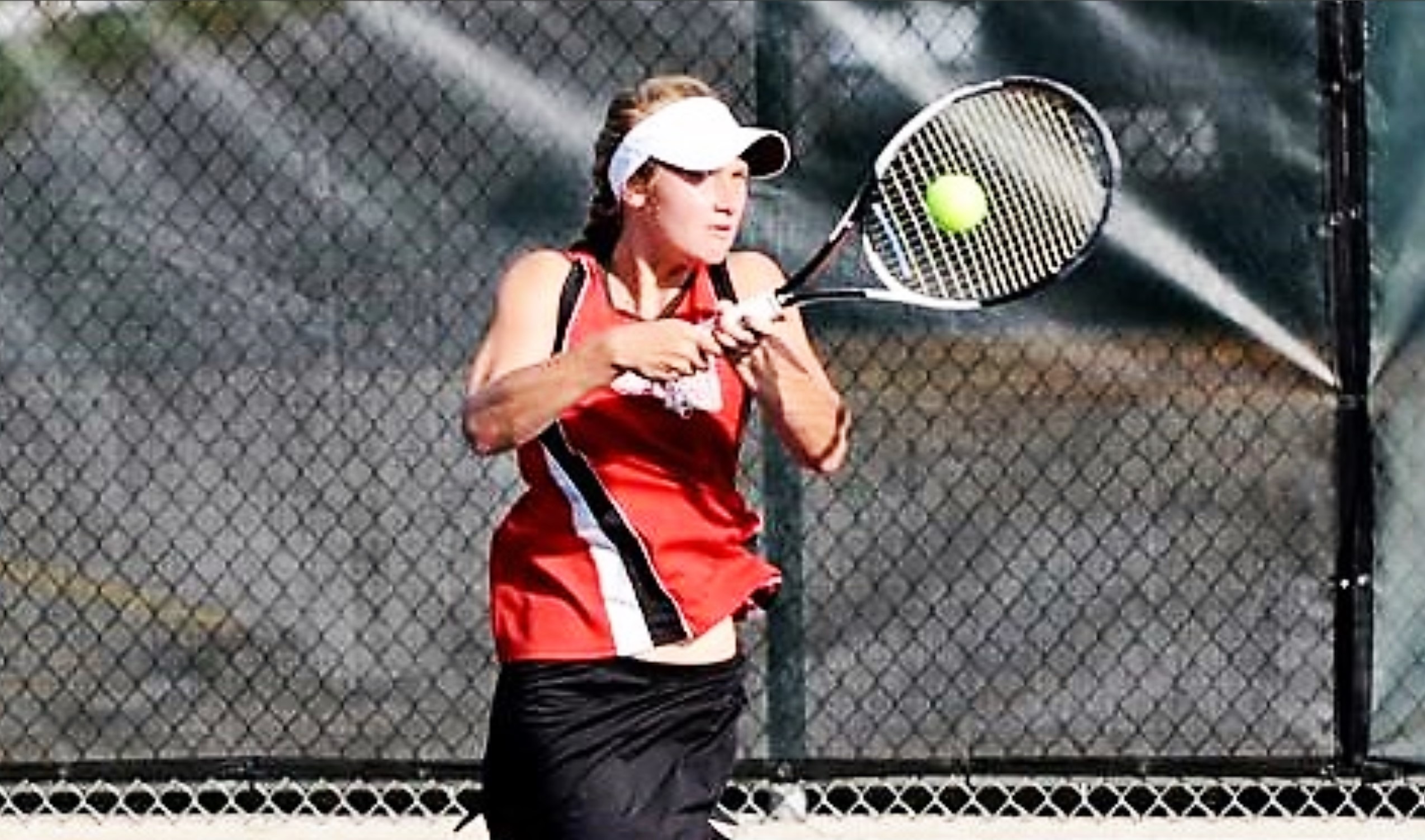 D9Sports.com/EYT Media is doing a series of player profiles on returning high-school athletes this summer. The year in school listed by the athlete is the year the athlete is entering this fall.
(Submitted photo. Photo courtesy of the DuBois Courier-Express)
GABRIELLE SABATOSE – SENIOR – DUBOIS CENTRAL CATHOLIC
Daughter of: Charles and Lori Sabatose (her mom is the former head women's tennis coach at Clarion University)
Sports Played: Volleyball, Tennis, Soccer, Basketball, Softball
Family Members Playing/Played Sports: Her mom (who played college tennis at Clarion and went 47-2 during her four-year career), dad, brother, my Aunt Becky, Aunt Trina, Aunt Michelle, Aunt Pam (tennis and soccer), Uncle Stuart, Uncle Jeff, Uncle Bill, and both my grandparents. Lots of cousins play tennis, soccer and basketball (Eric Bovaird played and coaches basketball)
2017-18 Highlights: She finished second in District 9 in doubles tennis. In softball, she was the starting third baseman for DCC, which went to the second round of the PIAA playoffs. She hit .222 with two doubles, a home run, five RBIs and 10 runs scored. In basketball, she scored 31 points for DCC.
Post-High School Plans: She plans to attend Penn State Harrisburg and play tennis.
Q&A With Gabby Sabatose
D9Sports: What is your favorite sport to participate in and why?
GS: Tennis, because it's something I've always loved to play since I was able to hold a racquet. I'm always down to play with anyone anytime for fun.
D9Sports: What is your favorite memory, moment, game from playing high school sports?
GS: Being a part of the DuBois Central Catholic basketball and softball team for the first time (she transferred to the school last fall from Brockway). The players and coaches were so much fun to be around. Every practice and game was so much fun.
D9Sports: Why do you play high school sports?
GS: Being a part of a team is key. I love playing so many sports because it's just so much fun.. and being surrounded by teammates that care about you as much as the game is incredible. That's what high school sports are all about, having fun no matter what.
D9Sports: Who has had the most influence on your athletic career and why?
GS: Definitely my mom. She has always pushed me to be the athlete that I am today. She has supported me, alongside my dad, from the very beginning and making sure I left everything on the court no matter the sport.
D9Sports: Do you remember the first sport you played and did you like it right away or did it grow on you?
GS: The first sport I guess I played was tennis. To be honest, I really didn't like it at first because my mom was so good at it and she tried teaching me but I could never get it. After practicing and playing in a few tournaments I started to like it a little more each day.
D9Sports: Do you have a favorite number for a uniform? If so, what is the story behind that number?
GS: I really don't have a favorite number. I personally don't care what number I am in any sport.
D9Sports: What would someone who doesn't know you be surprised to find out about you?
GS: I can make a pretty decent goat noise.
D9Sports: If you could eat dinner with anyone famous (living or dead) who would it be and why?
GS: Serena Williams, because I think she is just so inspirational and I would love to hear more about her life and her career as a tennis player.
D9Sports: Iphone or Android or Neither and why?
GS: iPhone
D9Sports: What is your go-to Social Media and why?
GS: Snapchat
D9Sports: What do you like most about high school and why?
GS: The students and teachers.
D9Sports: What do you like least about high school and why?
GS: Tests and homework, of course.
D9Sports: What question do you wish I would have asked you? And what is the answer to it?
GS: My favorite food, which is buffalo wings.