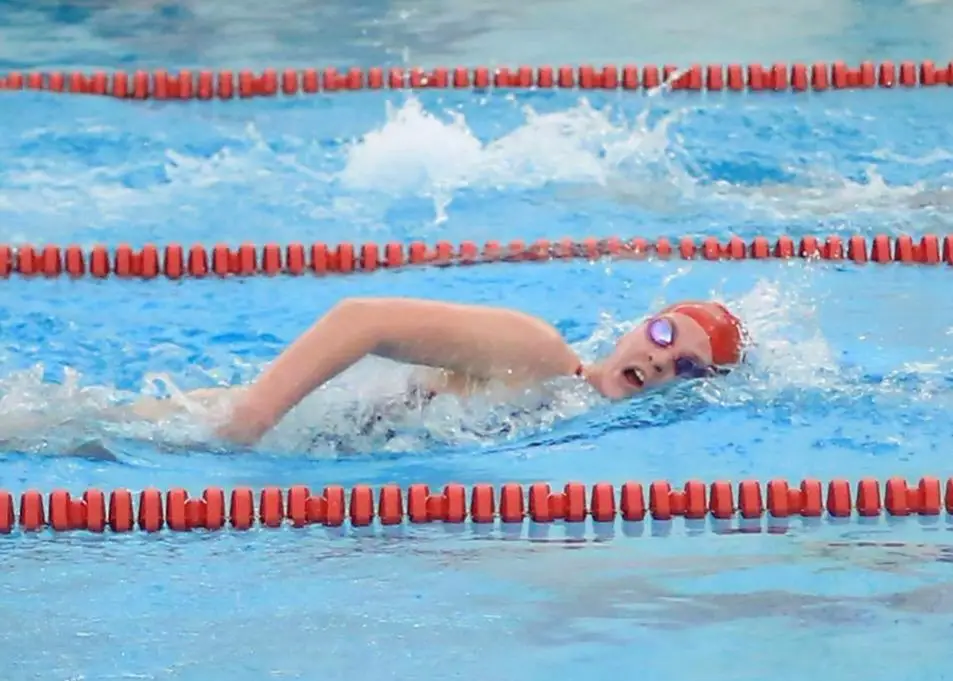 D9Sports.com and EYT Media are doing a series of player profiles on returning high-school athletes this summer. The year in school listed by the athlete is the year the athlete is entering this fall.
GABRIELLE WAYNE – Senior – DuBois Area
Daughter of: John and Melissa Wayne
Sports Played: Swimming and softball
2015-16 Highlights: Gabi is an outstanding swimmer for the Lady Beavers and bettered her own records in the 50- and 100-yard freestyles during her junior year and set the school mark in the 200-yard freestyle. She was also a member of the record-breaking 200-yards freestyle relay team and was a first-place finisher at the District 9/10 meet in the 100 and 200 freestyle events while also being a member of the top-finishing 200 and 400-yard freestyle relay teams punching her ticket to the PIAA Class AAA meet at Bucknell where hse made it back to the night swims and swam in the consolation finals to finish 12th in the 200 freestyle, an event she holds the District 9 record in, to earn all-state recognition.
Post High School Goals: After graduation, Wayne plan on going to college and majoring in education. Her goal is to be either a kindergarten or first-grade teacher. She has been in contact with a few college coaches on a regular basis and is thinking about swimming in college. She has also made a few unofficial college visits and has set up some official visits this fall that she is really looking forward to.
Q&A With Gabrielle Wayne
D9Sports: Do you have a favorite sport, and if so why?
GW: Definitely swimming – a lot of the time it's just you and a clock and you definitely are always trying to beat that last best time. It's kind of a rush.
D9: What is your best high-school related sports memory and why?
GW: I think it would probably be reuniting with a medley relay team that I swam with when I was younger at the Y level. Anchoring a relay has always been one of my
favorite parts of swimming. And also, making it back to the consolation finals last
year at the state meet and getting an all-state certificate.
D9: Has there been a coach and/or teacher who has influenced you the most in your high-school career to this point, and if so, why?
GW: Both of my coaches are helpful in helping me reach the goals I set for myself. We are always trying to fix my technique to try to get faster. We have already talked
about my coming season's goals and we are trying to make the changes needed for us
to reach those goals.
D9: What do you like best about playing sports in high school?
GW: Being with my team and going through things together, the highs and the lows. They kind of get the things I'm going through because they are going through it too.
D9: What is the hardest part about playing sports in high school?
GW: Balancing everything. Having a social life is hard during sports seasons and keeping my grades up during the exhausting part of the season. I get up and lift or swim before school, then have school and a team practice after school. It's tiring.
D9: How much offseason work do you put into your sports?
GW: Tons. For swimming, I don't usually quit training. I start lifting as soon as my taper is over. I lift and swim every morning all summer long. The first day of summer break we get back in the pool.
D9: What is your favorite subject in school?
GW: Math. My dad is a math teacher.
D9: What do you like to do for fun when you aren't playing sports?
GW: Of course, hanging out with my family and friends. And when I get the time, rest.
D9: What are your goals for the upcoming school year both sports wise and academically?
GW: Sports wise, I'd like to get back to the state meet and medal this coming March, individually and with my relay teams. Academically, I'd like to take my senior
year seriously and keep my grades up and make the A honor roll each Nine weeks. Mainly,
I just want to make my family proud.