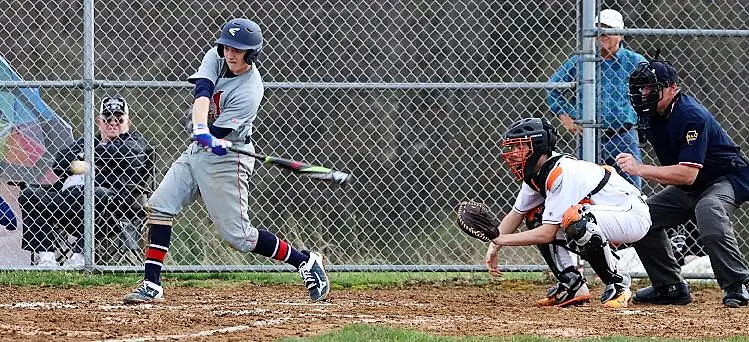 D9Sports.com and EYT Media are doing a series of player profiles on returning high-school athletes this summer. The year in school listed by the athlete is the year the athlete is entering this fall.
(Submitted Photo)
GARRETT PROSPER – JUNIOR – DUBOIS CENTRAL CATHOLIC
Son of: Lanny and April Prosper
Sports Played: Basketball and Baseball
2016-17 Highlights: Garrett was the second-leading hitter for the DCC baseball team that went 13-5 on the season stroking at a .408 clip with two doubles and a team-leading 17 RBIs while scoring 16 runs and stealing a base. In basketball, he played in 16 games as a sophomore scoring four points.
Post High School Goals: He hopes to continue to play baseball in college.
Q&A With Garrett Prosper
D9Sports: What is your favorite sport to participate in?
GP: Baseball
D9: What is your favorite memory, moment, game from playing high school sports?
GP: Winning the District 9 title for baseball my freshman year (2016).
D9: Why do you play high school sports?
GP: I play because I love being a part of a team and the bond that you form with your teammates.
D9: Is there a high school player on your team or another team that you enjoy watching play? If so, why?
GP: I enjoy watching everyone on my team play.
D9: When not playing sports I would rather (pick one) – Go to work, play video games, shop, hang out with friends, play pickup sports, go the movies
GP: Hang out with friends
D9: If you could go anywhere in the world, where would it be and why?
GP: A World Series game because I've always wanted to watch one in person instead of on TV.
D9: Who has had the most influence on you as a person?
GP: My grandfather
D9: What do you like most about growing up in your hometown?
GP: It's sort of small but not too small.
D9: What do you wish you could change about growing up in your hometown?
GP: I wouldn't really change anything.
D9: What question do you wish I would have asked you? And what is the answer to it?
GP: Who my favorite professional athlete is (Robinson Cano).
D9: Do you or have you had any siblings or other immediate relatives who have played high school sports?
GP: Yes, my father did for DuBois Area High School.