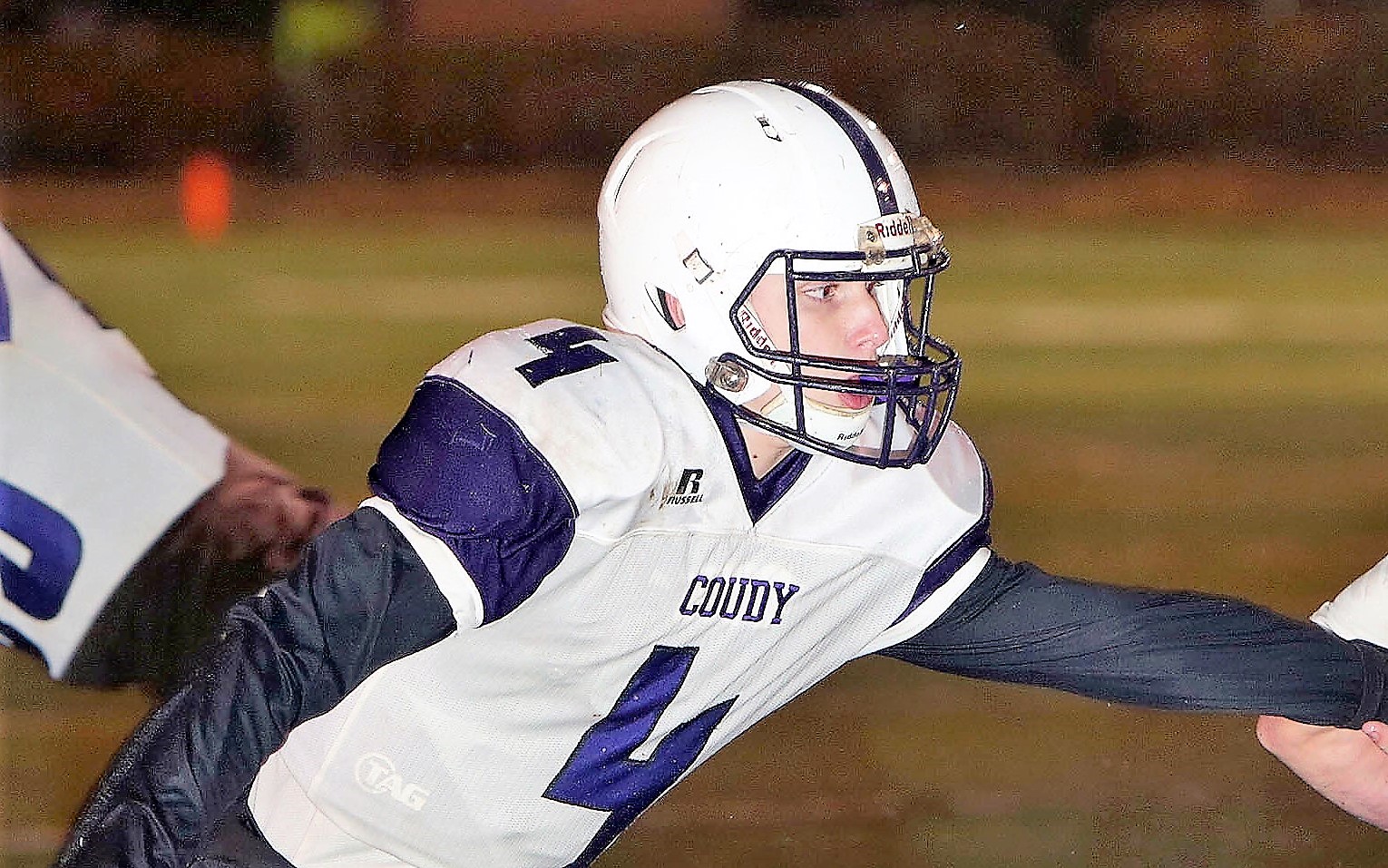 D9Sports.com/EYT Media is doing a series of player profiles on returning high-school athletes this summer. The year in school listed by the athlete is the year the athlete is entering this fall.
(Photo by Paul Burdick. Check out more of Burdick's work here)
HAYDEN KECK – JUNIOR – COUDERSPORT
Son of: Sheela and Walter Keck
Sports Played: Football, basketball, track and field
Family Members Playing/Played Sports: His dad played basketball and football. His mom played basketball and was a cheerleader. His sister, Haley, played basketball, volleyball and ran track at Coudersport.
2018-19 Highlights: Helped lead Coudersport to the District 9 Class 1A football title by going 36 of 80 passing for 709 yards, eight touchdowns and three interceptions while also rushing for 565 yards and 13 touchdowns and finishing second on the team with 61 tackles. He added 3 ½ sacks, two interceptions and four fumble recoveries He was named to the D9 League Small School North All-Conference team … In basketball, helped the Falcons to a District 9 Class 2A runner-up spot and the PIAA playoffs by averaging 15.0 points, 5.0 assists, 3.5 steals and 3.1 assists per game. Shot 55.7 percent from the field, including 45.6 percent from 3-point range while making 41 3-pointers and was named a third-team All American Awards & Engraving D9Sports.com All-District 9 performer. He was also named All-Big 30 and all-NTL. His play helped Coudersport to a District 9 Class 2A runner-up spot and the second round of the PIAA playoffs in hoops.
Post-High School Plans: He would like to play football in college.
Q&A With Hayden Keck
D9Sports: What is your favorite sport to participate in and why?
HK: Football because I love the chemistry that my teammates and I have with each other.
D9Sports: What is your favorite memory, moment, game from playing high school sports?
HK: Winning the District 9 title in football last year.
D9Sports: Why do you play high school sports?
HK: I play sports because I like the friendships I have made and all of the good memories like on the bus after a game or in the locker room.
D9Sports: Who has had the most influence on your athletic career and why?
HK: My dad has had the most influence on my career because he has always pushed me to be the best player I could be and all the time we have spent talking about sports and practicing them in the gym or out on the field.
D9Sports: If you could change one thing about high school sports, what would it be and why?
HK: If I could change one thing it would be that everybody has an equal chance at playing no matter what grade they are in.
D9Sports: If you could be president for a day, what would be the one major thing you would do?
HK: If I was president for a day I would make healthcare more affordable for everyone.
D9Sports: What is your ideal place to live? County, City, Suburb? Why?
HK: I would like to live in the country near a small town because I do not like big areas and all the things that go along with that.
D9Sports: What would someone who doesn't know you be surprised to find out about you?
HK: I think that they would be surprised to know that I have a really strong bond with my family and my dog named Barkley.
D9Sports: What is your strongest subject in school?
HK: History
D9Sports: If there was one period in history or one event in history you could go back to, what would it be?
HK: I would like to be able to go back and see what it was like to live and grow up in the time period that my parents were growing up.
D9Sports: What question do you wish I would have asked you? And what is the answer to it?
HK: I wish you would have asked me what I am most excited for this year in football. I am most excited to see how the team works together since we have a lot of younger kids and I hope that we make it back to the title game and can have the same outcome as last year.