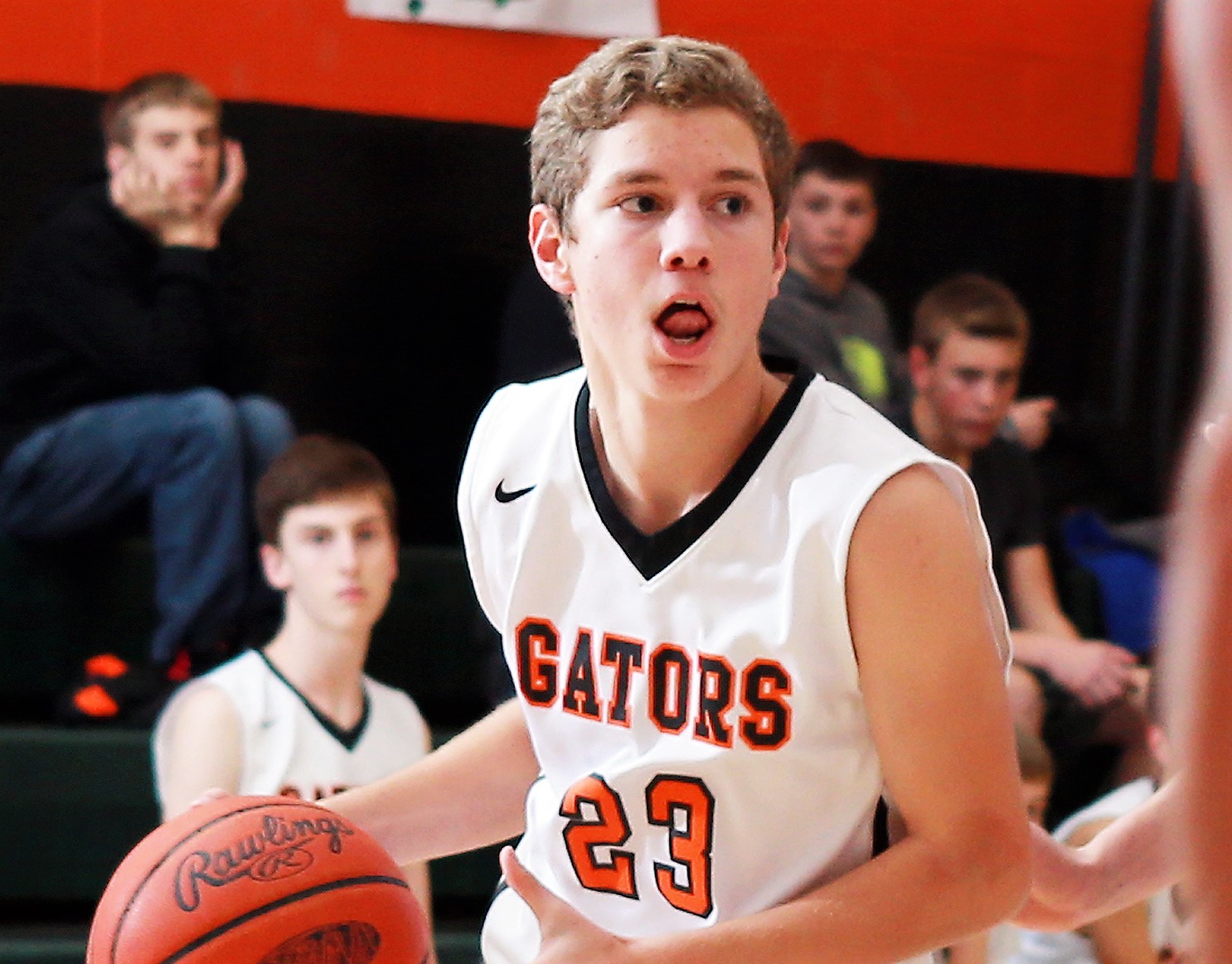 D9Sports.com/EYT Media is doing a series of player profiles on returning high-school athletes this summer. The year in school listed by the athlete is the year the athlete is entering this fall.
(Photo by Paul Burdick. Check out more of Burdick's work here)
HOWIE STUCKEY – JUNIOR – PORT ALLEGANY
Son of: Jeff and Jill Stuckey
Sports Played: Soccer, Basketball, Baseball, Track & Field
Family Members Playing/Played Sports: Brothers RJ Shively, Camrin Stuckey, Beau Shively and Logan Stuckey. Cousins Craig Flint, Anthony Flint, Kelly Flint, Tonya Flint, Dusty Barnard, Jordan Barnard, Chad Barnard, Willie Bova, Cora Bova and Rickie Bova. Uncles Barry Bova, Brad Bova, Ron Daniels, Marc Barnard, Tony Flint. Aunts Shana Bova, Joy Barnard, Sue Flint, Sharon Daniels. Grandfathers Dick Bova and Howard Stuckey. Parents Jeff Stuckey and Jill Stuckey.
2017-18 Highlights: In basketball, he was named to the All American Awards & Engraving D9Sports.com All-District 9 third team after averaging 20.9 ppg. In baseball, he hit .449 with three doubles, two triples and nine RBIs while also stealing eight bases. On the mound, he had 51 strikeouts in 27 ⅔ innings of work. In track & field, he finished 16th in D9 in the 300-meter hurdles (46.43) and was a member of the 12th place 4×400-meter relay team. He also helped the Port Allegany soccer team to a second-place finish in District 9 Class 1A. During basketball season, he hit 12 3-pointers in a game against Austin Feb. 10 setting the school record previously held by his cousin, Craig Flint (11). The 12 triples are believed to me the most in District 9 during the D9Sports.com era (2001-present).
Post-High School Plans: He would like to attend college and play baseball.
Q&A With Howie Stuckey
D9Sports: What is your favorite sport to participate in and why?
HS: Baseball is my favorite sport to participate in because it is my favorite sport, and I always enjoy playing the game.
D9Sports: What is your favorite memory, moment, game from playing high school sports?
HS: My favorite memory from playing high school sports is being escorted through town after winning the district title in soccer my freshman year, the feeling was amazing!
D9Sports: Why do you play high school sports?
HS: I play high school sports because I love being active and there is no better way to be active than to play high school sports! I also love sports, baseball and basketball especially.
D9Sports: Who has had the most influence on your athletic career and why?
HS: I would have to say my four older brothers as a whole, because they always pushed me at a young age and never took it easy on me, only making me better. They definitely had a huge influence on my athletic career.
D9Sports: Do you remember the first sport you played and did you like it right away or did it grow on you?
HS: I believe the first sport I played was baseball, hitting whiffle balls in the backyard with my brothers, I loved it from day one.
D9Sports: Do you have a favorite number for a uniform? If so, what is the story behind that number?
HS: Of course! No. 2 for sure. My dad and older brother Camrin always wore No. 2 and I guess I just fell in love with the number and have worn it ever since!
D9Sports: What would someone who doesn't know you be surprised to find out about you?
HS: Someone who doesn't know me would be surprised I could throw mid-80s just from looking at me.
D9Sports: If you could eat dinner with anyone famous (living or dead) who would it be and why?
HS: Babe Ruth, because legends never die.
D9Sports: Iphone or Android or Neither and why?
HS: Neither, they do the same thing it's just a different brand.
D9Sports: What is your go-to Social Media and why?
HS: Snapchat for sure, you can use it for anything. It's the easiest way to contact people quickly whether you want to text, call, facetime, or just send them a funny picture.
D9Sports: What do you like most about high school and why?
HS: The thing I like most about high school is the social aspect of it. I love being around my friends and people in general.
D9Sports: What do you like least about high school and why?
HS: Can't really say, I haven't found high school a bad experience at all!
D9Sports: What question do you wish I would have asked you? And what is the answer to it?
HS: I wish you would have asked me "What advice can you give to kids going into high school" My answer would be "Enjoy every moment, each year goes by faster and faster."