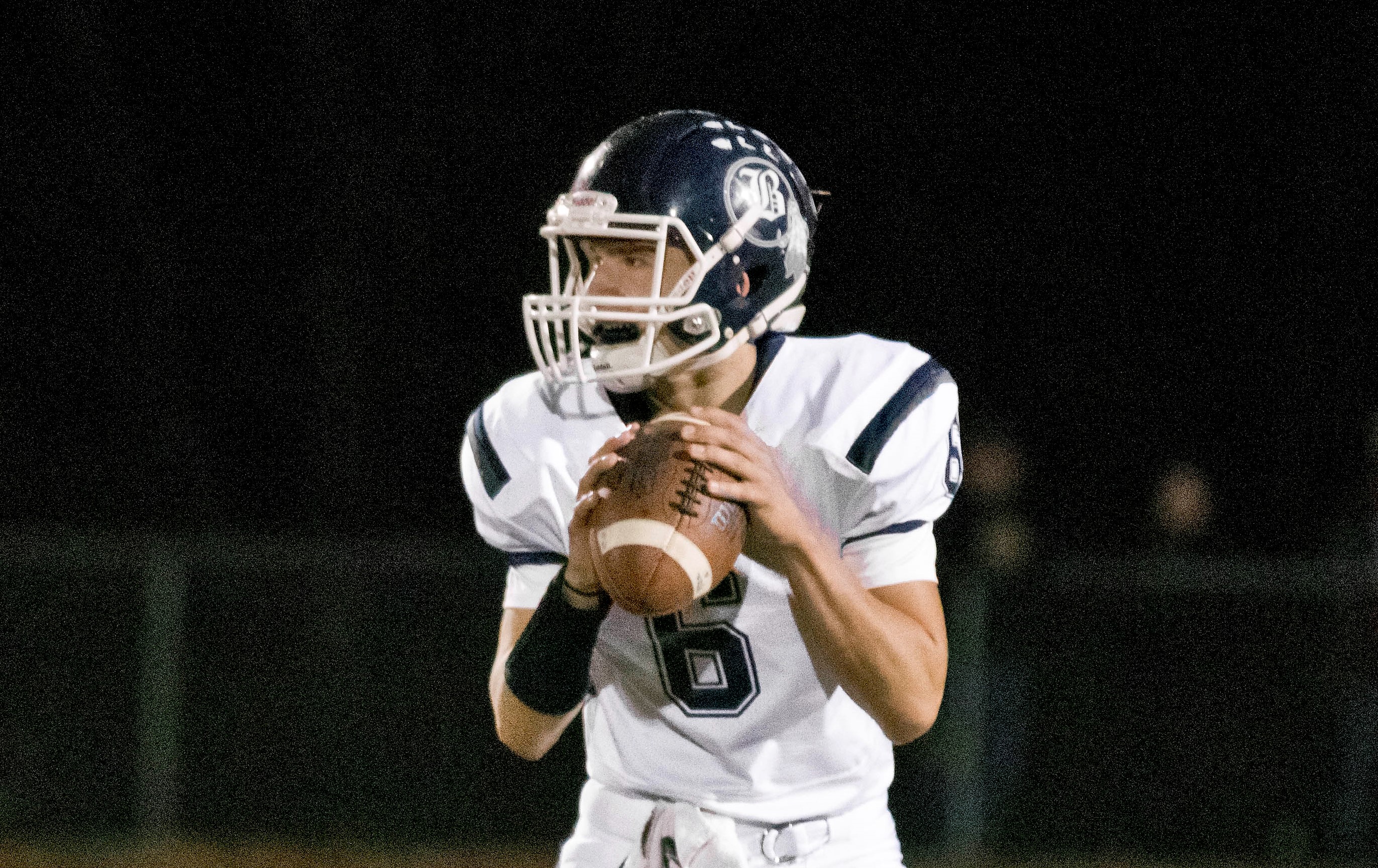 D9Sports.com/EYT Media is doing a series of player profiles on returning high-school athletes this summer. The year in school listed by the athlete is the year the athlete is entering this fall.
(Photo by Kyle Yates www.facebook.com/YatesPhoto)
JACK KRUG – SOPHOMORE – BROOKVILLE
Son of: Courtney and Tom Krug
Sports Played: Football, basketball, track & field
Family Members Playing/Played Sports: His dad, Tom, played basketball and football at Elk County Catholic. Additional relatives that played sports include Calvin Grumley, Cameron Grumley, Abby Grumley, Frank Kocjancic.
2017-18 Highlights: Jack burst onto the scene as a freshman playing key roles in all three sports for the Raiders. In football, he had a record-setting season demolishing nearly all of the Raiders passing records while helping Brookville going from 3-6 the season before he arrived to 9-2 last year and the D9 playoffs. Both losses came to D9 2A champion Clarion. He threw for a school-record and D9-leading 2,856 yards and 40 touchdowns while going 174 of 272 passing with just 11 interceptions. He also added 209 yards rushing and three touchdowns. He had three 300-yard passing games, including a season-best 387 on 10 of 12 passing with four touchdowns in a win over St. Marys. Jack was named the Eric Shick Agency D9Sports.com District 9 Rookie of the Year. In basketball, he helped Brookville to a second-place finish in District 9 Class 2A by scoring 3.3 points per game, including a season-high 10 points vs. St. Marys. In track & field, he helped the Raiders repeat as the District 9 champions. He was a member of the District 9 champion 4×100-meter relay team that also took fifth in the state while also running a leg on the D9 winning 4×400-meter relay squad that also took eighth in the state. Individually, he finished fifth in the 200-meter dash, 10th in the 100-meter dash
Post-High School Plans: He wants to go to college and play football at the highest possible level.
Q&A With Jack Krug
D9Sports: What is your favorite sport to participate in and why?
JK: Football and because it's fun.
D9Sports: What is your favorite memory, moment, game from playing high school sports?
JK: The C-L game from last year.
D9Sports: Why do you play high school sports?
JK: Because I enjoy it.
D9Sports: Who has had the most influence on your athletic career and why?
JK: My Dad and no reason.
D9Sports: Do you remember the first sport you played and did you like it right away or did it grow on you?
JK: Football and I liked it right away.
D9Sports: Do you have a favorite number for a uniform? If so, what is the story behind that number?
JK: No. 8 just because it's my lucky number and I had it ever since I was young.
D9Sports: What would someone who doesn't know you be surprised to find out about you?
JK: That I'm very laid back.
D9Sports: If you could eat dinner with anyone famous (living or dead) who would it be and why?
JK: Ariana Grande because why not?
D9Sports: Iphone or Android or Neither and why?
JK: iPhone because it's what I have.
D9Sports: What is your go-to Social Media and why?
JK: Snapchat because you can snap other people.
D9Sports: What do you like most about high school and why?
JK: Pep rallies before the homecoming games because they hype everyone up.
D9Sports: What do you like least about high school and why?
JK: All the drama about people in their personal life that other people care about.
D9Sports: What question do you wish I would have asked you? And what is the answer to it?
JK: Nothing