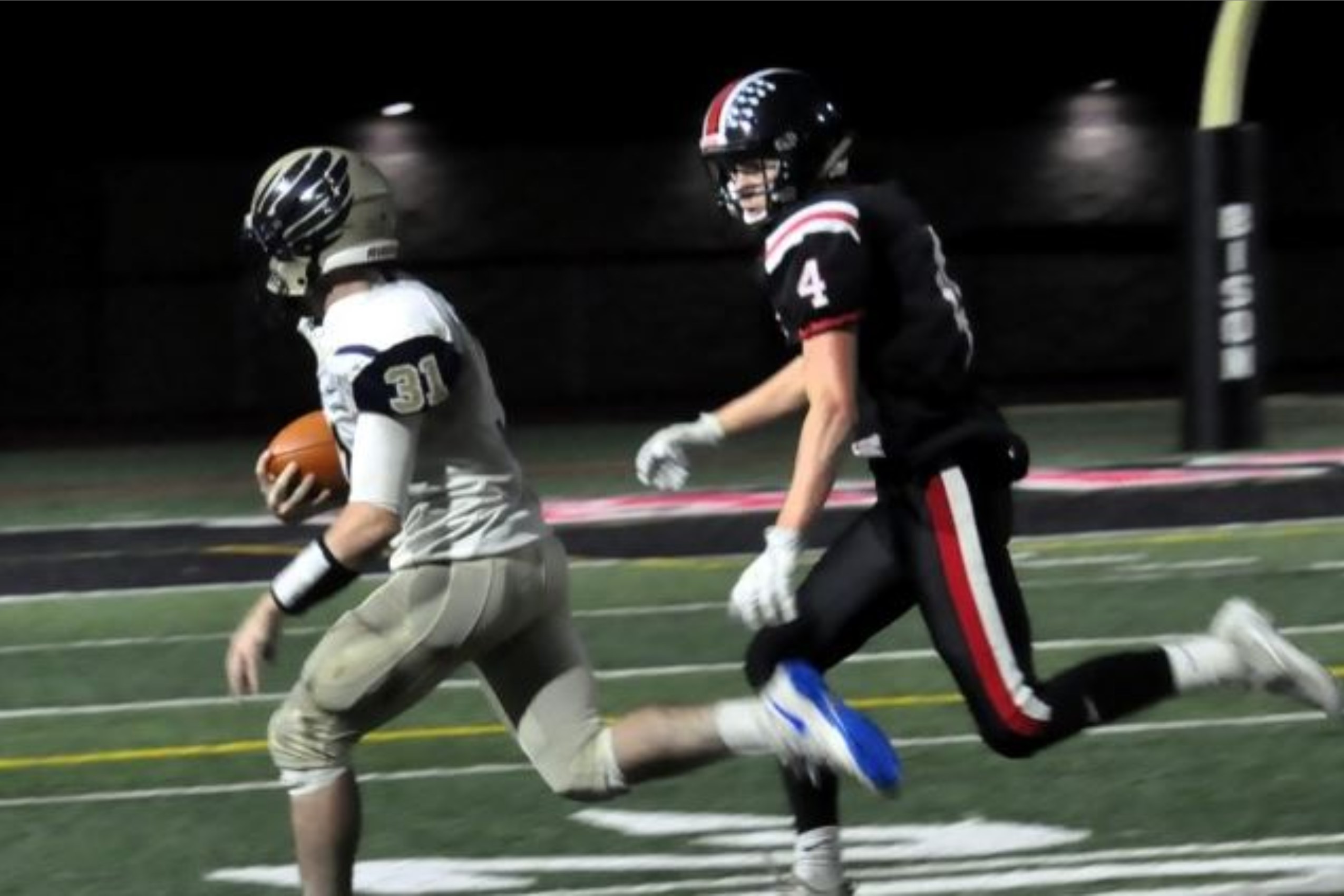 D9Sports.com/EYT Media is doing a series of player profiles on returning high-school athletes this summer. The year in school listed by the athlete is the year the athlete is entering this fall.
(Submitted photo. Photo by Logan Cramer III)
JAKE LEZZER – SOPHOMORE – CLEARFIELD
Son of: Amy & K.C. Lezzer
Sports Played: Football and Basketball
Family Members Playing/Played Sports: Both of his older brothers, Christian and Ryan played football for Clearfield. Ryan is playing at Western Michigan and Christian played at Boston College before transferring to Central Florida.
2017-18 Highlights: He was named to the PA Prep All-State Freshman at Wide Receiver after catching 29 passes for 460 yards and four touchdowns. On defense, he made 38 tackles and had an interception. In basketball, he averaged 1.7 ppg for the D9 4A champion Bison.
Post-High School Plans: Jake would like to play Division I college football.
Q&A With Jake Lezzer
D9Sports: What is your favorite sport to participate in and why?
JL: Football, it's the sport that comes most naturally to me.
D9Sports: What is your favorite memory, moment, game from playing high school sports?
JL: My freshman year, scoring my first career varsity touchdown against Tyrone.
D9Sports: Why do you play high school sports?
JL: To continue my academic & athletic career at a collegiate level.
D9Sports: Who has had the most influence on your athletic career and why?
JL: My two older brothers, Christian & Ryan, through watching them over the years work hard and earn Division 1 scholarships.
D9Sports: Do you remember the first sport you played and did you like it right away or did it grow on you?
JL: I've always loved sports as far back as i can remember. I started playing t-ball and soccer around age 4, but as soon as I was old enough to play football I fell in love with the game.
D9Sports: Do you have a favorite number for a uniform? If so, what is the story behind that number?
JL: The number 4 because it was a tradition passed down through my family.
D9Sports: What would someone who doesn't know you be surprised to find out about you?
JL: I am a BIG fan of movies.
D9Sports: If you could eat dinner with anyone famous (living or dead) who would it be and why?
JL: Will Ferrell, because I find his movies and anything associated with him extremely funny.
D9Sports: Iphone or Android or Neither and why?
JL: iphone, because it's easier to use.
D9Sports: What is your go-to Social Media and why?
JL: Twitter, because it's an easy route to find interesting people and breaking stories.
D9Sports: What do you like most about high school and why?
JL: Playing football on Friday nights, because I love the game and everything it has to offer.
D9Sports: What do you like least about high school and why?
JL: Getting up early in the morning for it because I am not a morning person.
D9Sports: What question do you wish I would have asked you? And what is the answer to it?
JL: Who is my favorite music artist? – Eric Church