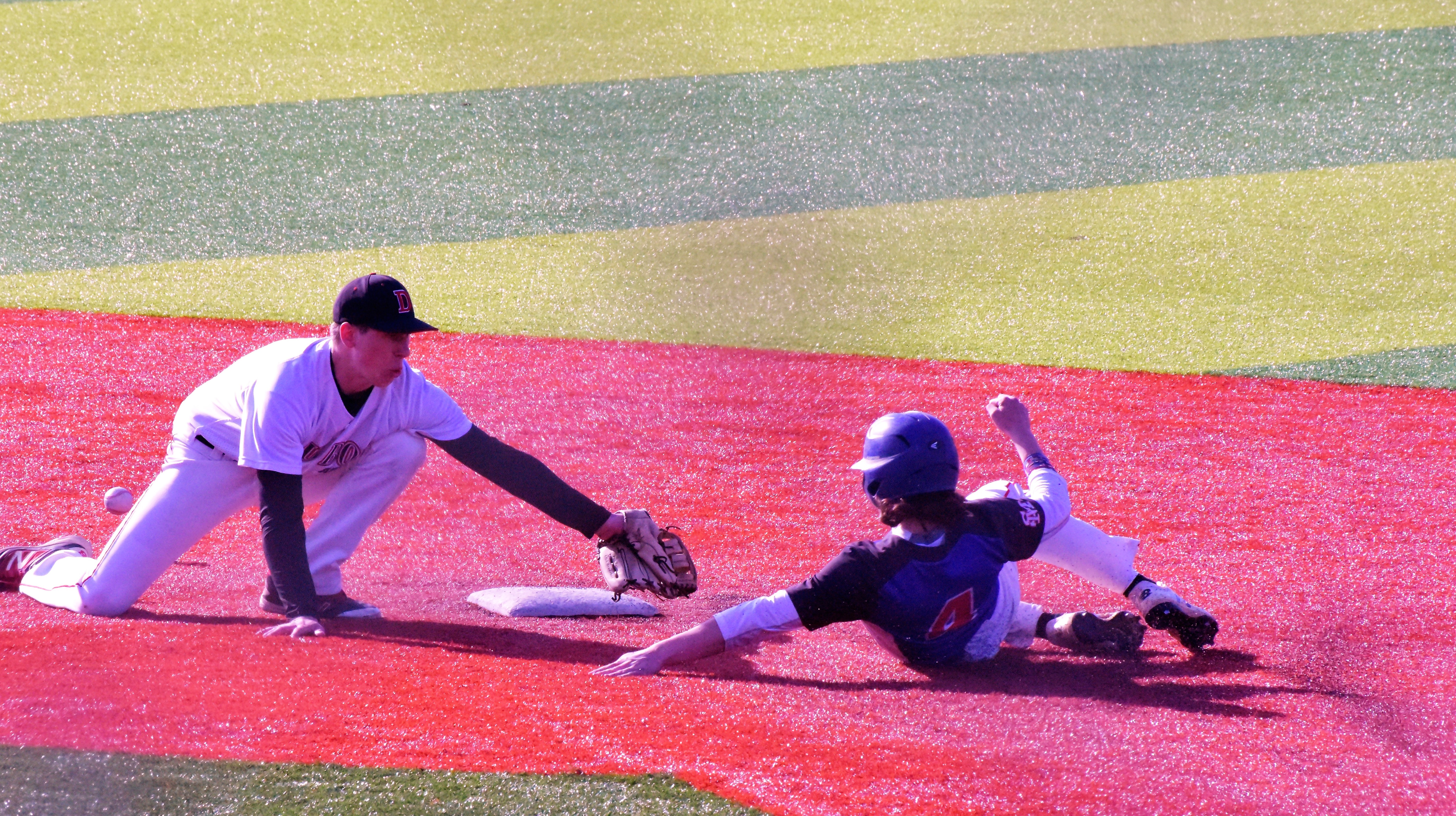 D9Sports.com/EYT Media is doing a series of player profiles on returning high-school athletes this summer. The year in school listed by the athlete is the year the athlete is entering this fall.
(Jake Meeker sliding into second base in a win over DuBois. Photo by Ronda Beimel)
JAKE MEEKER – JUNIOR – ST. MARYS
Son of: AJ and Traci Meeker (Dad is the baseball coach at St. Marys)
Sports Played: Soccer and baseball
Family Members Playing/Played Sports: His dad played baseball at Clarion University after graduating from Union High School. His uncles Troy and Josh Meeker both played at Union and Josh was the head girls' basketball coach at Union for a spell winning four D9Sports.com District 9 Girls' Basketball Coach of the Year Honors. His aunt, Bethany Burns Thompson played at Philipsburg-Osceola and also played softball at Clarion University.
2017-18 Highlights: He was the starting catcher for the St. Marys baseball team that won its first District 9 title (Class 4A) since 2000. He hit .235 with two doubles, 15 RBIs and 17 runs scored while stealing four bases. He caught three no-hitters for the Dutch during the year as well and was named to the Central Penn League All-Star team. In soccer, he helped St. Marys to a District 9 championship as well.
Post-High School Plans: He wants to go to college to major in Business and hopefully play baseball at the collegiate level.
Q&A With Jake Meeker
D9Sports: What is your favorite sport to participate in and why?
JM: Baseball. I truly just have a love for the game. Being part of every play as the catcher is something I also enjoy.
D9Sports: What is your favorite memory, moment, game from playing high school sports?
JM: Winning the first D9 Championship for St. Marys baseball in 18 years.
D9Sports: Why do you play high school sports?
JM: I enjoy playing sports in general. I have since I can remember.
D9Sports: Who has had the most influence on your athletic career and why?
JM: My father, AJ. He is the one who would get me involved in activities and anytime I want to practice he is there willing to work with me.
D9Sports: Do you remember the first sport you played and did you like it right away or did it grow on you?
JM: Baseball was the first sport I played and I loved, and still love, every minute of it.
D9Sports: Do you have a favorite number for a uniform? If so, what is the story behind that number?
JM: No. 22. That was the number my dad wore all through high school.
D9Sports: What would someone who doesn't know you be surprised to find out about you?
JM: I am obsessed with Taco Bell.
D9Sports: If you could eat dinner with anyone famous (living or dead) who would it be and why?
JM: Francisco Lindor. It looks like he has the most fun playing baseball and I'd love to talk to him about the game and his love for it.
D9Sports: Iphone or Android or Neither and why?
JM: iPhone
D9Sports: What is your go-to Social Media and why?
JM: Instagram. Following people who you generally don't get to see or talk to.
D9Sports: What do you like most about high school and why?
JM: High School Sports. They make the school year fly by.
D9Sports: What do you like least about high school and why?
JM: Being around people who truly don't understand who you are.
D9Sports: What question do you wish I would have asked you? And what is the answer to it?
JM: Who is a coach who has taught you the most? Coach Mike Beimel. He doesn't only teach me about the physical part of baseball, but the mental part as well.