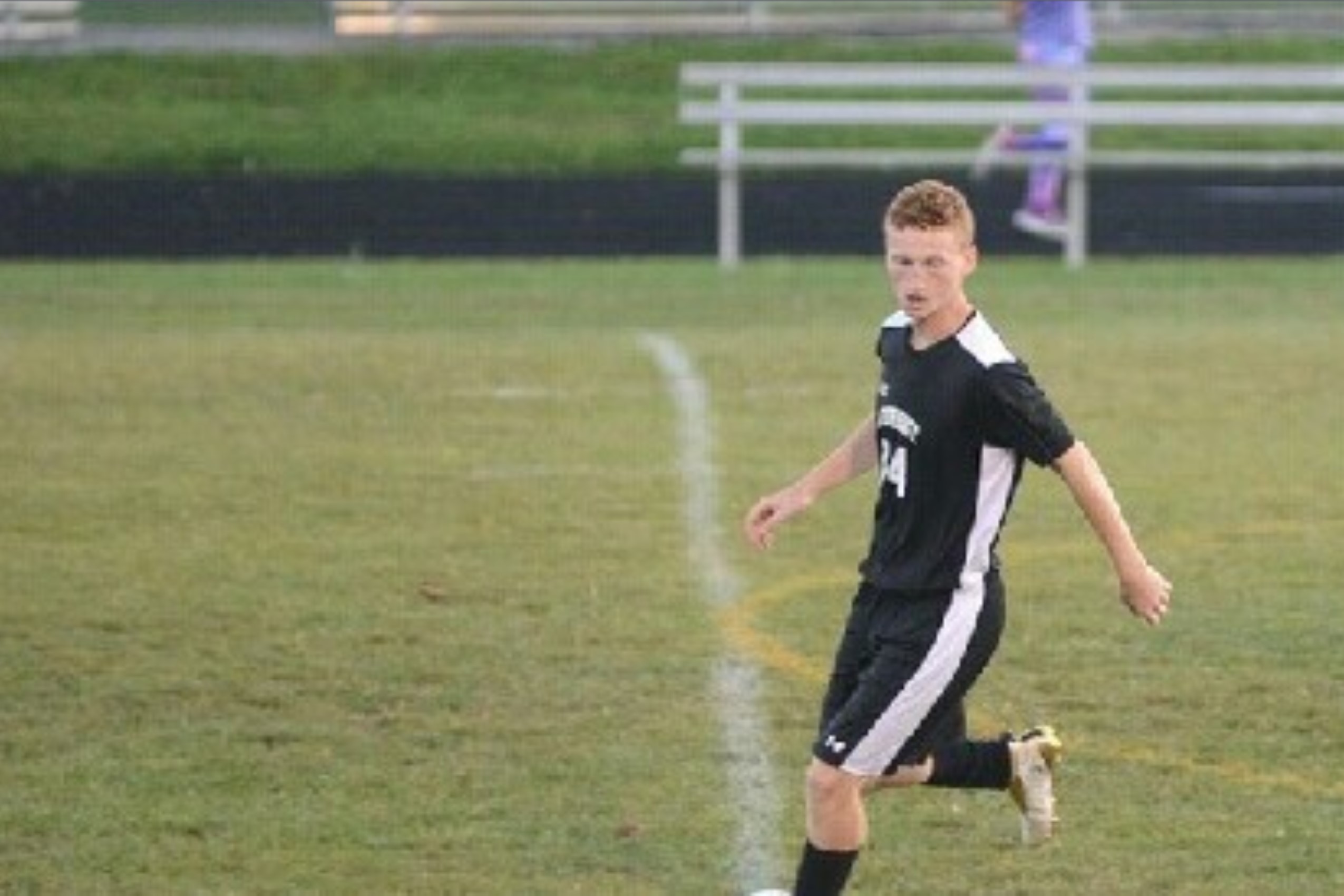 D9Sports.com/EYT Media is doing a series of player profiles on returning high-school athletes this summer. The year in school listed by the athlete is the year the athlete is entering this fall.
(Submitted photo. Photo by Deb Arner)
JARRETT KAHLE – SENIOR – EAST FOREST
Son of: Penny Kahle and Tom Kahle
Sports Played: Plays soccer and basketball as part of the Forest Fires co-op with West Forest and runs track as part of a co-op with North Clarion.
Family Members Playing/Played Sports: Both of his parents played and his three siblings, Jason, Cynthia, and Nicole all played.
2017-18 Highlights: He was named a UAVSL All-Star in soccer, was the co-field Athlete of the Year for North Clarion (he was a member of North Clarion D9 sixth-place 4×100-meter relay team while finishing 9th in D9 in the triple jump and 16th in the long jump) and was the Sportsman of the Year for East Forest. In basketball, he was the third-leading scorer for Forest Area averaging 7.1 points per game including scoring a season-high 16 points vs. Redbank Valley, one of eight double-digit games for him last year.
Post-High School Plans: He plans to attend college and play either soccer or do track & field.
Q&A With Jarrett Kahle
D9Sports: What is your favorite sport to participate in and why?
JK: Soccer is my favorite sport simply because it is what I've played the longest and what I've had the most success in.
D9Sports: What is your favorite memory, moment, game from playing high school sports?
JK: My favorite moment would be when my soccer team clinched playoffs for the first time in multiple years and the emotions that flooded out of all my teammates and coaches in that moment.
D9Sports: Why do you play high school sports?
JK: I play high school sports because it allows me to create bonds with people I otherwise would without sports.
D9Sports: Who has had the most influence on your athletic career and why?
JK: The person that has had the most influence on my athletic career would be Nick Popoleo who was a senior my 8th-grade year. He took me under his wing in a way and allowed me to look at him as a mentor.
D9Sports: Do you remember the first sport you played and did you like it right away or did it grow on you?
JK: I first played soccer which immediately was, and still is, my favorite sport.
D9Sports: Do you have a favorite number for a uniform? If so, what is the story behind that number?
JK: My favorite number is 22 because my father brother and sister all wore it before me in high school.
D9Sports: What would someone who doesn't know you be surprised to find out about you?
JK: People would be surprised to know that I eat a vegan diet.
D9Sports: If you could eat dinner with anyone famous (living or dead) who would it be and why?
JK: I would love to eat dinner with Kanye West to see into his thought process and maybe learn a few things from him.
D9Sports: Iphone or Android or Neither and why?
JK: iphone because I know it better and can use it faster.
D9Sports: What is your go-to Social Media and why?
JK: My go-to social media is Instagram because my friends and I use it to share sports clips or things that make us laugh.
D9Sports: What do you like most about high school and why?
JK: I enjoy the bond I have created with my friends and teachers in high school that I will hopefully keep forever.
D9Sports: What do you like least about high school and why?
JK: The overload of homework, tests, and responsibility that comes with it.
D9Sports: What question do you wish I would have asked you? And what is the answer to it?
JK: I wish you would have asked about how sports create friendships with people from anywhere like neighboring schools to different states. Sports allow you to travel to different areas and meet new people constantly. Another question I wish You would have asked is, how our coaches help us learn and improve. My coaches have taught me so much from the different sports and one of my soccer coaches, Josh Vincent, has helped guide me into college sports.