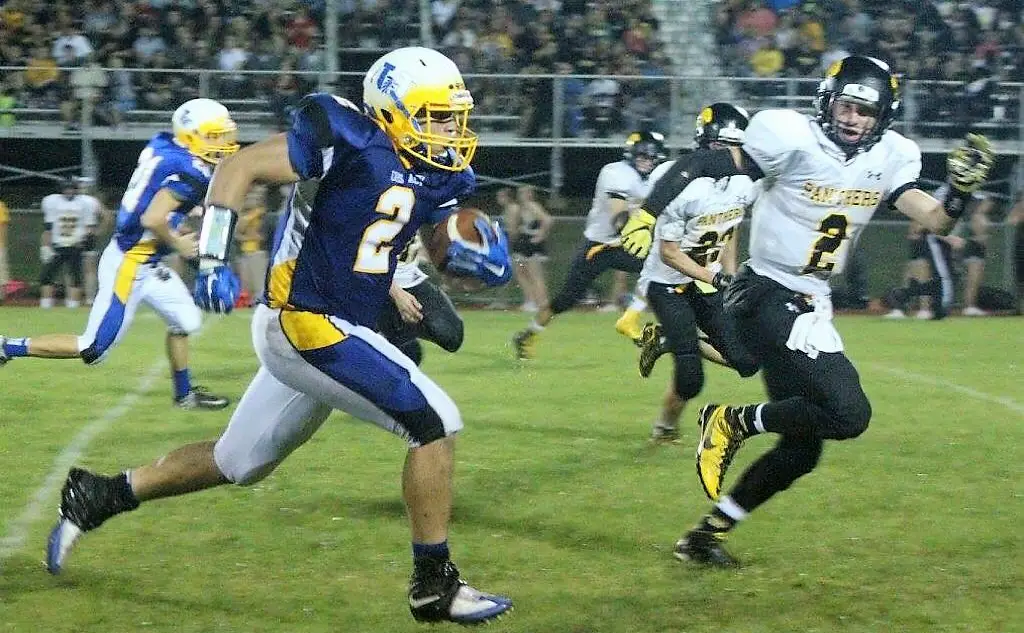 D9Sports.com and EYT Media are doing a series of player profiles on returning high-school athletes this summer. The year in school listed by the athlete is the year the athlete is entering this fall.
JEFFREY GINN – SENIOR – A-C VALLEY
Son of: Nikki Sherman
Sports Played: Football, Basketball, Baseball
2016-17 Highlights: In football, Jeff was the third-leading rusher for Union/A-C Valley running for 158 yards on 26 carries while also catching eight passes for 59 yards. On defense, he made 33 tackles, including a sack, while causing a fumble and recovering a fumble. In basketball, he was the fourth-leading scorer for the A-C Valley basketball team averaging 6.0 points per game while scoring in double digits six times. In baseball, Jeff hit .250 with seven runs scored and three RBIs.
Post-High School Goals: Jeff plans to attend Slippery Rock University and major in Safety Management. He would like to play either football or baseball in college.
Q&A With Jeff Ginn
D9Sports: What is your favorite sport to participate in?
JG: Football
D9: What is your favorite memory, moment, game from playing high school sports?
JG: My favorite memory was in football last year beating Keystone 54-14 (first varsity football win) and then beating Moniteau 40-21 the following week.
D9: Why do you play high school sports?
JG: I play high school sports because it's what I love to do. I've been playing baseball since I was five, then football in second grade and started basketball in eighth grade.
D9: Is there a high school player on your team or another team that you enjoy watching play? If so, why?
JG: I enjoy watching and being on a football team with Lucas Bowser. I have always known him because of youth football and now teammates for football, but he's a great leader on the field and will do whatever it takes to win.
D9: When not playing sports I would rather (pick one) – Go to work, play video games, shop, hang out with friends, play pickup sports, go the movies
JG: When not playing sports I enjoy hanging out with my friends and family.
D9: If you could go anywhere in the world, where would it be and why?
JG: If I could go anywhere in the world I would go to the Bahamas because it's a wonderful place and it would be nice to get away from home for a few days.
D9: Who has had the most influence on you as a person?
JG: My mother has had the most influence on me because she's always been there for me since day one.
D9: What do you like most about growing up in your hometown?
JG: I like that mostly everyone is nice and very polite and is encouraging the sports at A-C Valley.
D9: What do you wish you could change about growing up in your hometown?
JG: I wish we had more people playing football in the youth program and in high school.