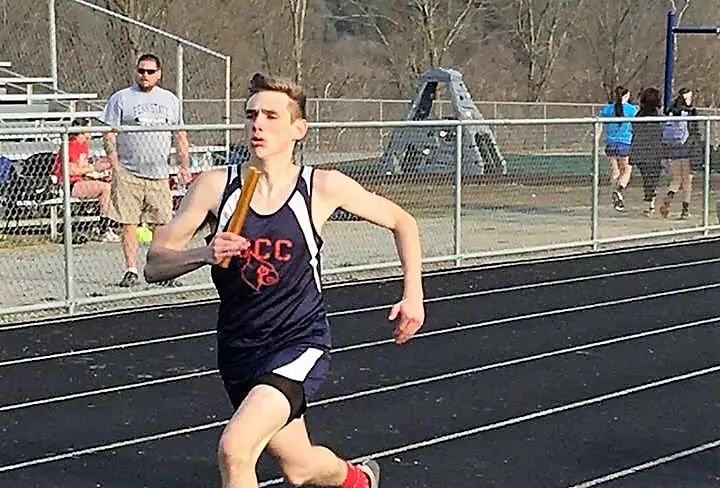 D9Sports.com/EYT Media is doing a series of player profiles on returning high-school athletes this summer. The year in school listed by the athlete is the year the athlete is entering this fall.
(Submitted photo)
JON SCHOENEMAN – SENIOR – DUBOIS CENTRAL CATHOLIC
Son of: Bill and Penny Schoeneman
Sports Played: Soccer, cross country, basketball, track & field (he might give baseball a try this year)
Family Members Playing/Played Sports: His brother, Zach Schoeneman, graduated last year and he played baseball for DCC
2017-18 Highlights: He set personal records in 11 different event in track & field including his three main events – the 100-meter and 200-meter dashes and the 4×400-meter relay.
Post-High School Plans: He plans to attend Buffalo State in western New York, and it's a goal of his to play for their soccer team.
Q&A With Jon Schoeneman
D9Sports: What is your favorite sport to participate in and why?
JS: My favorite sport is basketball. I love basketball. It's the one sport that I play that I've been constantly working at to get better. I've played it since fifth grade, and I plan on having a breakout senior season.
D9Sports: What is your favorite memory, moment, game from playing high school sports?
JS: My favorite memory from any game or meet from all four sports came in my junior year. It may have been a JV basketball game, but still, it was pretty neat. I dropped 20 points and also hit the game-winning shot and had the game-sealing steal in a two-overtime victory of Penns Manor. It was a moment I'll never forget, JV or not.
D9Sports: Why do you play high school sports?
JS: I play high school sports because it's just fun. High school is a time to have fun, which for me, playing sports and competing almost every night is just fun for me. I can't imagine my life without these sports.
D9Sports: Who has had the most influence on your athletic career and why?
JS: I'd have to say my Uncle Larry. He's always pushing me to never give up. After every track meet or soccer game, I'd text him how it went and everything and he'd always critique me on it. The end of track season came and I was on the edge of qualifying for districts and he kept my spirits high and helped me go into my last race with a good, positive attitude.
D9Sports: Do you remember the first sport you played and did you like it right away or did it grow on you?
JS: The first sport I ever played was baseball. It started with t-ball of course, and I honestly cannot remember if I liked it a lot or not. But I continued to play until I was 13, and even made all-stars once.
D9Sports: Do you have a favorite number for a uniform? If so, what is the story behind that number?
JS: My favorite number for my uniform is 8. Playing soccer, ever since fifth grade, I've been number 8, and it's just kind of stuck with me throughout the years. But in basketball, I'm No. 3, and the reason for that is because my good friend Noah Pettenati was number 3 and I was stoked to be able to wear that number after him. Both numbers are very significant to me.
D9Sports: What would someone who doesn't know you be surprised to find out about you?
JS: I think someone who doesn't know me would be surprised at how much of a video game nerd I am. I love playing Super Smash Bros and Mario Kart and I pretty much know everything about the games.
D9Sports: If you could eat dinner with anyone famous (living or dead) who would it be and why?
JS: I'd love to eat dinner with Kemba Walker. Kemba is my favorite athlete in the world. I've been a fan ever since he played for Connecticut.
D9Sports: Iphone or Android or Neither and why?
JS: iPhone. It just seems easier to use
D9Sports: What is your go-to Social Media and why?
JS: Snapchat. It's just an easy way of communicating with friends.
D9Sports: What do you like most about high school and why?
JS: The thing I've liked about my high school experience is the teachers. The teachers at my school have always been supportive and always there to help with any subject.
D9Sports: What do you like least about high school and why?
JS: The thing I like least about high school is just fitting in. I've gone to Central since I was a freshman and I'm still struggling to fit into the right group.
D9Sports: What question do you wish I would have asked you? And what is the answer to it?
JS: I wish you would have asked if I had any type of motto I go by. The answer is "Why Not?" My second favorite athlete, Russell Westbrook uses this, and I just feel it suits me. Before every sporting event, I have "Why Not?" written on my wrist to remind myself how it can be me who steps up and wins. Why not me anyway?