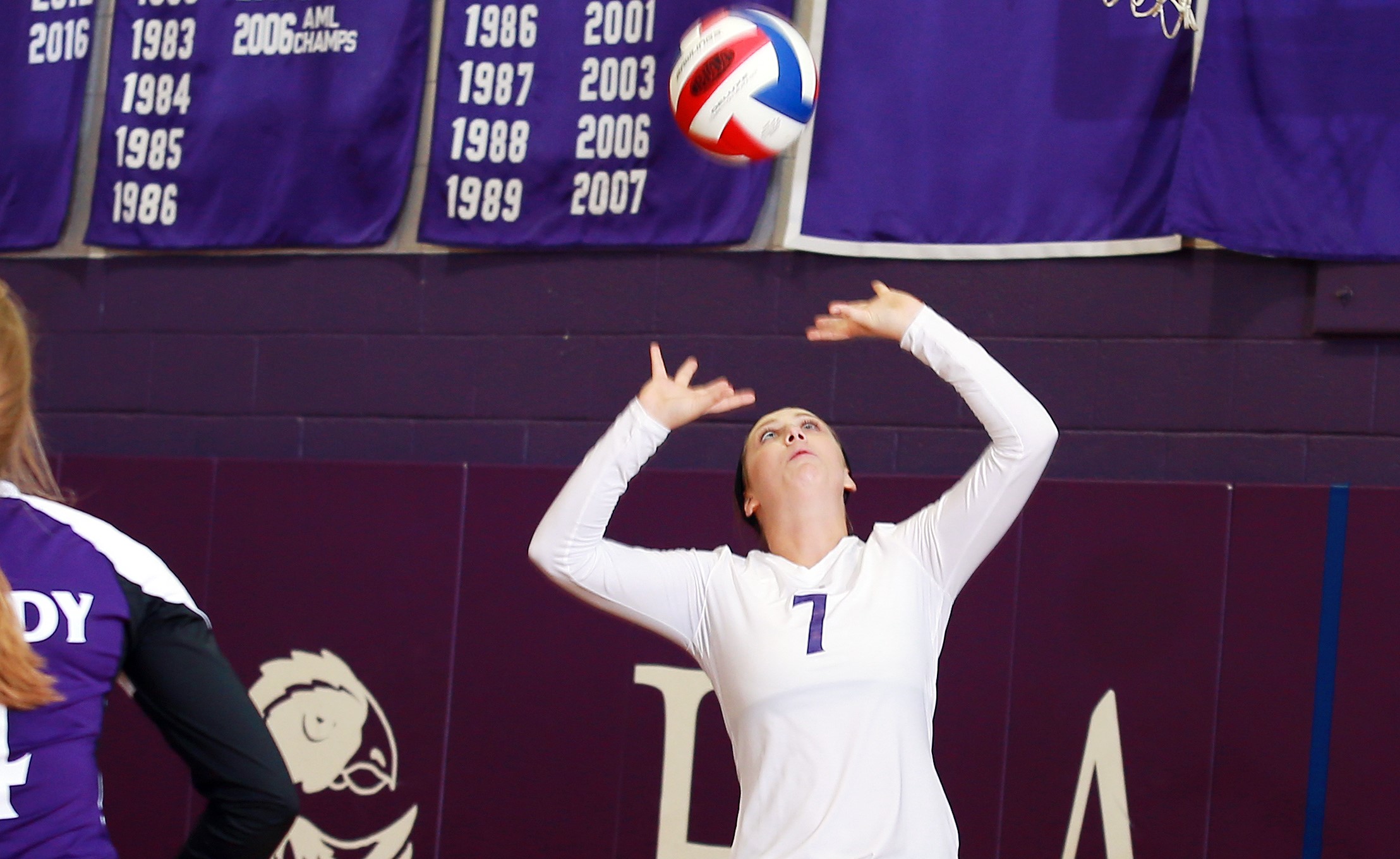 D9Sports.com and EYT Media are doing a series of player profiles on returning high-school athletes this summer. The year in school listed by the athlete is the year the athlete is entering this fall.
JOPLIN OSGOOD – SENIOR – COUDERSPORT
Daughter of: Sarah Osgood and James Osgood
Sports Played: HS Sports- Volleyball and Softball. Travel Sports- Octane Volleyball 18u (2015-2016) Lady Lunachics Softball Team (since the age of 13) Competitive Gymnastics at G2 (from 11 years of age to 16).
2016-17 Highlights: Joplin played a key role in Coudersport District 9 Class 1A volleyball championship team that advanced to the PIAA semifinals. As the Libero, she was a key player in the Lady Falcons defense and recorded 39 digs in the PIAA quarterfinal win over Bishop Guilfoyle and had 45 digs in the semifinal loss to Greensburg Central Catholic. She was named a second-team Pennsylvania Volleyball Coaches Association District 9 Class 1A player. In softball, she was the starting shortstop and leadoff hitter for a Coudy team that finished second in D9 Class 1A.
Post-High School Goals: Joplin plans on attending college and majoring in Psychology in order to become a Child Psychologist. She would like to play softball in college.
Q&A With Joplin Osgood
D9Sports: What is your favorite sport to participate in?
JO: Even though I am a multi-sport athlete, softball has always been my favorite. This sport has taught me to have patience and to work hard and it has also taught me about team unity. I've come to love and appreciate every aspect of this game.
D9: What is your favorite memory, moment, game from playing high school sports?
JO: My favorite moment of my high school sports career so far was during my junior year of volleyball when we won the district title for the first time in 13 years. The title was so rewarding because odds were against us, and we knew in our minds that we wanted this for ourselves and our fans back home in Coudy.
D9: Why do you play high school sports?
JO: Since I was young and introduced to sports I've always loved playing them. They've grown to be a part of my lifestyle, and I also believe that playing sports in school makes you become a responsible and well-rounded individual.
D9: Is there a high school player on your team or another team that you enjoy watching play? If so, why?
JO: From my team, I've always enjoyed watching Macy Gleason play. Her determination, love for the game, and aggressiveness were always inspiring to watch and I am glad to have played on the same softball team with each other for the past 3 years. She always had a great attitude and took risks to help her teammates at any given time. I also enjoy watching the Otto-Eldred volleyball team play. Those girls have a love for the game and have worked extremely hard to get to where they want to be. You can tell that on the court the only thing that matters to them is having one another backs and doing whatever it takes to come out on top. It's always a pleasure playing a team as competitive and skilled as they are and I look forward to our matches in this upcoming season.
D9: When not playing sports I would rather (pick one) – Go to work, play video games, shop, hang out with friends, play pickup sports, go the movies
JO: When I'm not playing sports I'm either with my friends or my family. Without them, I wouldn't be the person I am today. They've taught me life lessons that I will carry with for the rest of my life and because of that, I owe any of the little free time that I have.
D9: If you could go anywhere in the world, where would it be and why?
JO: I don't have a specific place that I'd love to visit, however ideally if I could go anywhere in the world it would be somewhere tropical. I love exploring and the ocean is my favorite place to be.
D9: Who has had the most influence on you as a person?
JO: My mom, Sarah, has always had the biggest influence on me. She works extremely hard so my brother and I have all the opportunities in the world and I want to return the favor to her by being the absolute best person I can be. She's raised me to be hard working just like her and because of that, I am successful in academics and athletics. I've always wanted to make her proud because she deserves the world for raising my brother and me on her own.
D9: What do you like most about growing up in your hometown?
JO: I love how close knit the community is. Everyone knows me and I know everyone so no matter where I am there's someone to say hello to or somebody to watch out for me. Most of the people are quite friendly too which is nice.
D9: What do you wish you could change about growing up in your hometown?
JO: Although I love where I live, I wish there were more activities and opportunities around us. There's only so much you can learn about when you live in a town with the population around 2,000. If I lived somewhere larger there would be more diversity and I could learn about different cultures and a lifestyle that doesn't revolve around just outdoor activities.
D9: What question do you wish I would have asked you? And what is the answer to it?
JO: I wish you would have asked me what I thought was the most important quality of a high school athlete. The most important quality I believe is responsibility because, without it, you would not have time management skills, dependability, or the drive to succeed.
D9: Do you or have you had any siblings or other immediate relatives who have played high school sports?
JO: My whole family has grown up playing high school sports. All of my aunts and uncles on my mom's side played soccer, baseball, softball, tennis, and basketball at the Galeton Area High School. Most of them now are coaches of their children's teams or still play in slow pitch leagues. My brother, Sheamus, is a member of the Coudersport baseball team and I have another cousin who is a three-sport athlete at the Galeton Area High School.