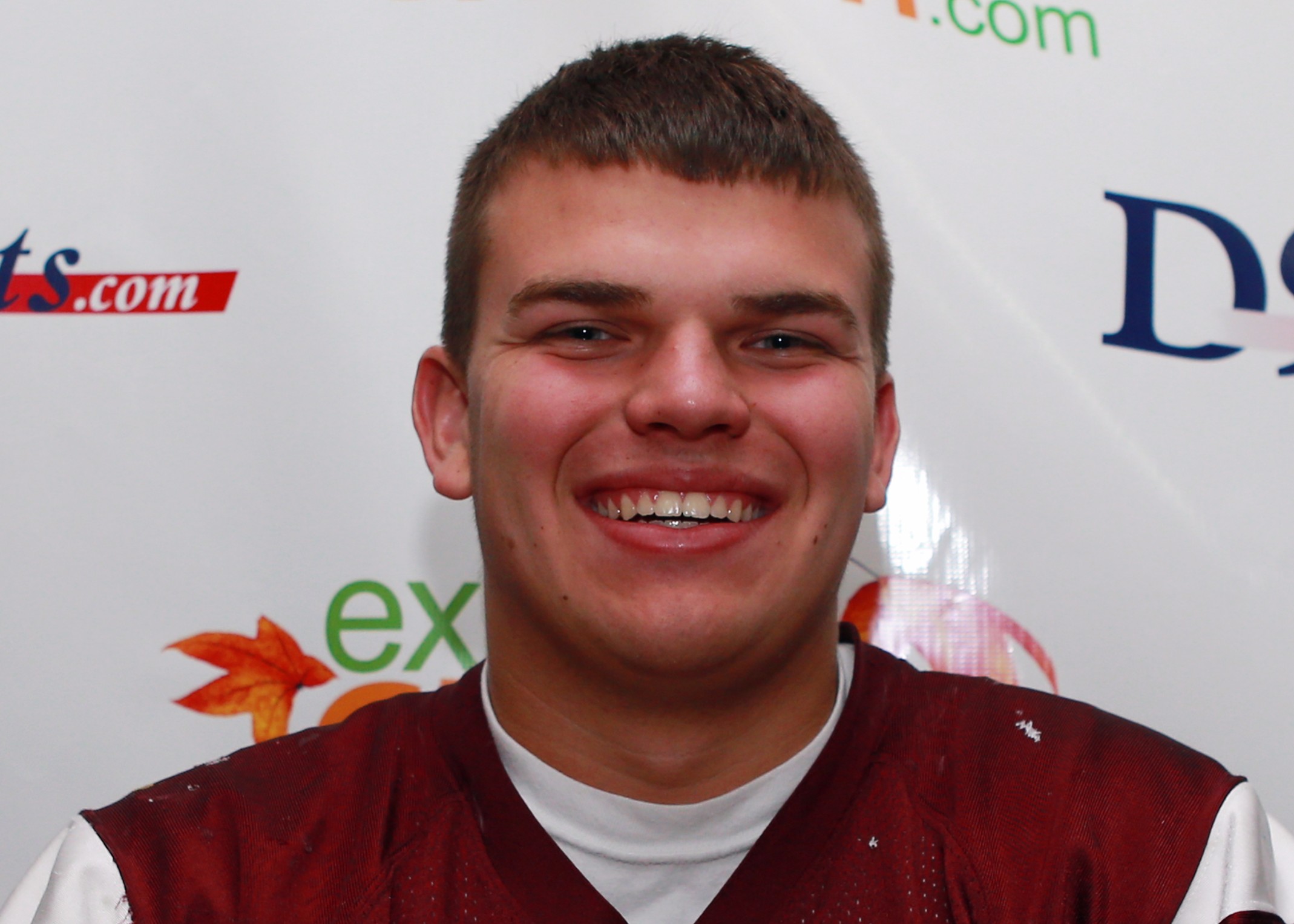 D9Sports.com and EYT Media are doing a series of player profiles on returning high-school athletes this summer. The year in school listed by the athlete is the year the athlete is entering this fall.
JUSTIN KASMIERSKI – Senior – Ridgway
Son of: Craig and Julie Kasmierski
Sports Played: Football, Basketball, Baseball (for Johnsonburg as part of co-op)
2015-16 Highlights: Justin was the third-leading tackler for Ridgway last year with 10.6 per game. He made 106 stops with 3 ½ sacks and a fumble recovery while also playing a key role on the Elkers offensive line. In basketball, he helped Ridgway to the PIAA playoffs by averaging 6.0 points per game. In baseball, playing for Johnsonburg as part of a co-op with Ridgway, Kasmierski hit a team-leading .404 with two doubles, a home run and a team-best 18 RBIs. He also pitched in seven games going 1-2 with a 3.12 ERA. In a team-high 33 ⅔ innings of work he had 11 strikeouts.
Post High School Goals: Justin plans to attend college and is hoping to play a sport, preferably football, at the next level and has been contacted by a handful of colleges.
Q&A With Justin Kasmierski
D9Sports: Do you have a favorite sport, and if so why?
JK: Football, I just love the physical nature of the game, and nothing beats the Friday Night lights.
D9: What is your best high-school related sports memory and why?
JK: Winning the AML Championship (in football) my sophomore year, it was a huge milestone for our program.
D9: Has there been a coach and/or teacher who has influenced you the most in your high-school career to this point, and if so, why?
JK: The coach who influenced me the most would be our lifting coach Scott Salberg. He does anything he can for us and makes sure we are ready to play. He also taught me that I can achieve anything through hard work and determination. He is all about working hard and not making excuses, and that plays an important part in every aspect of life.
D9: What do you like best about playing sports in high school?
JK: My favorite part about sports in high school is being able to play with the kids I've grown up and making memories with them that we will always have.
D9: What is the hardest part about playing sports in high school?
JK: The hardest part about sports in high school is trying to find time to do everything with doing multiple sports.
D9: How much offseason work do you put into your sports?
JK: I put in a lot of offseason work for my sports. It doesn't seem like they ever end. Football and basketball workouts go on all summer long, and I also lift all year round and play high school and Legion baseball to add to it. A lot of time and effort get put into the offseason.
D9: What is your favorite subject in school?
JK: Math
D9: What do you like to do for fun when you aren't playing sports?
JK: The things I love to do most when not playing sports is relax, watch movies and hang out with friends.
D9: What are your goals for the upcoming school year both sports wise and academically?
JK: My goals for this year are to keep my grades high in the classroom and make as many memories as I can with my friends and play to my highest ability all the time. Hopefully, that will get me where I want to be with championships and awards.