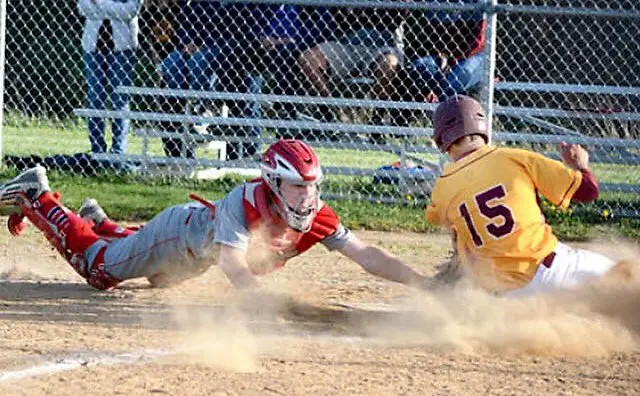 D9Sports.com and EYT Media are doing a series of player profiles on returning high-school athletes this summer. The year in school listed by the athlete is the year the athlete is entering this fall.
JUSTIN MIKNIS – JUNIOR – DUBOIS CENTRAL CATHOLIC
Son of: Dan and Kim Miknis
Sports Played: Basketball and Baseball
2016-17 Highlights: Justin followed up his strong freshman season in hoops and baseball with strong sophomore campaigns in both. In baseball, he hit .339 with seven doubles, four triples and a team-high 18 RBIs while tying for the team lead in runs scored with 23. He was also second on the team with an OPS of 1.021 while stealing four bases. He also pitched 2 ⅓ innings recording all but one of his seven outs by strikeout. In basketball, Justin was the leading scorer for the Cardinals at 12.3 points per game while hitting a team-best 25 3-pointers and shooting 77 percent (48 of 62) from the free-throw line. He also led the team in rebounding (6.1 rpg), was second in assists (2.3 apg) and third in steals (1.4 spg).
Post-High School Goals: Justin hopes to play baseball at the highest level possible and if that doesn't work out then coach a college program.
Q&A With Justin Miknis
D9Sports: What is your favorite sport to participate in?
X: Baseball
D9: What is your favorite memory, moment, game from playing high school sports?
X: Winning the District 9 championship in baseball in 2016.
D9: Why do you play high school sports?
X: I like to compete and I want to keep on getting better at the sports I play.
D9: Is there a high school player on your team or another team that you enjoy watching play? If so, why?
X: I like watching Jackson Frank play baseball because he does good things on the baseball field and doesn't talk about it. 10. Also, Mike Misiewicz because he gives everything he's got every play.
D9: When not playing sports I would rather (pick one) – Go to work, play video games, shop, hang out with friends, play pickup sports, go the movies
X: I like to go fishing and hit in the cage.
D9: If you could go anywhere in the world, where would it be and why?
X: I would want to go to Omaha, Nebraska, and watch the college World Series.
D9: Who has had the most influence on you as a person?
X: My Dad has had the most influence on me. We have spent a lot of time together.
D9: What do you like most about growing up in your hometown?
X: I like the support you get from this town especially for baseball.
D9: What do you wish you could change about growing up in your hometown?
X: I wouldn't really want to change anything honestly.
D9: What question do you wish I would have asked you? And what is the answer to it?
X: Who do you want to meet someday? Salvador Perez (Kansas City Royals catcher).
D9: Do you or have you had any siblings or other immediate relatives who have played high school sports?
X: Yes, my brother, Jake, played baseball at Central and now plays at St. Bonaventure.