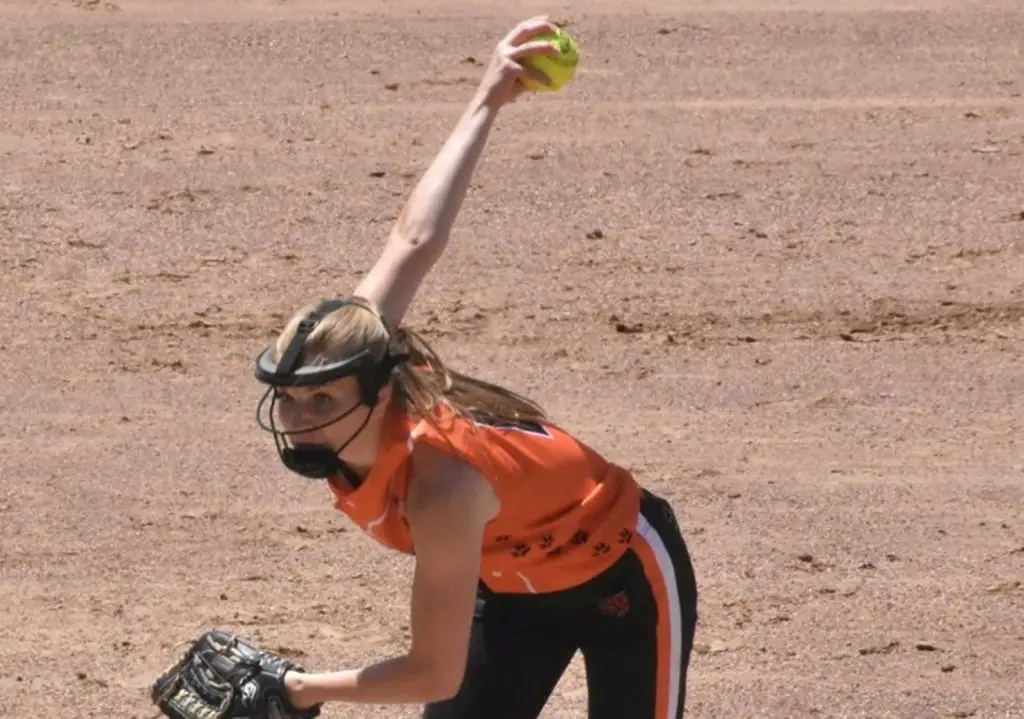 D9Sports.com/EYT Media is doing a series of player profiles on returning high-school athletes this summer. The year in school listed by the athlete is the year the athlete is entering this fall.
(Photo by Kim Constantino)
KAIT CONSTANTINO – SENIOR – CLARION
Daughter of: Dave and Kim Constantino
Sports Played: Volleyball, Basketball, Softball
Family Members Playing/Played Sports: Sister-Alexis, she played basketball, volleyball and softball; Mom and Dad both played sports in high school
2018-19 Highlights: She helped Clarion to the PIAA Playoffs in all three sports she played including a D9 title in volleyball and a runner-up spot in softball. She was named the D9Sports.com District 9 Pitcher of the Year in softball after going 16-6 with a 1.65 ERA and a 0.93 WHIP. She struck out 245 (school record) in 144 innings while allowing just 95 hits on the year. In the postseason, she was 4-2 with a 1.22 ERA with 110 strikeouts in 63 innings of work. She also earned All-State and all-conference honors in softball. In basketball, she was named a third-team All American Awards & Engraving District 9 player and a first-team All-KSAC player after averaging 12.9 points, 5.0 rebounds. 2.9 steals and 1.5 assists per game. In volleyball, she was a second-team all-KSAC selection and an All-District choice.
Post-High School Plans: She plans on going to college and is not sure which one yet majoring in exercise science/physical therapy. Yes, she's looking to play softball in college.
Q&A With Kait Constantino
D9Sports: What is your favorite sport to participate in and why?
KC: Softball, because I've been playing this sport since I was 5 and I haven't stopped loving it. The atmosphere of being on the field is so exhilarating and my teammates and coaches are the best.
D9Sports: What is your favorite memory, moment, game from playing high school sports?
KC: Beating Otto-Eldred to move on to State Playoffs for softball and winning Districts in volleyball.
D9Sports: Why do you play high school sports?
KC: I play high school sports because I like the competitive atmosphere, and it keeps me in shape.
D9Sports: Who has had the most influence on your athletic career and why?
KC: My parents have had the most influence on my athletic career. They always push me to be my very best, and they are supportive of everything I do! Not only do they have a big impact on my athletic career, but they also have a huge part of the person who I am today. They always tell me that at the end of the day, nothing else matters except giving all the glory to God.
D9Sports: If you could change one thing about high school sports, what would it be and why?
KC: The one thing I would change about high school sports is that there should be different classifications for public and private schools.
D9Sports: If you could be president for a day, what would be the one major thing you would do?
KC: For one day, all of our political leaders would put their differences aside to solve all of the immediate problems.
D9Sports: What is your ideal place to live? County, City, Suburb? Why?
KC: I would prefer to live in the country or in a rural area because I enjoy a small-town lifestyle.
D9Sports: What would someone who doesn't know you be surprised to find out about you?
KC: I think that those who don't know me, would be surprised to find out that I met and pitched with Jennie Finch.
D9Sports: What is your strongest subject in school?
KC: My strongest subject is either Math or Biology.
D9Sports: If there was one period in history or one event in history you could go back to, what would it be?
KC: I would go back to the resurrection of Jesus Christ.
D9Sports: What question do you wish I would have asked you? And what is the answer to it?
KC: I wish you would ask me how do I react to games when I don't play my best. I have had some bad games this year, but I know that I will worship God on the good days, and worship him on the bad days as well. My faith is very important to me and I know that God is in control, so all I have to do is work even harder the next day!