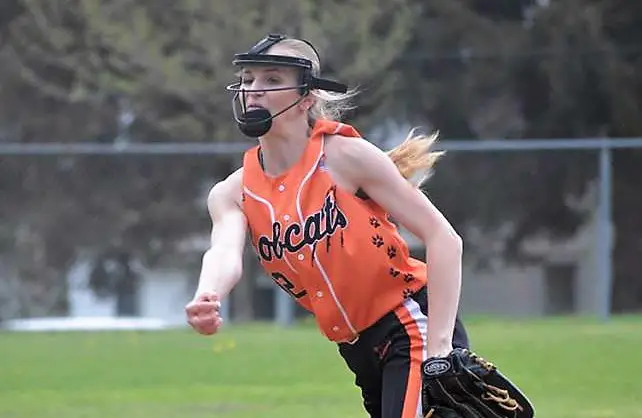 D9Sports.com/EYT Media is doing a series of player profiles on returning high-school athletes this summer. The year in school listed by the athlete is the year the athlete is entering this fall.
(Submitted photo. Photo by Kim Constantino)
KAITLYN CONSTANTINO – JUNIOR – CLARION
Daughter of: Dave and Kim Constantino
Sports Played: Volleyball, basketball, softball
Family Members Playing/Played Sports: Her sister, Alexis, just graduated from Clarion where she played volleyball and softball for four years and basketball the other three years. Her parents both played high school sports as well.
2017-18 Highlights: She was named second-team All-Conference in basketball after leading Clarion at 15.6 ppg which included a career-high 26 points vs. Forest Area. She scored 20 or more points seven times. In volleyball, she helped Clarion to a third-place finish in D9 and to the PIAA Class 1A semifinals, while she was a starter on Clarion's D9 playoff-qualifying softball team.
Post-High School Plans: She would like to go to college for physical therapy, and she plans to play sports in college, mostly softball.
Q&A With Kaitlyn Constantino
D9Sports: What is your favorite sport to participate in and why?
KC: Softball because it brings so much joy to me and the people in it are amazing.
D9Sports: What is your favorite memory, moment, game from playing high school sports?
KC: Going to the state semifinals in volleyball!!
D9Sports: Why do you play high school sports?
KC: I play high school sports because they keep my mind busy and are a good stress reliever as well. Also, it keeps my body in shape.
D9Sports: Who has had the most influence on your athletic career and why?
KC: My dad has had a big impact on my athletic career because he has not only been an amazing teacher but as a coach as well. At a very young age, my dad would always push me to meet my fullest potential as an athlete, and we would spend hours in the backyard whether it was for basketball or softball. My dad has definitely been a big part in the player and person I am today.
D9Sports: Do you remember the first sport you played and did you like it right away or did it grow on you?
KC: The first sport that I have played was softball, or as they call it t-ball. From the first day that I started t-ball, I knew that this was a sport that I was gonna love, and I just always had the most fun in this sport. I worked hard every day in the backyard just focusing on and building up the mechanics to get better. Since then, I've always loved this sport, and I've never not wanted to go to a practice/ game.
D9Sports: Do you have a favorite number for a uniform? If so, what is the story behind that number?
KC: I've always loved the number 12 because that has been my number for everything that I've done. So the number 12 has always stuck with me since I was little.
D9Sports: What would someone who doesn't know you be surprised to find out about you?
KC: I think that those who don't know me would be surprised that I have a pretty big appetite but a pretty high metabolism.
D9Sports: If you could eat dinner with anyone famous (living or dead) who would it be and why?
KC: Jennie Finch, because she aspires me to not only be a better softball player but an even better child of God.
D9Sports: Iphone or Android or Neither and why?
KC: Neither, because I feel that people are way too obsessed with technology these days and are always on their phones.
D9Sports: What is your go-to Social Media and why?
KC: My go-to Social Media would have to be Snapchat because you can communicate with people who you don't see often and keep in touch with them.
D9Sports: What do you like most about high school and why?
KC: What I like most about high school is that you get to see your friends every day and that makes learning a lot more fun.
D9Sports: What do you like least about high school and why?
KC: The thing that I like least about high school is that you have to wake up very early in the morning and you don't get many breaks in between classes.
D9Sports: What question do you wish I would have asked you? And what is the answer to it?
KC: I think you could've asked how much offseason work do you put into your sports? And my answer would be that I put in countless hours of work during the off-season. For any of the sports, I am always outside working on the mechanics and building up the endurance for my performances whether is on the court or on the field. There isn't a day where I'm not outside or in the gym working on something that would help my game.