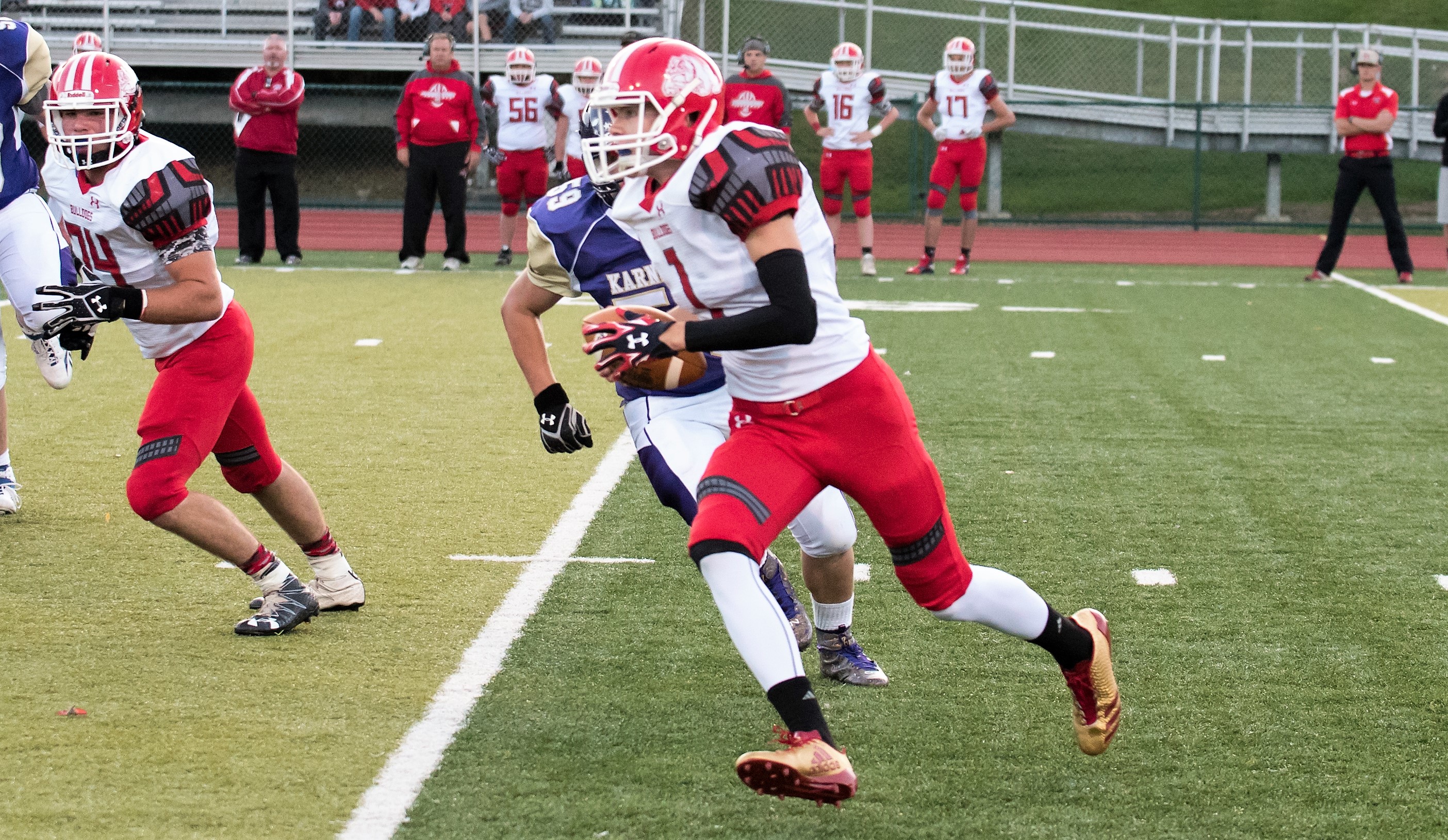 D9Sports.com/EYT Media is doing a series of player profiles on returning high-school athletes this summer. The year in school listed by the athlete is the year the athlete is entering this fall.
(Photo by Howie Dittman. Check out more of Dittman's work here)
KEATON KAHLE – SENIOR – REDBANK VALLEY
Son of: Dustin Kahle and Jaylene Smith
Sports Played: Football, Basketball, Track & Field
Family Members Playing/Played Sports: His dad and grandpa, Jeff Wright, both played football. His aunt, Shannon Gabrielle, ran track.
2017-18 Highlights: Keaton was the starting quarterback for the Bulldogs helping them to the District 9 Class 1A semifinals by throwing for 769 yards and five touchdowns and running for 442 yards and five touchdowns. He also tied for the team lead in interceptions on defense with four. In basketball, he tied for team-high honors in scoring at 9.2 ppg and scored a career-high 24 points vs. Union. In track, he qualified for the District 9 meet in the 100-meter dash and finished seventh.
Post-High School Plans: He plans on going to college and playing football or doing track
Q&A With Keaton Kahle
D9Sports: What is your favorite sport to participate in and why?
KK: Football is my favorite sport to participate in because of my position at quarterback because I hold the game in my hands and I get to distribute the ball to everyone and also make my own plays when needed. I feel that in football it is the closest thing to having a second family with your teammates.
D9Sports: What is your favorite memory, moment, game from playing high school sports?
KK: The best moment/memory I have of playing sports is being a part of the team when Sam Heeter broke the most points in a basketball game for Redbank or the second day of two-a-days my freshman year getting lit up by Scott Toth.
D9Sports: Why do you play high school sports?
KK: I play high school sports to be closer with all my friends and really try to show younger athletes what it's like to compete and hopefully be a role model to them.
D9Sports: Who has had the most influence on your athletic career and why?
KK: The people that have had the most influence on me in my athletics have been my dad and my grandpa Jeff Wright. My dad since day one has made me go to everything and anything I could attend to get better at something. And my grandpa, Jeff Wright, has taught me a lot physically but even more mentally of how to just stay humble and be a leader.
D9Sports: Do you remember the first sport you played and did you like it right away or did it grow on you?
KK: The first sport I ever played was football, and it really had to grow on me. I wasn't a fan of contact, I didn't like the pain after every practice. But, after awhile, it all clicked and everyone was telling me that I really should stay with it with my arm strength and speed.
D9Sports: Do you have a favorite number for a uniform? If so, what is the story behind that number?
KK: No. 1 was always my preferred number. I guess just with playing quarterback your suppose to be the leader of the team, and I felt like having the number just sticks out.
D9Sports: What would someone who doesn't know you be surprised to find out about you?
KK: Someone that didn't know me would be surprised of how serious and quiet I am when it comes to nights before games.
D9Sports: If you could eat dinner with anyone famous (living or dead) who would it be and why?
KK: If I could eat dinner with someone famous it'd be Johnny Manziel, and that's because I feel that he could teach me more than just about being a quarterback but just life. He has been as high as high can get but also at some real low points in his life so just hearing on how he's dealt and overcame with those situations and to share that with me could help sometime in my future.
D9Sports: Iphone or Android or Neither and why?
KK: iPhone, it's easier and faster with social media.
D9Sports: What is your go-to Social Media and why?
KK: My go-to social media is Snapchat. I can always see what's going on with my friends and where everyone is at.
D9Sports: What do you like most about high school and why?
KK: The thing I like most about high school is the sports and activities that all kids can do to really find a passion in something they are good at.
D9Sports: What do you like least about high school and why?
KK: The thing I dislike the most about high school is the drama that will never be remembered.
D9Sports: What question do you wish I would have asked you? And what is the answer to it?
KK: I wish the one question you would have asked me was who I looked up to and whose style of game I tried to imitate to help mine in some of the recent years. There were many people ahead of me that I looked up to, but only a few names really stuck out to me: Mark Strothers, Jake Dougherty, Sam Heeter, Scott Toth, Brooke Hinderliter, Katelynn Traister and Nick and Connor Shoemaker. All those people were role models to me and some of my best friends. They showed what it was really like to be a Redbank Valley Bulldog, as they came in every day prepared to get better at something and just for them to show by example the way they did. It was just amazing to watch their work ethic and try my hardest to learn every technique I could to be just as great when given the opportunity.