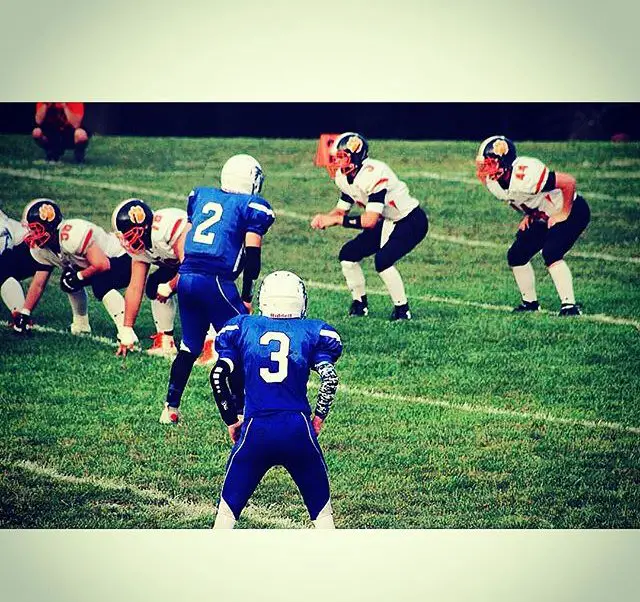 D9Sports.com and EYT Media are doing a series of player profiles on returning high-school athletes this summer. The year in school listed by the athlete is the year the athlete is entering this fall.
KODY WOLFE – Senior – A-C Valley
Son of: Justin Wolfe
Sports Played: Football (now in co-op with Union) and basketball
2015-16 Highlights: Wolfe played on both sides of the ball for A-C Valley in football last year catching two passes for 14 yards while also making nine tackles on defense and returning three kickoffs for 30 yards. In basketball, he played 21 games for the Falcons averaging 6.2 points, 2.3 rebounds, 2.6 steals and 1.0 assists per game while hitting a team-high 21 3-pointers.
Post High School Goals: Kody plans on attending college and major in accounting. He would like to attend school to play basketball and has had some colleges talk to him but nothing serious. He says his education is his top priority.
Q&A With Kody Wolfe
D9Sports: Do you have a favorite sport, and if so why?
KW: My favorite sport is basketball. I've put the most work into it going to some camps in the offseason, late nights at the basketball court with teammates and just the connection I have with the guys, and Coach Rapp makes me love it that much more.
D9: What is your best high-school related sports memory and why?
KW: It would have to be beating Moniteau in overtime in basketball. I hit a late three, and I've never heard a gym erupt like that before.
D9: Has there been a coach and/or teacher who has influenced you the most in your high-school career to this point, and if so, why?
KW: Brad Dittman (the former A-C Valley football coach) really influenced me to become a better athlete. He always pushed me. He went to college for football and was always my idol, a great guy. Also, Dave Sherman, Coach (Andrew) Rapp (A-C Valley's basketball coach) and the alumni who played at ACV have helped me a ton.
D9: What do you like best about playing sports in high school?
KW: It's the bond and the relationships you develop with the guys. You'll never lose that bond.
D9: What is the hardest part about playing sports in high school?
KW: The hardest part about playing sports in high school is definitely balancing the academics and the sports. It takes a lot of hard work if you want to excel in both.
D9: How much offseason work do you put into your sports?
KW: I've put in a ton of work in the offseason, lifting, dribbling series, summer league, team camps, individual camps, I really work myself as hard as I can.
D9: What is your favorite subject in school?
KW: History and accounting
D9: What do you like to do for fun when you aren't playing sports?
KW: I barely have time to do much outside of sports, but when I find time, I like to hang out with my little brother, and I play a lot of 2k with friends.
D9: What are your goals for the upcoming school year both sports wise and academically?
KW: Shock the world in football. We are going to do great things. Also, I want to make the district playoffs for basketball. I am setting my goal high for a 3.6-4.0 GPA; I am going to have to work hard for it.