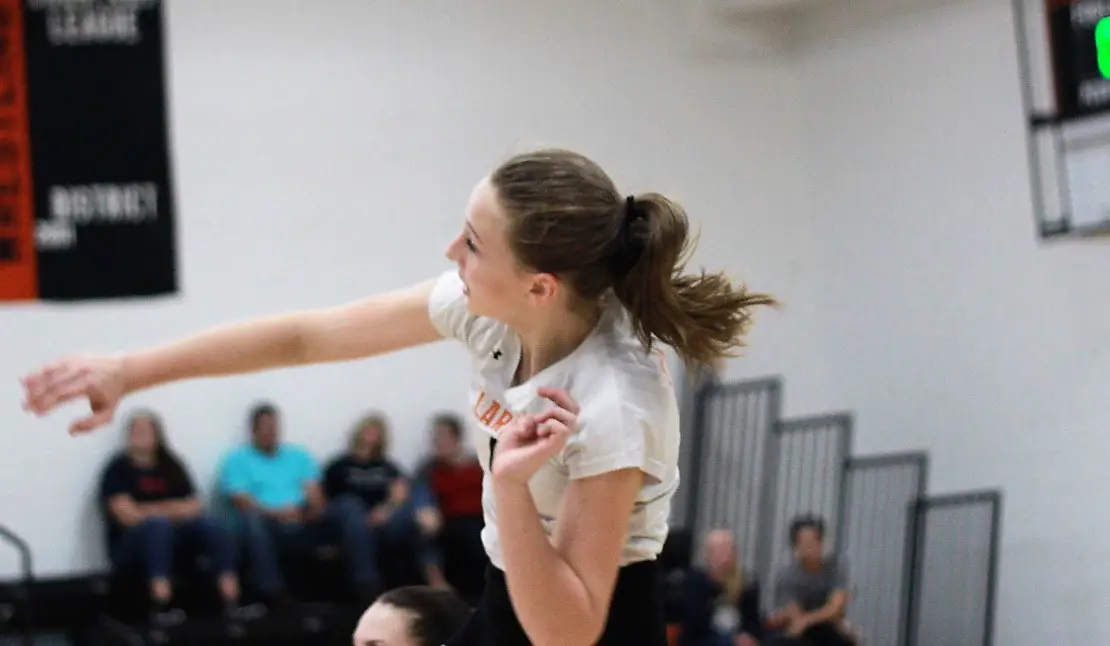 D9Sports.com/EYT Media is doing a series of player profiles on returning high-school athletes this summer. The year in school listed by the athlete is the year the athlete is entering this fall.
(Photo by Jared Bakaysa of JB Graphics. See more of Bakaysa's work here)
KORRIN BURNS – SOPHOMORE – CLARION
Daughter of: Joe and Jodi Burns
Sports Played: Volleyball
Family Members Playing/Played Sports: Her sisters Karly, Ellie, Olivia all played at the collegiate level (volleyball) with Olivia still playing at IUP. Her brother Jake played soccer and basketball in high school. Her mom was an All-American volleyball player at Clarion University after winning a pair of PIAA titles at Norwin and spent two different stints as the Clarion University women's volleyball coach.
2018-19 Highlights: She helped Clarion to the District 9 Class 1A title and a spot in the PIAA quarterfinals and was named first-team All-District 9 Class 1A and second-team All-KSAC
Post-High School Plans: She is still unsure what I want to do for my future job, but she knows she wants to play volleyball in college.
Q&A With Korrin Burns
D9Sports: What is your favorite sport to participate in and why?
KB: Volleyball, I do not know how to describe it, but I feel pure joy and excitement while playing it. I'm addicted to the sport. All I want to do is play and learn.
D9Sports: What is your favorite memory, moment, game from playing high school sports?
KB: One particular moment in the D9 Championships, It was game point and I got a kill. When I came down I saw all my teammates' expressions and knew that we accomplished something big.
D9Sports: Why do you play high school sports?
KB: I play high school volleyball because it creates many friendships. Without Volleyball I would not be as close to some of my best friends.
D9Sports: Who has had the most influence on your athletic career and why?
KB: My Family has made the biggest impact on my career. My parents sacrifice so much for me. My sisters critique and coach me ALL THE TIME. They've made me the player I am today.
D9Sports: If you could change one thing about high school sports, what would it be and why?
KB: I wish I could've played with my sisters. Having Karly, Ellie and Liv all on the same court as me would've been the best thing ever.
D9Sports: If you could be president for a day, what would be the one major thing you would do?
KB: If I was president, I would help the homeless, house & feed them. I take so many things for granted and one simple thing could help them.
D9Sports: What is your ideal place to live? County, City, Suburb? Why?
KB: The City (Pittsburgh). When I'm not in High School Volleyball I play for a club down in Pittsburgh. All my friends are there. Plus it is really inconvenient to drive two hours every three days a week.
D9Sports: What would someone who doesn't know you be surprised to find out about you?
KB: I like to dance. Any good tune and I'll bust out my dance moves. I also love to make people laugh.
D9Sports: What is your strongest subject in school?
KB: I like Math and Learning about the human body.
D9Sports: If there was one period in history or one event in history you could go back to, what would it be?
KB: One point in history that I wish I could go back to is my sister, Ellie's, state championship game. I was very young when they won. I do not remember anything from that day.
D9Sports: What question do you wish I would have asked you? And what is the answer to it?
KB: If I couldn't play Volleyball what other sport would I play? Basketball. I love the sport – it just doesn't fit with my volleyball schedule. I wish I could play.