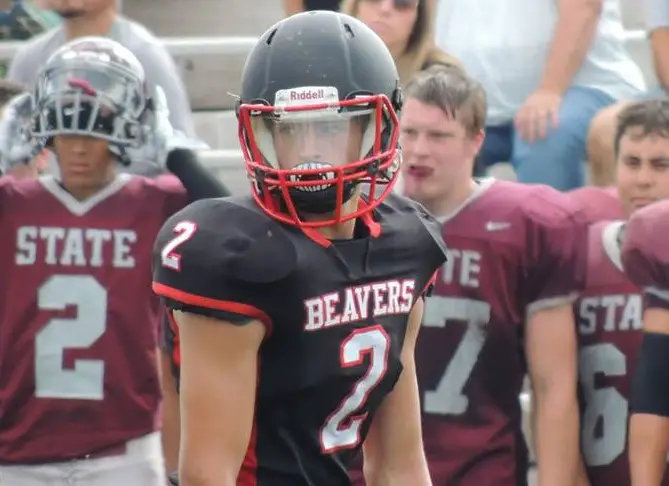 D9Sports.com and EYT Media are doing a series of player profiles on returning high-school athletes this summer. The year in school listed by the athlete is the year the athlete is entering this fall.
KYLE HOPSON – SENIOR – DUBOIS
Son of: Rich and Kelly Hopson
Sports Played: Football and Basketball
2016-17 Highlights: Hopson was the D9Sports.com District 9 Football Offensive Player of the Year after grabbing 101 catches for a District 9-record 1,665 yards and 18 touchdowns. He averaged 151.4 yards per game receiving with four 200-yard games including a 10-catch, 225-yard, two-touchdown performance vs. Oil City. In three of his last four games, he went over 200 yards receiving and finished the year with nine 100-yard receiving games in 11 starts despite playing the first three games of the season without starting quarterback Matt Miller. He was invited to participate in an exclusive 2017 Nike The Opening Regional Football Camp this spring. In basketball, despite an injury that cost him the final seven games of the season he averaged 6.3 points per game.
Post-High School Goals: Kyle plays to attend college and major in Criminal Justice. He would like to play football in college.
Q&A With Kyle Hopson
D9Sports: What is your favorite sport to participate in?
KH: Football
D9: What is your favorite memory, moment, game from playing high school sports?
KH: My first varsity touchdown with the crowd cheering and teammates greeting me with hugs and high fives.
D9: Why do you play high school sports?
KH: It teaches me hard work and perseverance, as well as gives me a good work ethic.
D9: Is there a high school player on your team or another team that you enjoy watching play? If so, why?
KH: I enjoy watching Kenny Garvey play because he plays with heart and goes full bore every play.
D9: When not playing sports I would rather (pick one) – Go to work, play video games, shop, hang out with friends, play pickup sports, go the movies
KH: Hang out with friends
D9: If you could go anywhere in the world, where would it be and why?
KH: I would go to Europe and experience some multiculturalism.
D9: Who has had the most influence on you as a person?
KH: My father. He supports me and helps me through all my hard times and gives his all to make sure I'm happy.
D9: What do you like most about growing up in your hometown?
KH: I like how it's a small town and everyone helps pitch in if something goes wrong.
D9: What do you wish you could change about growing up in your hometown?
KH: The weight that a last name carries.
D9: What question do you wish I would have asked you? And what is the answer to it?
KH: What's the best thing about your teammates? I would say the amount of fun we have at everything we do.
D9: Do you or have you had any siblings or other immediate relatives who have played high school sports?
KH: My brother, Luke, has played basketball and football at DuBois High School.