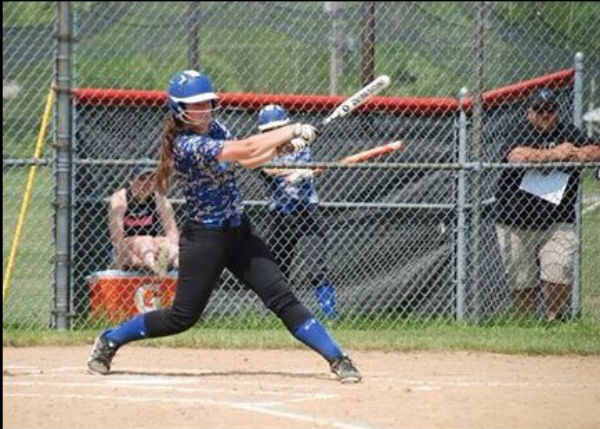 D9Sports.com and EYT Media are doing a series of player profiles on returning high-school athletes this summer. The year in school listed by the athlete is the year the athlete is entering this fall.
KYLEE EATON – Sophomore – A-C Valley
Daughter of: Kelly Stevanus
Sports Played: Volleyball, Baseball, Softball
2015-16 Highlights: Kylee is one of the up-and-coming stars for A-C Valley, and she already made a strong impact in softball helping the Lady Falcons to the District 9 Class A semifinals by hitting .364 with four doubles, a triple and eight RBIs. Her .912 OPS was fifth on the team, and she added a pair of stolen bases. In basketball, she saw action in 19 games as a freshman averaging 2.1 points and 1.5 rebounds per game while shooting 53 percent (17 of 32) from the floor.
Post High School Goals: Just entering her sophomore season, she is still unsure what she will do post high school. She says she would like to go to college but has also thought about joining the Air Force. If she gets the opportunity to play college sports, she would love to play basketball or softball and she is hoping to hear from schools as she moves along in her high school career.
Q&A With Kylee Eaton
D9Sports: Do you have a favorite sport, and if so why?
KE: If I had to choose, I would pick softball. Every single person on the team plays a key role on and off the field, whether you're in the dugout cheering or playing the game. I love the feeling hitting the ball off the bat and how fast one can get out of a slump with just one at-bat.
D9: What is your best high-school related sports memory and why?
KE: It would have to be when we won our first playoff game at Smethport this past year. We all just came together as a team and clicked one inning. It was the best feeling to share such a great moment with the team I love.
D9: Has there been a coach and/or teacher who has influenced you the most in your high-school career to this point, and if so, why?
KE: My mom by far has been the most influential person though all the years of me playing sports since I could hold a ball. She's my biggest fan and my worst critic. She's seen me at my highest point of play and my lowest. Also, when I played for the Clarion Cyclones (a travel softball team), Jamie Mahle welcomed me with open arms late in the fall ball season. He always believed in me at times when I felt I couldn't do anything. He is the reason to this day why softball is my favorite sport.
D9: What do you like best about playing sports in high school?
KE: I like the competitiveness of the game and the lesson I learn. The people and friends I meet by playing multiple sports i by far my favorite part.
D9: What is the hardest part about playing sports in high school?
KE: Balancing time between each sport. When you play more than one sport, you start to get worn down especially during the school year dealing with the academics also.
D9: How much offseason work do you put into your sports?
KE: During the summer, I participate in all open gyms and summer leagues. For volleyball, we have a JO travel team that plays through the winter and early spring in tournaments no more than two hours away.
D9: What is your favorite subject in school?
KE: Mat or anything finance
D9: What do you like to do for fun when you aren't playing sports?
KE: I like to kayak and fish.
D9: What are your goals for the upcoming school year both sports wise and academically?
KE :Sports wise, I'm shooting for all the sports I participate in to be successful. Academically, I'm shooting for the principal's list all four quarters and to start working on getting elected in NHS (National Honors Society).