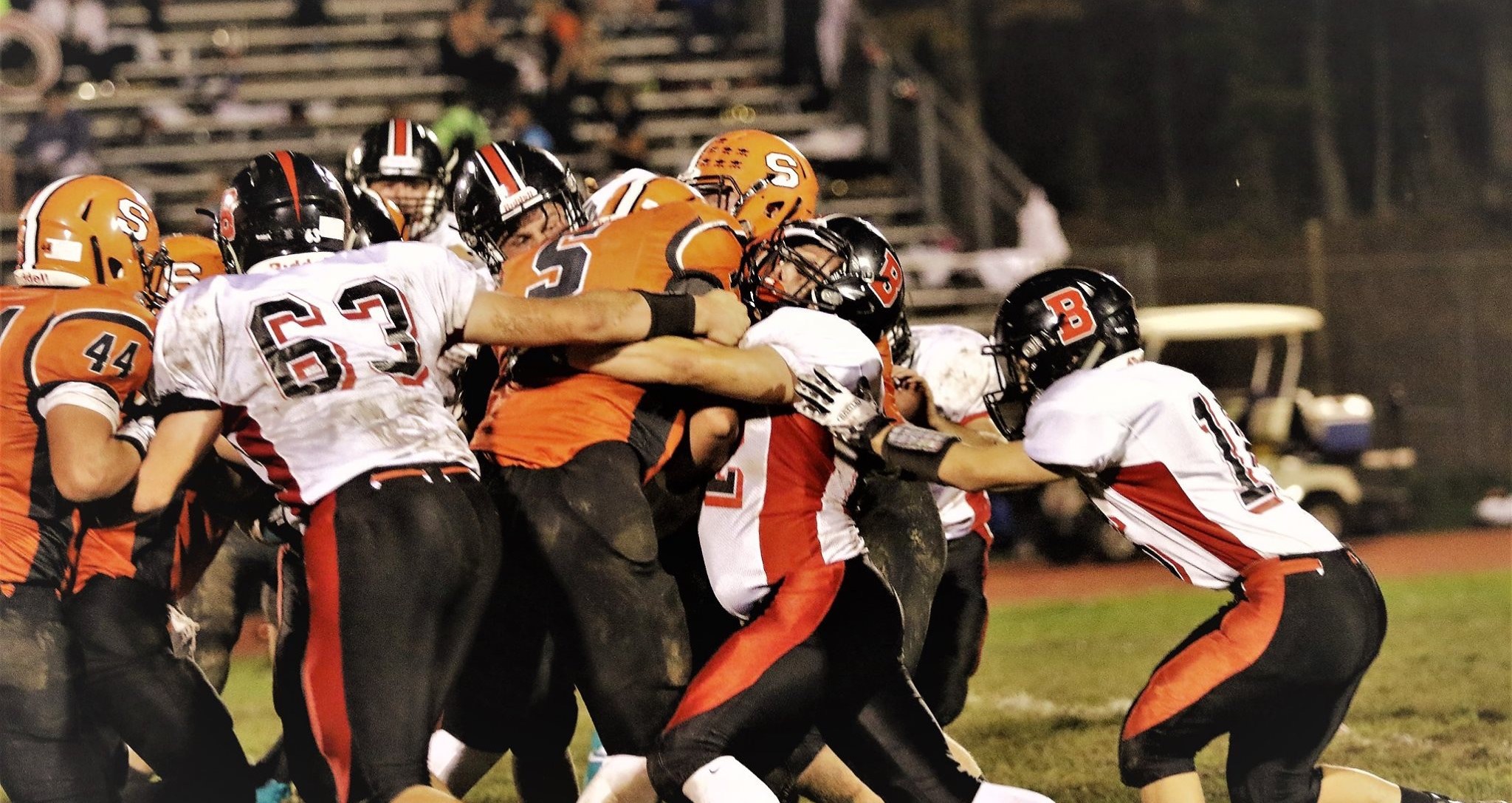 D9Sports.com/EYT Media is doing a series of player profiles on returning high-school athletes this summer. The year in school listed by the athlete is the year the athlete is entering this fall.
(Submitted photo)
LEYTON MANGIANTINI – SENIOR – DUBOIS CENTRAL CATHOLIC
Son of: Shannon Gabriel and Gary Mangiantini. Step-father is Bernie Gabriel. Step-mother is Nadia Mangiantini
Sports Played: Football in a co-op at Brockway. He is also planning on playing basketball this season.
Family Members Playing/Played Sports: Shannon- Track and Field, cheer Gary- Football, basketball
2017-18 Highlights: He was a starter on both sides of the ball for Brockway in football and on offense helped pave the way for a squad that averaged 358.3 yards per game.
Post-High School Plans: He will be attending Saint Francis University to major in nursing. He does not plan on playing college sports.
Q&A With Leystone Mangiantini
D9Sports: What is your favorite sport to participate in and why?
LM: Football, I've been playing it since I've been able too. I've met a lot of people I would've never met had I not played.
D9Sports: What is your favorite memory, moment, game from playing high school sports?
LM: My first real amount of varsity playing time my sophomore year. Heading to the D9 finals in football my freshman year.
D9Sports: Why do you play high school sports?
LM: For the valuable life lessons gained. Being part of a team teaches one not only to think about themselves but what impact their actions might have on the whole of their team.
D9Sports: Who has had the most influence on your athletic career and why?
LM: My family and all the coaches I've had throughout the years. I know I could go to any of them with a question at any point in time and they would answer it without hesitation.
D9Sports: Do you remember the first sport you played and did you like it right away or did it grow on you?
LM: Football was my first sport, I fell in love the day I stepped on the field.
D9Sports: Do you have a favorite number for a uniform? If so, what is the story behind that number?
LM: I don't have a favorite number. I have always worn Nos. 50 or 63 though.
D9Sports: What would someone who doesn't know you be surprised to find out about you?
LM: I'm a volunteer firefighter in the city of DuBois with Friendship Hose Co. #2.
D9Sports: If you could eat dinner with anyone famous (living or dead) who would it be and why?
LM: I would have to eat dinner with Marcus Aurelius. Being Emperor of Rome and a world-renowned philosopher must mean there is some knowledge to be gained there.
D9Sports: Iphone or Android or Neither and why?
LM: iPhone, I've had Androids before and they would always break or slow down on me. My iPhone is still going strong.
D9Sports: What is your go-to Social Media and why?
LM: Instagram, I enjoy seeing what my friends are doing, it's also real easy to check the news.
D9Sports: What do you like most about high school and why?
LM: The routine. I find it easy to wake up at the same time every day and get adjusted to the schedule.
D9Sports: What do you like least about high school and why?
LM: Learning outdated information. Of course, the school tries to keep updated as best they can, and some courses require learning outdated information to progress into the further stages of study, it feels that some classes are well behind the times.
D9Sports: What question do you wish I would have asked you? And what is the answer to it?
LM: I thought the questions were fine and I really can't think of any other questions you might've asked.