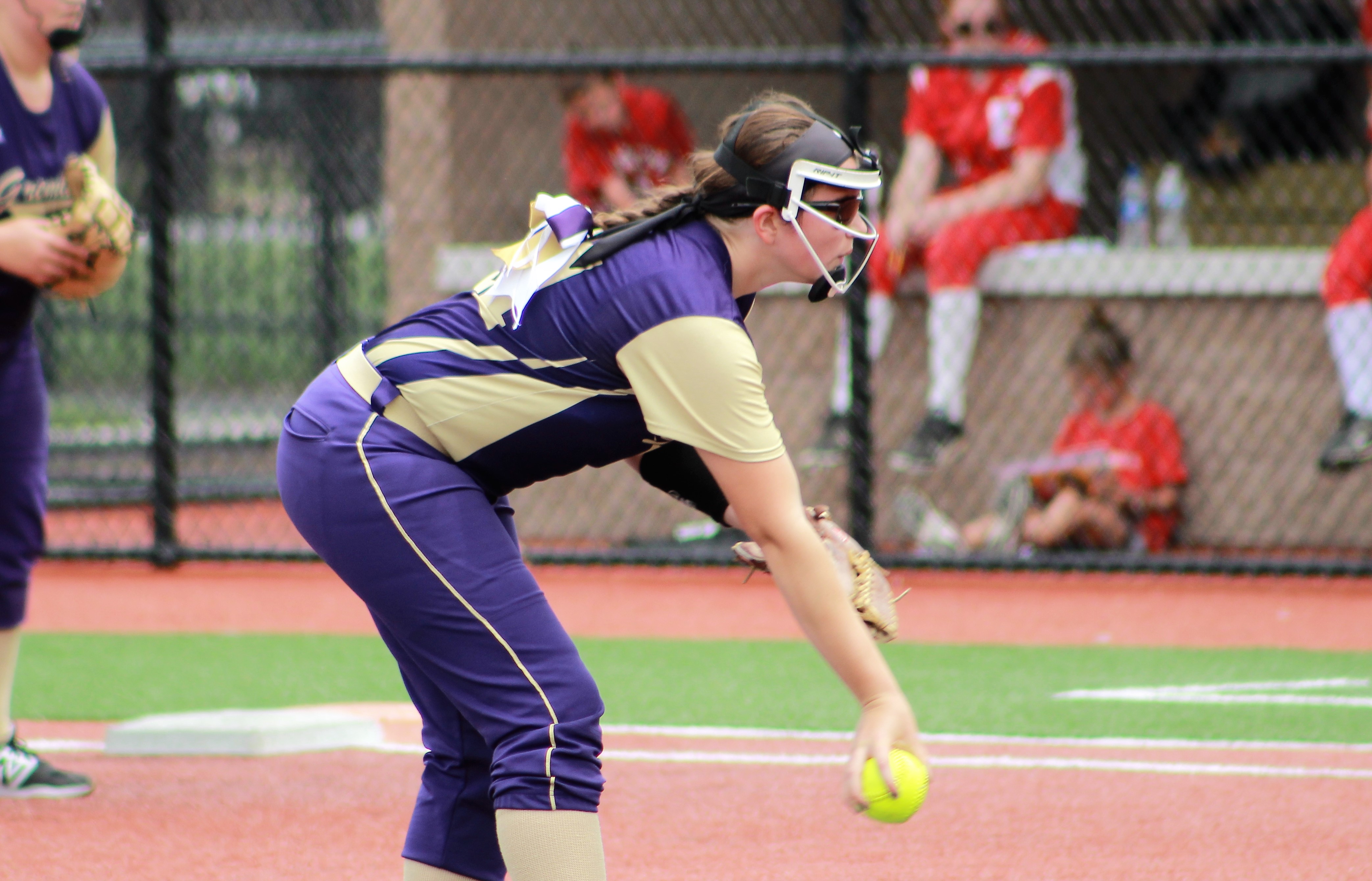 D9Sports.com/EYT Media is doing a series of player profiles on returning high-school athletes this summer. The year in school listed by the athlete is the year the athlete is entering this fall.
(Photo by Jared Bakaysa of JB Graphics. See more of Bakaysa's work here)
LOGAN BYERS – JUNIOR – KARNS CITY
Daughter of: Daughter of Tracy Ellenberger and Mick Milochik. Step-dad Roy Ellenberger.
Sports Played: Softball and track and field
Family Members Playing/Played Sports: My younger sister, Garrah Milochik, also plays softball on the high school team.
2017-18 Highlights: She was named a first-team All-KSAC pitcher after helping Karns City to its second straight District 5-8-9 Class 3A title. On the season, she went 11-2 with a 2.96 ERA. In 75 ⅔ innings pitched she struck out 70 while walking just 26 and allowing 32 earned runs. At the plate, she hit .425 with a triple, a double and 10 RBIs. Her seven-inning, six-hit, two-run, four-strikeout performance vs. Everett in the D5-8-9 title game was a key part of Karns City's victory.
Post-High School Plans: She'd like to go to college and become a biomedical engineer. If she can, she'll play softball but her education will come first.
Q&A With Logan Byers
D9Sports: What is your favorite sport to participate in and why?
LB: Softball, when I'm on the field, I feel so relaxed and everything is easier. Also, I get to travel and meet so many new friends through softball.
D9Sports: What is your favorite memory, moment, game from playing high school sports?
LB: Winning D9 for the second year in a row was amazing. Besides the D9 game, my favorite game this season would have to be when we played Moniteau at their home field.
D9Sports: Why do you play high school sports?
LB: Sports keep me motivated to do better in school and they allow me to become an all-around better person.
D9Sports: Who has had the most influence on your athletic career and why?
LB: My step-dad. He got me into softball and taught me how to pitch.
D9Sports: Do you remember the first sport you played and did you like it right away or did it grow on you?
LB: I played softball first, it actually grew on me a lot from when I started playing.
D9Sports: Do you have a favorite number for a uniform? If so, what is the story behind that number?
LB: My number is 21, I wear it for my very close friend who lost her family member. His number was 21, so I honor him by wearing it.
D9Sports: What would someone who doesn't know you be surprised to find out about you?
LB: I'm actually a very big Seattle Seahawks fan.
D9Sports: If you could eat dinner with anyone famous (living or dead) who would it be and why?
LB: I'd like to eat dinner with Haylie McCleney because she's one of my favorite softball players and a huge inspiration to me.
D9Sports: Iphone or Android or Neither and why?
LB: iPhone, it's more reliable.
D9Sports: What is your go-to Social Media and why?
LB: Snapchat, there are many different ways to message my friends on Snapchat.
D9Sports: What do you like most about high school and why?
LB: I like being able to see all of my friends in school because I don't see them much in the summer.
D9Sports: What do you like least about high school and why?
LB: I don't like the stress that comes with school because it takes the fun out of learning anything new.
D9Sports: What question do you wish I would have asked you? And what is the answer to it?
LB: How many years have you played sports? I've played softball for 9 years (5 years of travel/competitive softball) and this will be my second year of track.