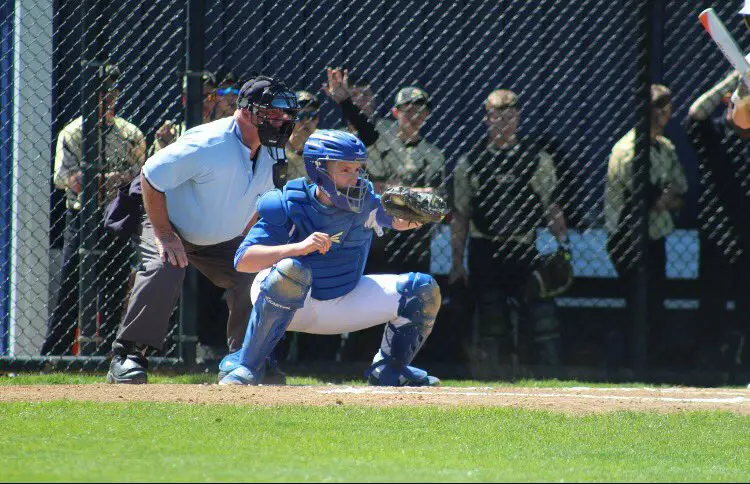 D9Sports.com and EYT Media are doing a series of player profiles on returning high-school athletes this summer. The year in school listed by the athlete is the year the athlete is entering this fall.
LUKE SALVO – JUNIOR – UNION
Son of: Ange and Nicole Salvo (his dad is the baseball coach at Union)
Sports Played: Baseball
2016-17 Highlights: Luke was second on Union with a .333 average while hitting a home run, driving in nine and scoring six times. He also stole a pair of bases.
Post-High School Goals: After graduation, Luke plans on attending college and majoring in education. He hopes to have the opportunity to play baseball in college.
Q&A With Luke Salvo
D9Sports: What is your favorite sport to participate in?
LS: Baseball
D9: What is your favorite memory, moment, game from playing high school sports?
LS: My favorite memory from high school sports is hitting my first varsity home run at A-C Valley.
D9: Why do you play high school sports?
LS: I play high school sports because I enjoy being on a team and having the opportunity to connect with other players who enjoy the sport I do and make lifelong friendships.
D9: Is there a high school player on your team or another team that you enjoy watching play? If so, why?
LS: I had the opportunity to be the equipment manager for the varsity team my seventh and eighth-grade year. I was able to see Dylan Cyphert (Cranberry graduate now pitching in the Florida Marlins organization) pitch and was amazed at his raw talent and maturity on the mound. I saw how he carried himself on and off the field and I hope to base my game off of how he played.
D9: When not playing sports I would rather (pick one) – Go to work, play video games, shop, hang out with friends, play pickup sports, go the movies
LS: When not playing sports I would rather hang out with my family, as baseball gets very busy through the summer and fall seasons.
D9: If you could go anywhere in the world, where would it be and why?
LS: If I could go anywhere in the world, I wouldn't go anywhere in particular. I love to travel and experience places from a different perspective.
D9: Who has had the most influence on you as a person?
LS: I have been very fortunate to have lots of influential people in my life. When I was growing up, I had a best friend who passed away from cancer five years ago. He taught me how to throw, catch, drive a stick shift, and be a kind and courteous person. I also give lots of credit to my parents to for always being supportive in my love of baseball and supporting me in every decision. My extended family has also been influential in my life. I appreciate their support and advice they have given me throughout my life.
D9: What do you like most about growing up in your hometown?
LS: I enjoy growing up in my hometown because you get to know lots of people on a personal level. My hometown has always been supportive of me in travels for baseball and allowing me to volunteer at our local little league baseball and softball programs.
D9: What do you wish you could change about growing up in your hometown?
LS: I would change nothing about my hometown. The small town atmosphere and support are great for high school athletes.
D9: What question do you wish I would have asked you? And what is the answer to it?
LS: I wish you would have asked me what's one helpful piece of advice I would give to incoming athletes. I would say that being coachable and wanting to learn something new about your sport or sports is extremely beneficial.
D9: Do you or have you had any siblings or other immediate relatives who have played high school sports?
LS: My dad played football and track at Union, while my mom played softball and volleyball at Shaler High School.