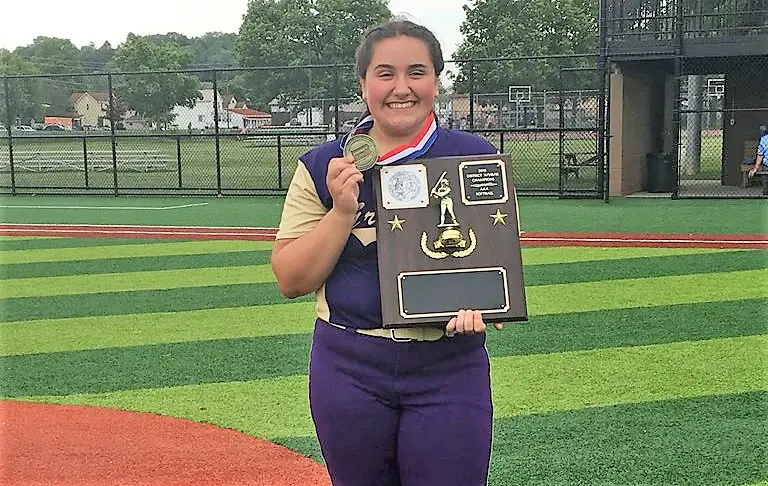 D9Sports.com/EYT Media is doing a series of player profiles on returning high-school athletes this summer. The year in school listed by the athlete is the year the athlete is entering this fall.
(Submitted photo)
MACKENZIE SHAY – SENIOR – KARNS CITY
Daughter of: Scott and Amy Shay
Sports Played: She played softball as a junior. She plans on playing softball and doing cheerleading as a senior.
Family Members Playing/Played Sports: Her dad played baseball for Kittanning. Her older sisters, Amanda and Andrea, went to Karns City and they both played softball. Andrea also played soccer and participated in track.
2017-18 Highlights: Mackenzie helped Karns City to a second straight District 5-8-9 Class 3A softball championship in 2018 when she hit .444 with a home run (her first career homer) four doubles and seven RBIs. She was also 3-0 in the circle with 20 strikeouts in 22 innings of work.
Post-High School Plans: She plans to go to college and major in political science. After completing her four-year degree, she plans to go to law school. Although she loves softball very much, her career will end after her senior season.
Q&A With Mackenzie Shay
D9Sports: What is your favorite sport to participate in and why?
MS: My favorite sport is softball. It has been a big part of my life since I was seven, and I couldn't imagine how different of a person I would be if I never started. I have gained so many friends that I now consider as my family because of this.
D9Sports: What is your favorite memory, moment, game from playing high school sports?
MS: My favorite memories would all be from the softball bus rides on our way to playoff games. We play our music so loud that no one takes a nap, and we scream the lyrics to every song that we play. It wasn't a successful day unless we lost our voices from screaming.
D9Sports: Why do you play high school sports?
MS: The main reason why I play high school sports is because of the friends you make from it. Spending time with the same people every day from January to June gives you a bond with your friends that is just unbreakable and is so worth all of the time and hard work.
D9Sports: Who has had the most influence on your athletic career and why?
MS: My dad has probably had the most influence in my softball career. He has been my coach since I was eight and has put so many hours into catching my pitching outside and I have given him way too many bruises not to credit him for making me into the athlete I am now.
D9Sports: Do you remember the first sport you played and did you like it right away or did it grow on you?
MS: The first sport that I ever played was softball. I started when I was seven and I had to play with the 13u girls because we didn't have any younger age groups in the area at the time. I got hit by either a pitch or a hit almost every game, which made me dislike it at first. Once I learned how to catch the ball and not to be scared of it, I fell in love with the sport.
D9Sports: Do you have a favorite number for a uniform? If so, what is the story behind that number?
MS: My number has always been a big thing to me. Growing up my number was always No. 8, but once I got to high school I changed it to No. 14 to carry on the legacy since it was once my dad's and then my sister's number. I still love the No. 8 and use it during my travel ball season, I just have to trade it back in for No. 14 next March.
D9Sports: What would someone who doesn't know you be surprised to find out about you?
MS: I love art. I'm in my school's art club and I have been in 2 art shows so far.
D9Sports: If you could eat dinner with anyone famous (living or dead) who would it be and why?
MS: I would choose Shawn Mendes hands down. We have to get to know each other before we get married obviously.
D9Sports: Iphone or Android or Neither and why?
MS: iphone, obviously. I've had an Android before and I wanted to throw it at a wall every day.
D9Sports: What is your go-to Social Media and why?
MS: Snapchat or Instagram, I'd rather look at a picture than having to read a long paragraph that my grandma posted on facebook.
D9Sports: What do you like most about high school and why?
MS: I enjoy art class the most because it is like an escape from the rest of my classes and I get to think outside the box.
D9Sports: What do you like least about high school and why?
MS: Math, my brain just has a really hard time thinking that way no matter how hard I try.
D9Sports: What question do you wish I would have asked you? And what is the answer to it?
MS: I would have liked you to ask about the effects our coaches have had on our careers. Mike Stitt and Coach Grazioli have been my coaches since I was 12 and have been some of the most influential people in my life. I believe coaches deserve a lot more recognition then they get.