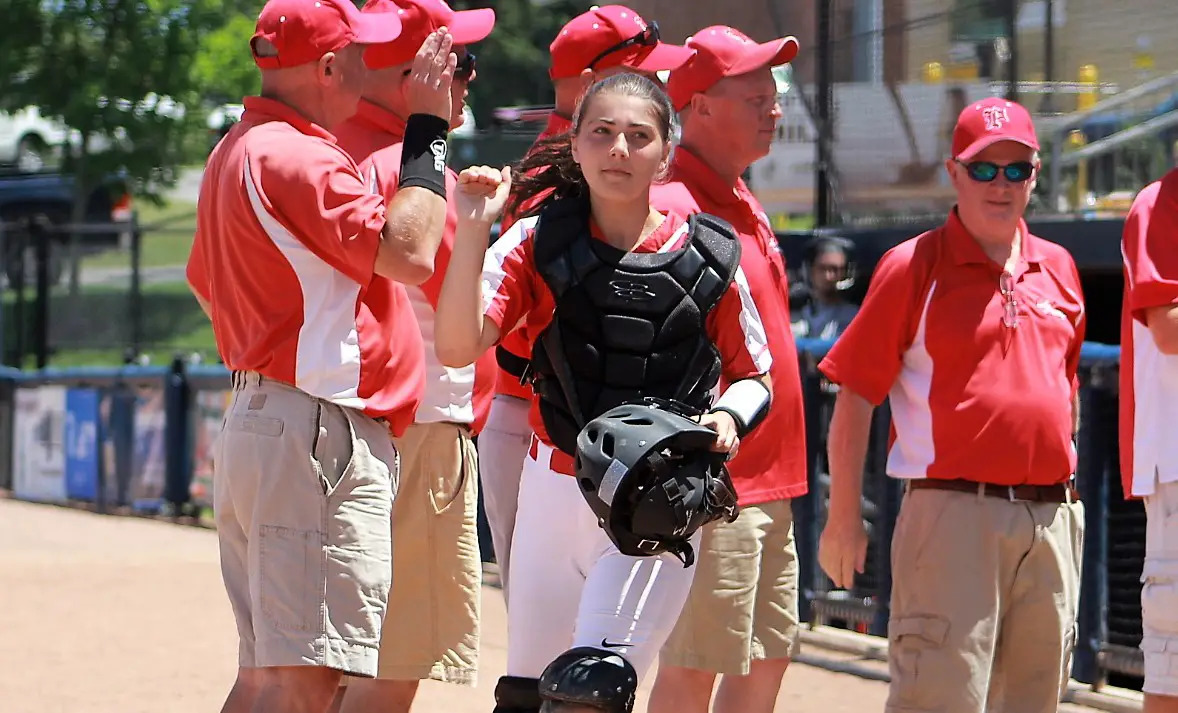 D9Sports.com/EYT Media is doing a series of player profiles on returning high-school athletes this summer. The year in school listed by the athlete is the year the athlete is entering this fall.
(Photo by Jared Bakaysa of JB Graphics. See more of Bakaysa's work here)
MADISON STONBRAKER – JUNIOR – PUNXSUTAWNEY
Daughter of: Shawn & Jonna Stonbraker
Sports Played: Cross Country, Indoor Track, Softball
Family Members Playing/Played Sports: Brother Ashton will be playing sports this year for the Chucks.
2017-18 Highlights: She helped the Lady Chucks to the PIAA Class 4A softball title. As the starting catcher, she hit .415 with three doubles and 17 RBIs. She was 5-for-14 in the PIAA playoffs two RBIs including one in 2-0 PIAA Championship Game win over Bethlehem Catholic. During cross country, she placed 17th at the District 9 Class 2A cross country meet.
Post-High School Plans: She plans on going to college and would like to study biochemistry. She would like to continue her softball career in college.
Q&A With Madison Stonbraker
D9Sports: What is your favorite sport to participate in and why?
MS: I love participating in softball it is probably my favorite sport. I like it because I can do it all year round and it's not only and individual sport but also a sport that you can meet amazing people doing.
D9Sports: What is your favorite memory, moment, game from playing high school sports?
MS: This entire 2017-18 season has been one of my best experiences with a high school sport. We are all always laughing and sharing stories. But my favorite game we played was our first game facing St. Mary's. They are our biggest rivals and we went into 10 innings and pulled through to win during an international tiebreaker.
D9Sports: Why do you play high school sports?
MS: I love being able to do new things and when playing sports you get to meet new people and experience amazing opportunities. I also like being able to be active all the time.
D9Sports: Who has had the most influence on your athletic career and why?
MS: My dad definitely has the most influence on my athletic career. He has always been more than willing to work with me at the cages and hit balls at me to field. Not only has he been there to help me practice but he's always been there to keep me in the game. He always is able to keep me calm and he gives me the best advice. When anyone asks me one thing that a kid needs to be successful in a sport I always say a parents dedication because I wouldn't be where I am athletics wise without my dad.
D9Sports: Do you remember the first sport you played and did you like it right away or did it grow on you?
MS: Well the first sport I played was t-ball, I wasn't really into it, but I did it more for social reasons. I liked soccer growing up. But then my dad introduced me to tournament softball and that where my love definitely grew. It's funny because I don't even play soccer anymore. But softball definitely did take time to grow on me, now I love it.
D9Sports: Do you have a favorite number for a uniform? If so, what is the story behind that number?
MS: I like to have the numbers 7 or 17. There isn't really much of a story behind it other than my first year of all-star for Little Keague I got the uniform 77 because it was the only one that fit. Which it grew into 7.
D9Sports: What would someone who doesn't know you be surprised to find out about you?
MS: Many people don't know that I'm into distance running and some days get up to almost 10 miles in one run.
D9Sports: If you could eat dinner with anyone famous (living or dead) who would it be and why?
MS: Easy definitely Emma Stone, I think she is an amazing actress.
D9Sports: Iphone or Android or Neither and why?
MS: iPhone, not real reason. Just what I prefer.
D9Sports: What is your go-to Social Media and why?
MS: Snapchat, I think it's easier to message on and I love seeing everyone's stories.
D9Sports: What do you like most about high school and why?
MS: I love all the freedoms that come with high school and all the new experiences that you get to have.
D9Sports: What do you like least about high school and why?
MS: Definitely all the decisions, looking at schools and deciding what you want to do is very stressful.
D9Sports: What question do you wish I would have asked you? And what is the answer to it?
MS: What do you think makes a successful team?The answer is definitely a lot of practice but you also have to act as a family and play the game for each other. You have to play as a whole before you can win as a whole.