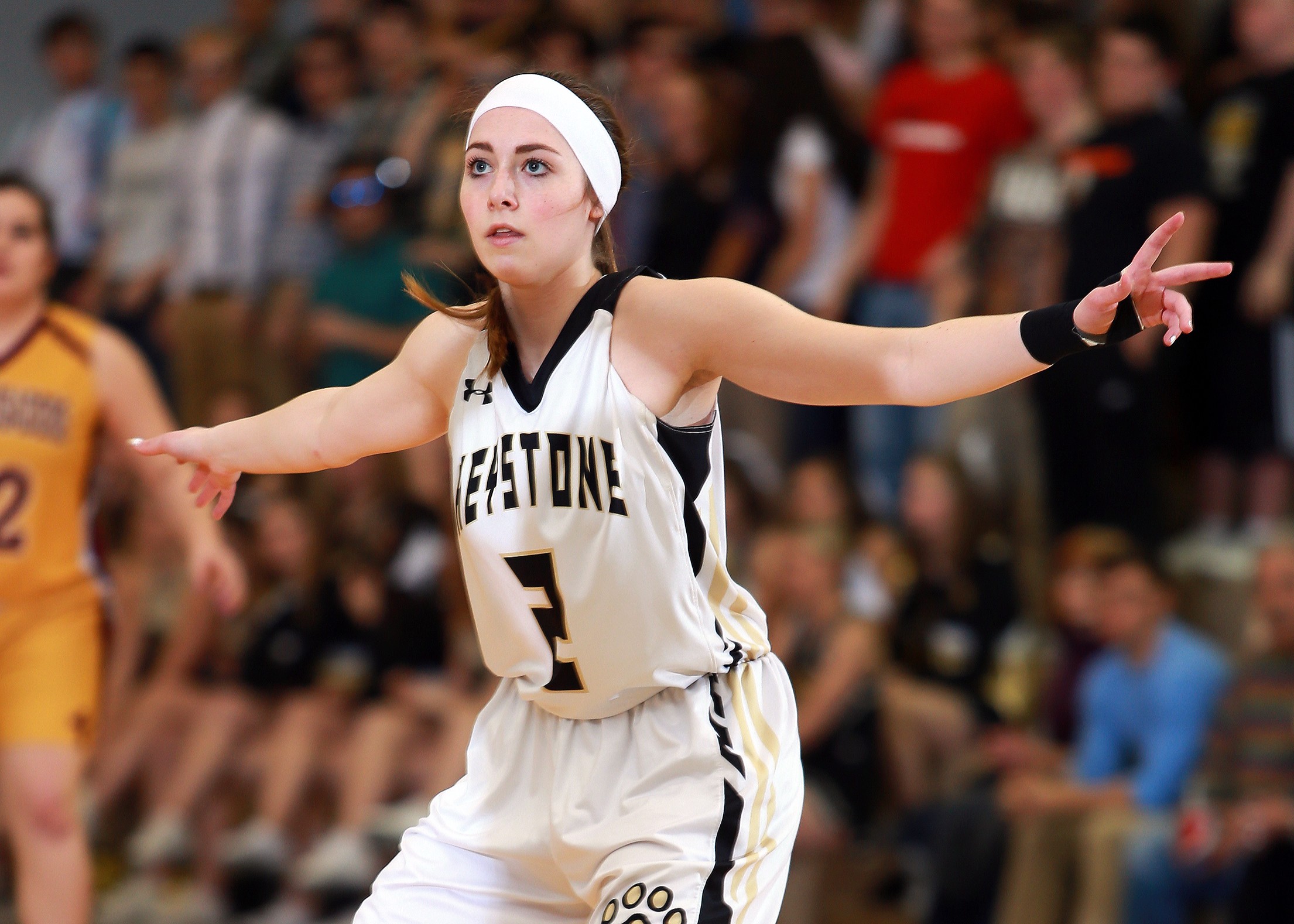 D9Sports.com and EYT Media are doing a series of player profiles on returning high-school athletes this summer. The year in school listed by the athlete is the year the athlete is entering this fall.
MAKENZIE BYERLEY – Junior – Keystone
Daughter of: Kirk and Janice Byerley
Sports Played: Volleyball and Basketball
2015-16 Highlights: A 2-sport standout for the Lady Panthers, Byerley helped the girls' basketball team to the District 9 Class A title and a second-round PIAA appearance by 3.0 points per game. She hit a 3-pointer in Keystone's win over Winchester Thurston in the PIAA first round.
Post High School Goals: After graduation, McKenzie plans on attending college to pursue a degree in the arts or digital media. If given the right opportunity, she would definitely play a college sport. She has been contacted by recruiters from a few different schools but being only a junior, she hasn't made any decisions yet.
Q&A With Makenzie Byerley
D9Sports: Do you have a favorite sport, and if so why?
MB: I like volleyball and basketball equally. They both offer me different challenges, offer me different goals and allow me to work on and improve different skills.
D9: What is your best high-school related sports memory and why?
MB: My best memory was definitely from last year when we won the D9 Championship in basketball. We overcame some pretty big obstacles and setbacks during the season but pulled together, worked hard and achieved the goal we set at the beginning of the year.
D9: Has there been a coach and/or teacher who has influenced you the most in your high-school career to this point, and if so, why?
MB: Two people stand out. Both Coach Foust in basketball and Coach McCance as a teacher and volleyball coach. They have both pushed me to be a better athlete, asked me to work harder, never let me settle for anything less than my best and play up to my potential. Their work ethic has influenced my work ethic and made me a better person all around
D9: What do you like best about playing sports in high school?
MB: It is being part of a team and seeing what you can accomplish working together.
D9: What is the hardest part about playing sports in high school?
MB: The hardest part of playing high school sports is staying on top of my school work and balancing what time is left over with family and friends.
D9: How much offseason work do you put into your sports?
MB: In the offseason, I play AAU basketball with Krush. We usually play five to six tournaments against some very good competition. I also attend both individual and team camps for volleyball.
D9: What is your favorite subject in school?
MB: Math is certainly not my favorite. I enjoy history and learning about the people before us and the things that have shaped our world. I also love to read.
D9: What do you like to do for fun when you aren't playing sports?
MB: I enjoy hanging out with my friends, driving around listening to music, spending time outdoors under the stars and painting.
D9: What are your goals for the upcoming school year both sports wise and academically?
MB: I hope we can be very competitive in the league for both volleyball and basketball. It is definitely a goal of mine to repeat our D9 Championship. Our team goal is to work hard, regardless of any circumstance, supporting each other and becoming a stronger family. Academically, my goal is to keep working hard in school and achieving the best grades possible.