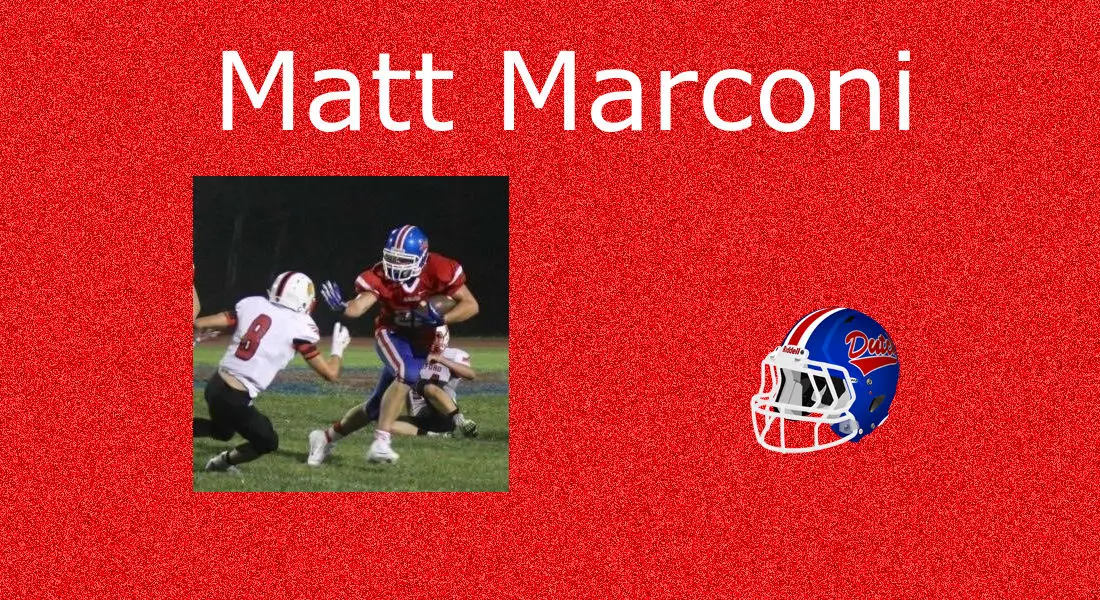 D9Sports.com and EYT Media are doing a series of player profiles on returning high-school athletes this summer. The year in school listed by the athlete is the year the athlete is entering this fall.
MATT MARCONI – Senior – St. Marys
Son of: Tom Marconi and Lisa Marconi
Sports Played: Football, Basketball, Track & Field
2015-16 Highlights: Matt was St. Marys' second-leading rusher during the 2015 football season running for 644 yards and a team-best eight touchdowns. He added a receiving touchdown and caught seven passes for 150 yards. He recorded four sacks, had two interceptions and four fumble recoveries on defense. He scored a team-high 58 points on nine touchdowns and four two-point conversions. In basketball, he was the fourth-leading scorer for the Dutch averaging 6.8 ppg, and in track, he finished fourth in D9 Class AAA in the 400-meter dash in a time of 53.98 while running a leg in the St. Marys second-place 4×400-meter relay team.
Post High School Goals: Marconi would like to attend college and possibly play football.
Q&A With Matt Marconi
D9Sports: Do you have a favorite sport, and if so why?
MM: My favorite sport is football.
D9: What is your best high-school related sports memory and why?
MM: It would be from my sophomore year of football when we hosted the first home playoff game in St. Marys history and won 7-6 against Moniteau.
D9: Has there been a coach and/or teacher who has influenced you the most in your high-school career to this point, and if so, why?
MM: There hasn't been any specific coach to influence me more than another, although I do feel that I've been influenced by all of my coaches in football, basketball and track.
D9: What do you like best about playing sports in high school?
MM: Being able to play with your friends and having a good time.
D9: What is the hardest part about playing sports in high school?
MM: No answer
D9: How much offseason work do you put into your sports?
MM: I put in a lot of offseason work in my sports. I go to lifting for football as well as 7 on 7s in the summer. I also go to open gym and shootouts for basketball.
D9: What is your favorite subject in school?
MM: History
D9: What do you like to do for fun when you aren't playing sports?
MM: I like spending time and hanging out with friends.
D9: What are your goals for the upcoming school year both sports wise and academically?
MM :A goal for this year is winning a district championship.